This Under-the-Radar Gold Miner Delivered a 25% Dividend Increase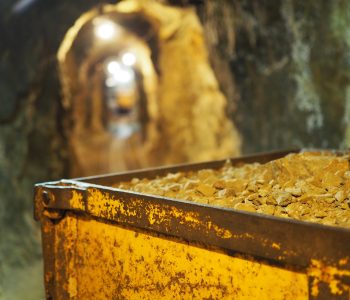 Should Investors Consider a Gold Stock for Income?
Not all income investors pay attention to precious metals, but if you do, you'd know that the price of gold just had a phenomenal rally and is now around $2,000 an ounce. Better yet, even though gold miner stocks are not really known as the go-to choice for income investors, some of them have the ability to return cash to shareholders on a regular basis. And now, one of them just announced a massive dividend hike.
Centerra Gold Inc. (OTCMKTS:CAGDF, TSE:CG) is a gold mining company headquartered in Toronto, Ontario. It operates the Mount Milligan Mine in British Columbia, Canada, the Kumtor Mine in the Kyrgyz Republic, and the Öksüt Mine in Turkey.
Because Centerra Gold is listed on the Toronto Stock Exchange, it is not well-known among American investors. However, the stock does trade over the counter in the U.S., and frankly it's absolutely firing on all cylinders.
Year-to-date, CAGDF stock is up more than 75%. And with a market capitalization of about $4.0 billion, it is a notable player in the industry.
Centerra Gold Inc. (OTCMKTS:CAGDF) Stock Chart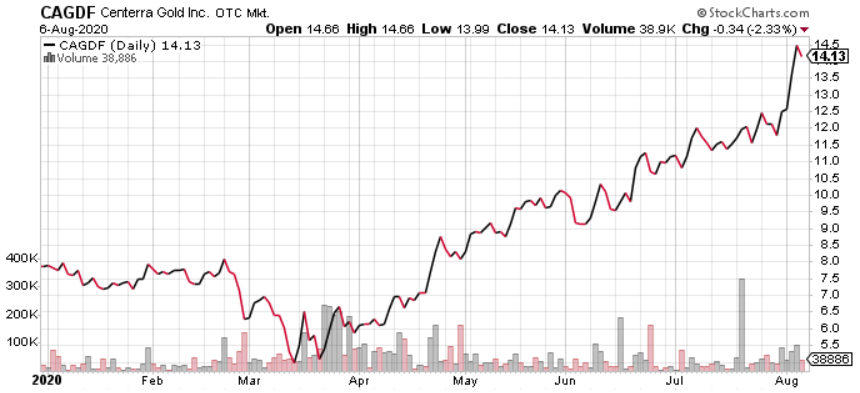 Chart courtesy of StockCharts.com
At the same time, Centerra stock is becoming more income-investor-friendly.
On July 31, the board of directors of Centerra Gold declared a quarterly cash dividend of CA$0.05 per share, which represented a 25% increase from the company's previous payout. The dividend will be paid on August 28, 2020 to shareholders of record as of August 14. (Source: "Centerra Gold Increases Quarterly Dividend by 25% to C$0.05 per share," Centerra Gold Inc., July 31, 2020.)
At the current share price, Centerra stock has an annual dividend yield of around 1.2%.
The reality is, as the price of gold soared, this Canadian-based gold mining company was able to deliver much better financials. In the second quarter of 2020, Centerra Gold generated $412.7 million of revenue, representing a 21% increase year-over-year. (Source: "Centerra Gold Records Net Earnings of $80.7 million or $0.27 per Common Share, Adjusted Net Earnings of $97.8 million or $0.33 per Common Share and Cash from Operations of $268.1 million; Increases Quarterly Dividend by 25%," Centerra Gold Inc., July 31, 2020.)
During the quarter, the company produced 219,692 ounces of gold, up 10% from a year ago. The all-in sustaining cost per ounce of gold sold was $804.00 per ounce. Considering that Centerra's average realized price for gold was $1,681 per ounce in the second quarter, it was running a very lucrative business.
Indeed, the gold miner's adjusted net earnings came in at $0.33 per share, marking a whopping 200% increase from the year-ago period.
Moreover, since the gold price environment has improved since the second quarter, the company's third-quarter results could be even more impressive.
Of course, there is still uncertainty going forward. But comparing what the company had earned in profits and the amount that's being paid out to shareholders, I'd say there is a very wide margin of safety in Centerra stock's dividend policy.
In Centerra Gold's earnings conference call, President and Chief Executive Officer Scott Perry said that company was "going to be looking to maintain that quarterly dividend at $0.05 per share." (Source: "Centerra Gold Inc. (CAGDF) CEO Scott Perry on Q2 2020 Results – Earnings Call Transcript," Seeking Alpha, July 31, 2020.)
Over the past few years—when the economy was booming and the stock market was soaring—there was never a shortage of people arguing that gold is no longer needed as an asset. But as the coronavirus outbreak turned into a global pandemic, and the tension between the U.S. and China started increasing, the yellow precious metal has once again proven its status as a safe-haven asset.
And with the right gold mining stock, income investors can get a piece of the action.