U.S. Dollar Drops to 8-Week Low Against Euro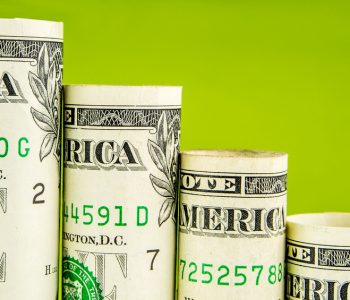 Low Rate Expectations Keeping Dollar Depressed
The U.S. dollar dropped to an eight-week low against the euro today on speculation that the Federal Reserve will continue to keep interest rates low, making the currency less attractive for investors to hold.
The U.S. dollar fell 0.4% against major peers, according to the Bloomberg Dollar Spot Index, while the euro rose 0.4% to $1.1333 against the dollar today. (Source: "Dollar Declines Amid Dovish Policy Wagers; Brent Climbs to $50," Bloomberg, August 18, 2016.)
The dollar has been sliding against major currencies after the release of minutes of the last interest-rate setting meetings by the U.S. Federal Reserve yesterday, which highlighted the difference of opinion among the Fed policymakers.
Some currency investors believe that the central bank will not rush into further tightening the borrowing cost during the period in which inflation remains well below the target of two percent in the world's largest economy and in which the global economic environment is clouded by uncertainties in Europe.
Since yesterday, traders have further pared down their bets on an interest rate increase, and now Fed Fund futures show that investors are pricing in on just a 22% chance of an increase in the U.S. interest rates. (Source: Ibid.)
Some analysts have now started to assigning a low possibility to a rate increase in December. Morgan Stanley strategists Matthew Hornbach and Guneet Dhingra said in a research note today that the probability of a December rate hike will fall to 30% in coming weeks as inflation remains subdued, with no major uptick in sight. (Source: Ibid.)
Currency investors tend to keep their assets in high-yielding markets where central banks are expected to raise interest rates.
A government report showing a robust job market also failed to improve the sentiment for the U.S. dollar. The U.S. Department of Labor this morning said that initial claims for unemployment benefits, a gauge for unemployment trends across the U.S., declined by 4,000 to a seasonally adjusted 262,000 in the week ended August 13. This marks 76 consecutive weeks of initial claims below 300,000, the longest streak since 1970, suggesting that U.S. employment creation remains strong as fewer and fewer people are filing for employment insurance. (Source: "Unemployment Insurance Weekly Claims," U.S. Department of Labor, August 18, 2016.)
In the bond market, there wasn't much reaction with the 10-year government yielding slightly lower at 1.544%, according to Tradeweb, down from 1.558% yesterday. (Source: U.S. Government Bonds Strengthen Slightly, The Wall Street Journal, August 18, 2016.)