U.S. Bancorp: Returning Another $3 Billion to Investors?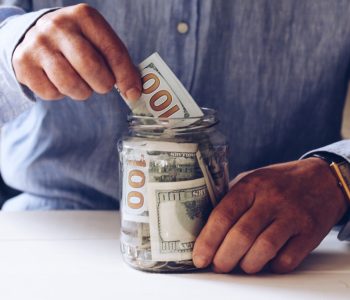 A Dividend Stock to Think About
Bank stocks weren't exactly market favorites last year. Due to banks' substantial exposure to the macroeconomic environment, the industry was heavily impacted by the COVID-19 pandemic. To give you an idea, the Dow Jones U.S. Banks Index slipped 16.5% in 2020, underperforming the overall market.
The fifth-largest commercial bank in the country, U.S. Bancorp (NYSE:USB), saw a steady recovery in its share price in the second half of 2020. However, because of its huge tumble earlier in the year, USB stock's total return in 2020 was still a negative-17.9%.
And that could represent an opportunity for income investors, especially if you take into account the amount of cash the company plans to return to shareholders.
You see, at any given cash payout, there's an inverse relationship between a company's dividend yield and stock price. U.S. Bancorp's quarterly cash dividend stayed at $0.42 per share in 2020. Therefore, because USB stock was not a hot commodity, its yield went up.
Trading at $46.87 per share at the time of this writing, U.S. Bancorp offers investors an annual dividend yield of 3.6%.
To put that in perspective, the average dividend yield of S&P 500 companies is just 1.6% at the moment. (Source: "S&P 500 Dividend Yield," multpl.com, last accessed January 7, 2021.)
In other words, with this bank stock, investors have a chance to lock in a yield twice as high as the benchmark average.
And there's more. Back in June, the U.S. Federal Reserve enacted several restrictions on the banking industry, including ordering the largest U.S. banks to cap their dividend payments and suspend their share repurchase programs.
In December, though, the Fed announced that it would allow the largest U.S. banks to resume stock buybacks in the first quarter of 2021, subject to certain conditions. In particular, the sum of a bank's dividends and buybacks in the first quarter cannot exceed its average net income from the past four quarters. Dividends, though, will continue to be capped.
While that means shareholders won't be getting an increase in their dividend payments, buybacks represent another way for companies to return cash to investors. In the case of U.S. Bancorp, the company's board of directors recently approved an authorization to repurchase up to $3.0 billion of common stock starting on January 1, 2021. (Source: "U.S. Bancorp Announces $3 Billion Common Stock Repurchase Program," U.S. Bancorp, December 22, 2020.)
"Our capital position remained strong through these challenging times and we believe the reinstatement of the share repurchase program will allow us to continue to deliver on our commitment of creating long-term value for our shareholders, customers and employees through continued investment in our business, support to our customers and prudent deployment of capital to our shareholders," said U.S. Bancorp's chairman, president, and chief executive officer, Andrew Cecere. (Source: Ibid.)
The bank's board also plans to maintain USB stock's quarterly dividend rate at $0.42 per share.
Unlike dividend payments, a buyback program won't result in investors getting a check in the mail. Instead, as a company repurchases its shares, it reduces the number of shares outstanding, allowing each remaining investor to own a slightly larger portion of the company.
So, in an environment where large banks aren't allowed to raise dividends, the buyback announcement from U.S. Bancorp was definitely good news to its shareholders.
U.S. Bancorp Is a Reliable Dividend Payer
Don't forget, even though USB stock was not a market favorite, it remains a reliable dividend payer.
U.S. Bancorp, which has been around since 1863, now offers a wide range of banking, investment, mortgage, trust, and payment services products to consumers, businesses, and institutions. It has $540.0 billion in assets and a giant network of 2,730 branches spread across 26 states. The business has survived multiple economic cycles and, based on its latest results, it should be fine this time, too.
In the third quarter of 2020, U.S. Bancorp generated $6.0 billion of total net revenue, representing a 2.2% increase quarter-over-quarter and a 0.7% increase year-over-year. Notably, both the bank's average total loans and average total deposits grew from a year earlier. (Source: "U.S. Bancorp Reports Third Quarter 2020 Results," U.S. Bancorp, October 14, 2020.)
Earnings came in at $0.99 per share for the quarter. While the amount was lower than the $1.15 per share of net income generated in the year-ago period, it marked a substantial improvement from the $0.41 per share earned in the second quarter of 2020. One of the reasons behind the sequential earnings improvement was a lower provision for credit losses (PCL): U.S. Bancorp's 2020 third-quarter PCL was $635.0 million, compared to a much higher PCL of $1.7 billion in the second quarter.
Keep in mind that, since the bank declared a cash dividend of $0.42 per share in the third quarter of 2020, its earnings covered the payout more than twice over.
Ultimately, bank stocks—including USB stock—will likely continue to face uncertainty. But with a safe, generous dividend policy and a new buyback program, U.S. Bancorp deserves the attention of income investors.