Two High-Yielding Consumer Staple Stocks for Tackling Inflation & Low Rates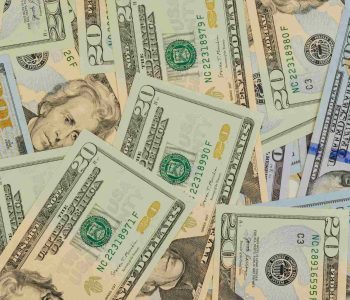 These Dividend Stocks Pay Up to 6.2%
Income investors are being hammered on two fronts, probably the two most important ones. U.S. inflation surged to 6.2% in October, its biggest jump in more than 30 years. Meanwhile, interest rates are near record lows, and the U.S. Federal Reserve isn't going to start raising them until September 2022—and the increases will be slow and measured.
Neither is good for Americans who were hoping their fixed-income investments (e.g., bonds and GICs) would carry them through retirement. In a nutshell, the Fed has taken the "income" out of income investing, and inflation has been quickly eroding people's savings.
That means investors have to figure out how to stretch their investing dollars.
One of the best places to look is consumer staple stocks. While nothing is recession-proof, people still need to eat, drink, clean their homes, and wash their hair during recessions and pandemics. This tends to help consumer staple companies report excellent financial results, which is great for their underlying share prices. Moreover, high cash flow helps consumer staple stocks provide investors with reliable, high-yield dividends.
Two of the best high-yield consumer staple stocks right now are B&G Foods, Inc. (NYSE:BGS) and Conagra Brands Inc (NYSE:CAG).
B&G Foods, Inc. Declared 69th Consecutive Quarterly Dividend
B&G Foods manufactures shelf-stable and frozen foods in the U.S., Canada, and Puerto Rico. Its portfolio of more than 50 iconic brands includes "Cinnamon Toast Crunch," "Cream of Wheat," "Crisco," and "Green Giant." (Source: "Our Brands," B&G Foods, Inc., last accessed November 22, 2021.)
The company had already been reporting decent financial results before COVID-19, and the pandemic helped supercharge its sales, with many people quarantined or working at home. Since the start of 2020, B&G Foods has consistently reported fabulous financial results. (Source: "B&G Foods Reports Strong Net Sales and Earnings Growth for Fourth Quarter and Full Year 2020," B&G Foods, Inc., March 2, 2021.)
Commenting on the company's 2020 financial results, B&G Foods' interim president and CEO, David L. Wenner, stated in March 2021, "It would be a gross understatement to say that 2020 was a year like no other year; COVID-19 brought an incredible amount of suffering, inconvenience and, unfortunately, death with it." (Source: Ibid.)
"It's humbling that our company benefitted from such tragedy…that we were able to respond as well as we did to the increased needs of consumers as they coped with COVID-19 and the resultant quarantines."
In the third quarter of 2021, B&G Foods' revenue climbed by 3.9% year-over-year to $515.0 million, its net income came in at $20.7 million ($0.32 per share), and its adjusted earnings were $96.2 million. (Source: "B&G Foods Reports Financial Results for Third Quarter 2021," B&G Foods, Inc., November 4, 2021.)
Casey Keller, B&G Foods' president and CEO, stated, "We continue to see elevated demand for our products as consumers carry on cooking and baking at home. We also implemented pricing actions during the quarter to reflect inflation in key input costs, and remain committed to delivering solid financial performance despite industry-wide challenges with inflation and supply chain disruptions." (Source: Ibid.)
On November 2, B&G Foods announced that its board had declared a quarterly dividend of $0.475 per share of BGS stock, for a yield of 6.2%. This represents the 69th consecutive quarterly dividend declared by the board since B&G Foods stock went public in October 2004. (Source: "B&G Foods Declares Regular Quarterly Dividend," B&G Foods, Inc., November 2, 2021.)
Conagra Brands Inc Increased Dividend in 2020 & 2021
Conagra Brands Inc makes and sells branded and customized food products and commercially branded foods that are available in supermarkets, restaurants, and food service establishments. Conagra's brands include "Duncan Hines," "Orville Redenbacher's," "Reddi-wip," and "Chef Boyardee." (Source: "About Conagra Brands," Conagra Brands Inc, last accessed November 22, 2021.)
Thanks to wonderful 2020 financial results and exploding profits, the company was able to increase its October dividend by 29% to $0.275 per share. CAG stock was one of the few consumer staple stocks to give investors a raise in 2020.
The company's good fortunes have continued throughout 2021. In July, Conagra Brands Inc reported healthy fiscal fourth-quarter and full-year results and provided strong guidance.
Despite inflationary headwinds and ongoing uncertainty about the pandemic, Conagra's board is confident about the company's long-term outlook. They increased the company's dividend by 14% year-over-year to $0.3125, for a yield of 4.1%. (Source: "Conagra Brands Reports Strong FY21 Fourth Quarter and Full-Year Results," Conagra Brands Inc, July 13, 2021.)
At the time, Sean Connolly, Conagra's president and CEO, commented, "The underlying strength of our business and our continued investments to further support our brands gives me confidence that we have a long runway of growth and shareholder value creation ahead of us." (Source: Ibid.)
This bodes well for the possibility of another dividend hike for Conagra stock in the coming quarters.
The Lowdown on Consumer Staple Stocks
As mentioned earlier, artificially low interest rates have hobbled income investing, and skyrocketing inflation has been exacerbating the situation. While both are supposedly temporary, there's no crystal ball to tell us how long these headwinds will continue to hammer investors.
In this economic environment, one of the best ways to combat inflation and juice a retirement portfolio is with high-yield consumer staple stocks like B&G Foods, Inc. and Conagra Brands Inc.