The Truth About Owning Apple Inc. Stock (AAPL)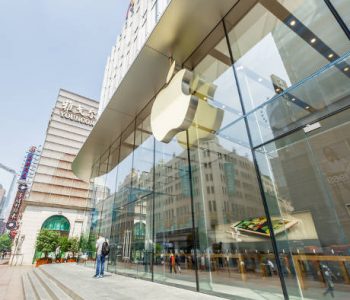 Has Apple Stock Lost Its Magic?
"It's all about timing," said a friend of mine when we were talking about her investment in Apple Inc. (NASDAQ:AAPL) stock.
She bought Apple stock when it was what she considered "dirt cheap" earlier this year. She said that when the company was trading at just over 10 times its earnings, the value was too hard to ignore. Now, her investment in the "iPhone" maker is up quite a bit. Good for her.
But I couldn't help but wonder, for those who bought AAPL shares last summer for, say, $132.00 apiece, was there anything that they did wrong? I mean, the company's price-to-earnings multiple was around 16 times back then, which isn't a high number in its industry.
Some say that the market is unpredictable and you have to stick with valuations, and that is indeed true. But the reality for Apple stock is that investors don't really care that much about how inexpensive it has become. The main focus is—and for the foreseeable future, will still be—the iPhone.
You see, despite that Apple is reportedly working on a million things, the company is still very much an iPhone maker. In its most recent fiscal quarter, iPhone sales came in at $24.0 billion, accounting for more than 56.8% of the company's total revenue. (Source: "Apple Inc. Q3 2016 Unaudited Summary Data," Apple Inc.,last accessed October 12, 2016.)
Note that the reporting quarter, ended June 25th, was expected to be a slow quarter for iPhone sales due to consumers waiting for the "iPhone 7" launch in September. Still, Apple managed to sell 40.4 million units of the smartphone.
The number looks quite impressive. But investors weren't impressed, as 40.4 million units represented a 15% decline from a year ago. What Apple stock desperately needed was an indication that iPhone sales can still make a comeback. It certainly didn't help the case when the company said that it won't release first-weekend sales results of the iPhone 7.
Good news finally came by when several wireless carriers commented on their results of iPhone 7 pre-orders. T-Mobile US (NASDAQ:TMUS) said that its first-weekend results shattered all previous iPhone pre-order records at T-Mobile. (Source: "iPhone 7 and iPhone 7 Plus Shatter Records at T-Mobile," T-Mobile US, September 13, 2016.)
At Sprint Corp (NYSE:S), pre-orders for iPhone 7 and "iPhone 7 Plus" models surged more than 375% in the first three days, compared to the launch of the "iPhone 6" and "iPhone 6S" models last year. (Source: "Sprint Pre-orders of iPhone 7 and iPhone 7 Plus Increase Nearly Four Times," Sprint Corporation, September 13, 2016.)
The good news sparked a rally in AAPL stock. One month after these reports came out, Apple stock has climbed 11.5%, adding more than $60.0 billion to its market cap.
But that doesn't change the fact that timing can play a crucial role in determining the return on your investment in AAPL stock. If you got in during May of 2015, your investment would still be in the red.
This doesn't sound good. You already worked hard to make your money in the first place. When you invest, why do you have to worry about the timing? Shouldn't the investment work for you, rather than the other way around?
Well, if you want to find a "set-and-forget" type of investment, Apple stock might still be a candidate. Let me explain.
If you bought AAPL shares at prices higher than today's, you don't have to sell them and take a loss. Instead, you can hold on to them and collect the ultimate reward for income investors: dividends.
Apple stock doesn't have a long track record in paying dividends. But since the company resumed dividends in 2012, its quarterly payout has increased by more than 50%.
Right now, the iPhone maker has a quarterly dividend rate of $0.57 per share, giving AAPL stock an annual dividend yield of 1.94%.
The idea is that Apple is now a mature company. It has a formula that works and is well-entrenched in the smartphone industry. Every time the company launches the latest smartphone, you see people lining up outside Apple Stores.
Apple stock's yield today is nothing to brag about. But the company could grow its payout in the future. In Apple last fiscal year, the company declared $1.98 of dividend on $9.22 of earnings per share. So it was paying out just 21.5% of its earnings. (Source: "Apple Reports Record Fourth Quarter Results," Apple Inc, October 27, 2015.)
What's Next for Apple Stock
Going forward, there are two possible scenarios. One is that Apple decides to substantially increase its dividend payout ratio, which is always a welcoming thing for income investors. In the other scenario, Apple's dividend hikes continue at a more moderate pace as it invests heavily into future gadgets and technologies.
Either way, the company is far from over. Consumer electronics is not the easiest business to be in. But with an unrivaled brand name and the ability to make products that people really want, Apple's prosperity could continue well into the future.
AAPL stock might not be a dividend giant yet, but it could certainly be one in the making.