TriplePoint Venture Growth BDC Corp: This 14.6% Yield Could Be Special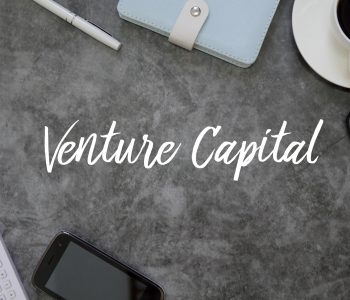 This High-Yield Stock Deserves a Look
Even in today's low-yield environment, there are still plenty of companies with oversized payouts. Using a stock screener, you'll easily find companies offering yields north of 10%.
But investors are not really going after those stocks. One of the reasons is that, due to the impact from the COVID-19 pandemic, quite a few double-digit yielders have reduced their payouts. The common perception is that, if management has cut the payout before, they wouldn't be shy about doing it again when the going gets tough.
And that's why TriplePoint Venture Growth BDC Corp (NYSE:TPVG) could be special.
Headquartered in Menlo Park, California, TPVG is a business development company (BDC) that invests in life sciences, technology, and other high-growth industries. The company's primary business is lending to venture-capital-backed companies at the venture-growth stage. At the end of March 2020, more than 90% of the firm's portfolio was invested in debt investments. (Source: "Investor Presentation Quarter Ended March 31, 2020," TriplePoint Venture Growth BDC Corp, May 6, 2020.)
Now, you are probably wondering why a high-growth tech or life science company would want to use venture debt. Well, for a company to accelerate or expand its business, it can take quite a bit of money, and getting a venture loan is less dilutive than raising additional equity capital.
TPVG generally provides short-term financing (around three to four years) to borrowers that have loan-to-enterprise value below 25% at the time of underwriting. The targeted unlevered returns on those loans is 10% to 18%, with the potential for higher returns through warrants and prepayments.
One important thing to keep in mind is that TPVG is not investing in small startups. In fact, a typical borrower of the BDC would have at least $20.0 million in revenue and is preparing for an initial public offering (IPO) or a merger and acquisition (M&A) in the next one to three years.
It helps that TriplePoint Venture Growth is sponsored by TriplePoint Capital, a leading global financing provider that has financed more than 400 companies, including Workday Inc (NASDAQ:WDAY), Chegg Inc (NYSE:CHGG), Facebook, Inc. (NASDAQ:FB), and Jet.com, Inc. (Source: Ibid.)
Sounds like a good business, right?
It is. TriplePoint Venture Growth BDC Corp completed its IPO in 2014 and earned net investment income of $12.8 million that year. By 2019, its net investment income had grown to $38.3 million.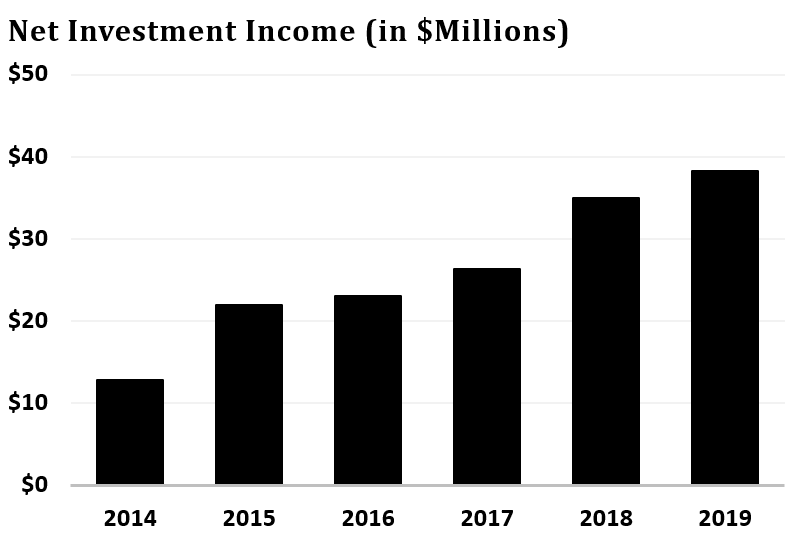 (Source: Ibid.)
The growth momentum has continued to the first quarter of 2020, despite the coronavirus outbreak. In the quarter, the company generated net investment income of $12.2 million, or $0.41 per share, up from $9.9 million, or $0.40 per share, in the year-ago period. (Source: "TriplePoint Venture Growth BDC Corp. Announces First Quarter 2020 Financial Results," TriplePoint Venture Growth BDC Corp, May 6, 2020.)
TriplePoint Venture Growth funded $78.8 million in debt investments to 11 portfolio companies with a weighted average annualized portfolio yield of 13.4% at origination. For the quarter, the weighted average annualized portfolio yield on TPVG's total debt investments was 12.7%.
TriplePoint Venture Growth BDC Corp Is Committed to Its Dividends
TriplePoint Venture Growth is a generous dividend payer. The company has a quarterly dividend rate of $0.36 per share, which translates to an annual yield of 14.6% at the time of this writing.
As I said, it's not uncommon to see a double-digit yielder cut its payout due to the unprecedented economic environment. However, TPVG's dividend has remained resilient, so far.
In TriplePoint Venture Growth's first-quarter earnings conference call, Chief Financial Officer Christopher Mathieu said the following:
I am pleased to announce that for the second quarter of 2020, our Board of Directors has declared a distribution of $0.36 per share payable on June 30 to stockholders of record as of June 16. As we look for our — as we looked at our distribution strategy for 2020, management and the Board evaluated, among other things, the yield profile of our debt investments, our expected fundings and leverage profile and concluded to hold our distribution at $0.36 per share. This marks the 25th consecutive quarter we have increased or maintained our quarterly distribution.
(Source: "Triplepoint Venture Growth BDC (TPVG) CEO James Labe on Q1 2020 Results – Earnings Call Transcript," Seeking Alpha, May 7, 2020.)
It should also be noted that, in the first quarter, the company's net investment income of $0.41 per share was more than enough to cover its quarterly dividend payment of $0.36 per share. Meanwhile, TriplePoint Venture Growth also had spillover income of approximately $7.3 million from 2019, which could be used to support additional dividend payments in the future.
Of course, the timing of the COVID-19 pandemic and the resulting shutdowns of businesses means the economic impact on the second quarter was likely more severe than it was on the first quarter.
Earnings season is once again in full swing, and TriplePoint Venture Growth BDC Corp will be reporting its second-quarter results soon. If the company manages to cover its payout one more time and maintain its dividend, it would give income investors a good reason to consider TPVG stock.