TransDigm Stock: Wall Street Loves This 7% Special Dividend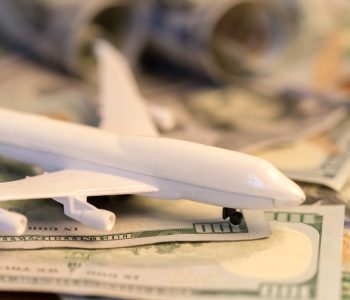 iStock.com/FabrikaCr
TransDigm's 7% Special Dividend Payment Impresses Investors
TransDigm Group Incorporated (NYSE:TDG) has a problem most companies would love to have: too much cash.
Tax cuts, soaring profits, and wider margins have padded the aircraft parts market's bottom line. Management also recently unloaded the company's ownership of Souriau-Sunbank Connection Technologies for a $920.0-million windfall. That left $2.7 billion left sitting on TransDigm's balance sheet, far more than executives could profitability invest.
The solution? Pay everything out to shareholders. In early August, TransDigm's board of directors approved a $30.00-per-share special dividend. Based on the company's 30-day average trading price, that payment comes out to a yield of seven percent. (Source:" Transdigm Group Reports Fiscal 2019 Third Quarter Results and Declares a Special Cash Dividend of $30.00 Per Share," TransDigm Group Incorporated, August 6, 2019.)
That news triggered a frenzy on Wall Street. Following the announcement, shares of TDG stock popped 15% to an all-time high of $526.00. Yet despite the recent run, investors have good reason to expect more oversized payments in the future.
Admittedly, nobody can call TransDigm stock cheap with a straight face. Over the past year, its share price has shot up 50%. Prospective shareholders might choke on the company's 25× forward earnings multiple.
But the company can justify that premium thanks to its captive customer base. You can find TransDigm parts in almost all popular planes worldwide, including the "Boeing 737," the "Airbus A380," and the "Bombardier Dash 8."
If an airline wants to change parts suppliers, they have to spend a huge amount of time and money recertifying an aircraft. Few companies will go through that hassle, so TransDigm's management team can almost circle the dates on the calendar for when they'll get paid years in advance.
This entrenched market position also allows the company to charge top dollar for parts and supplies. Last year, TransDigm Group Incorporated's operating margins topped 41%. And more importantly, those margins have only expanded over the past few years. This ability to raise prices on customers represents the hallmark of top dividend stocks.
In many ways, TransDigm's business resembles the "razor and blades" model mastered by Procter & Gamble Co's (NYSE:PG) "Gillette" brand a century ago. First, you sell parts to airlines cheap, then you charge an outrageous premium on replacement supplies and maintenance. The result is a cash cow business that generates steady income for shareholders.
TransDigm has grown its profits further through acquisitions. The business has bought 63 businesses since 1993, adding on a handful of small acquisitions each year. Management can then boost sales by pushing new products through its global sales network, on average doubling the company's earnings before interest, taxes, depreciation, and amortization (EBITDA) over five years. (Source: "2018 TransDigmAnalyst Day," TransDigm Group Incorporated," June 28, 2018.)
The results speak for themselves. Over the past five years, TransDigm has earned an average annual profit of $0.18 for every dollar of debt and equity invested into the business. Since late 2009, the company's shares generated a total return, including dividends, of 2,400%. That beats the pants off of the broader S&P 500 and the iShares US Aerospace & Defense ETF (BATS:ITA).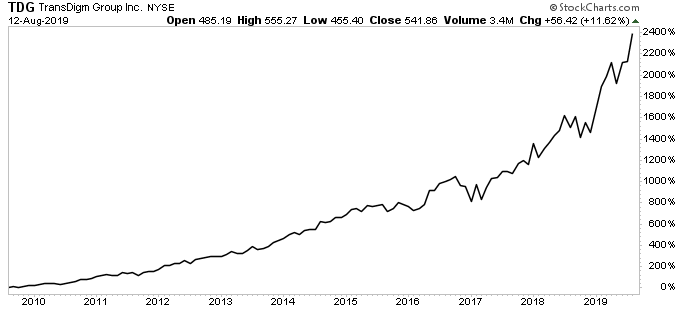 Chart courtesy of StockCharts.com
The Bottom Line on TDG Stock
Expect more distributions soon. As mentioned earlier, with the business gushing so much cash, TransDigm Group Incorporated has more money than it can profitability invest. Executives have resorted to paying special dividends every year or so just to clear the balance sheet.
This started with a $7.65-per-share payment in 2009. Since then, TDG stock has followed up with a $12.85-per-share special dividend in 2012, $22.00 in 2013, $25.00 in 2014, $24.00 in 2016, and $22.00 in 2017. And given the company's bullish guide for the upcoming year, those distributions will likely grow. (Source: "TransDigm Group Incorporated (TDG)," Yahoo! Finance, last accessed August 12, 2019.)
There are certainly worse problems to have.