Toronto-Dominion Bank: Overlooked Foreign Bank Stock Keeps Raising Its Dividends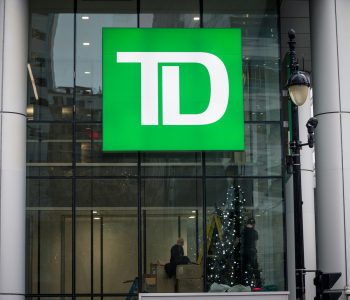 iStock.com/BalkansCat
This Bank Stock Deserves a Look
Seeing what happened during the last financial crisis, income investors know that even the largest banks—many of which have more than a century of operating history—are not exactly bulletproof.
For instance, in the U.S., we saw a bunch of dividend cuts in the financial services industry. The list of the banks that reduced their dividends during the last economic downturn includes well-known companies such as JPMorgan Chase & Co. (NYSE:JPM), Wells Fargo & Co (NYSE:WFC), Citigroup Inc (NYSE:C), and Bank of America Corp (NYSE:BAC).
And that's why today I want to talk to you about Toronto-Dominion Bank (NYSE:TD).
Toronto-Dominion Bank
As its name suggests, Toronto-Dominion Bank is a financial institution headquartered in Toronto, Ontario, Canada. And while the company is based north of the border, TD stock is also listed on the New York Stock Exchange, so it's very convenient for U.S. investors to own its shares.
Also, despite having a Canadian origin, Toronto-Dominion has also built a solid presence in the United States. It has three main operating segments: "Canadian Retail," "U.S. Retail," and "Wholesale Banking." TD serves over nine million customers in the U.S and more than 13 million customers in Canada. It is also a top 10 North American bank, ranked the sixth-largest by total assets and by market capitalization. (Source: "TD Bank Group Investor Presentation Q1 2019," Toronto-Dominion Bank, last accessed May 22, 2019.)
Now, as I mentioned earlier, dividend cuts weren't uncommon for U.S. banks during the last financial crisis. And that's one of the reasons why TD stock stands out.
Despite its sizable presence in the states, Toronto-Dominion did not reduce its dividend during that rough period.
You see, from 2003 to 2008, the bank increased its quarterly dividend at least once every year. Management then maintained TD stock's quarterly dividend rate at CA$0.305 per share from 2008 to 2010. And starting in 2011, they went back to raising the payout at least once every year. (Source: "Dividends," Toronto-Dominion Bank, last accessed May 22, 2019.)
And if you look further back, you'll see that the bank has been paying either steady or increasing dividends for decades. The world economy went through plenty of ups and downs, but even during the downturns—such as the 1970s oil crisis, the 1990s recession, and the collapse of the dotcom bubble—Toronto-Dominion did not cut its dividend payments to shareholders.
For investors looking to earn a growing income stream through thick and thin, few companies have done a better job than this Canadian bank.
Earn a Safe and Growing Income Stream
And while past performance is no guarantee of future results, I believe that Toronto-Dominion Bank is well positioned to continue that track record.
One reason is that, unlike some banks that focus on wholesale banking, TD is more known as a retail bank. And while wholesale banking can be lucrative with a small number of customers, it's also more volatile than retail banking, which relies on a larger customer base and is less cyclical.
As a matter of fact, Canadian and U.S. retail accounted for approximately 86% of Toronto-Dominion's earnings in its most recent fiscal year. Thanks to its retail focus and tens of millions of loyal customers, TD bank can run a recession-proof business.
Moreover, the company boasts rock-solid financials.
In its fiscal-year 2018, which ended October 31, 2018, Toronto-Dominion generated CA$38.8 million in total revenue, up 7.5% year-over-year. The bottom line turned out to be even better as TD's adjusted earnings came in at CA$6.47 per diluted share, representing a 16.8% increase from the CA$5.54 per share earned in fiscal 2017. (Source: "TD Bank Group Reports Fourth Quarter and Fiscal 2018 Results," Toronto-Dominion Bank, November 29, 2018.)
For TD's fiscal-year 2018, the company paid total dividends of CA$2.61 per share. This was 11.1% more than the CA$2.35 per share it paid in its fiscal-year 2017. Still, given the bank's adjusted earnings of CA$6.47 for the year, it had a payout ratio of just 40.3%.
In other words, despite the fact that TD stock's dividends have been growing for a long time, the company has no problem covering the payout. This was due to the fact that the bank has been growing profits at a faster pace.
Lock in a Generous Dividend Yield
Now, we know that safe dividend growth stocks are highly sought after in this market. And as investors rush to buy them, the yields of these stocks tend to drop.
But because Toronto-Dominion Bank is a foreign company, it doesn't get as much attention as its U.S. counterparts. As a matter of fact, trading at $55.13 per share on the New York Stock Exchange, TD stock currently offers an annual dividend yield of over four percent. To put this in perspective, that's a higher yield than what's being offered at the four big U.S. banks I mentioned earlier (JPMorgan, Wells Fargo, Citigroup, and Bank of America).
With a growing business, a conservative payout ratio, and a management that's willing to return cash to investors (as shown from their decades-long track record), Toronto-Dominion will likely continue delivering dividend hikes for years to come.