Centurylink Inc: Top Income Stock is Now Yielding 8.7%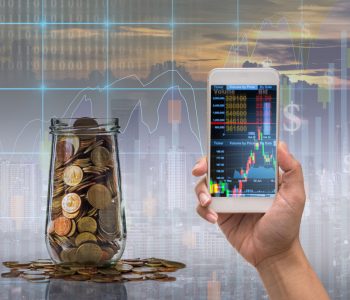 High-Yield Income Stock Paying 8.7%
In today's market, finding an income stock is not really that easy. If you go with the most established blue-chip companies, chances are they don't offer substantial yields. If you turn to the highest-yielding names, then dividend durability could be a concern. There is, however, one company that deserves the attention of investors looking for income stocks, and that's Centurylink Inc (NYSE:CTL).
CenturyLink is a telecommunications company. Headquartered in Monroe, Louisiana, the company provides broadband, voice, video, advanced data, and managed network services to enterprise customers, as well as to consumers. It has a 265,000-route-mile fiber network in the U.S. and a 360,000-rout-mile transport network internationally.
Right now, the No. 1 reason to consider CenturyLink an income stock is its dividend yield. Paying quarterly dividends of $0.54 per share, the company has an annual dividend yield of 8.68%.
To give you some perspective, the average dividend yield of S&P 500 companies is just 1.94%. As a matter of fact, CenturyLink is currently the second-highest yielder among all S&P 500 companies. (Source: "S&P 500 Dividend Yield," Multpl.com, last accessed May 23, 2017.)
Of course, a company wouldn't be a good income stock if its dividends were not sustainable. Income investors are not looking to make a quick buck. Instead, they have long-term investment horizons. The reason why many stocks with double-digit yields are having trouble finding an audience is their lack of a sustainable business model.
That's why CenturyLink is special. Sure, investor sentiment hasn't been the greatest around this company, but it does have a durable business model.
You see, telecommunications is an industry with high barriers to entry. Even though being a local exchange carrier and Internet access provider is not really the most exciting type of telecom business, it is still very expensive to build an access network that connects millions of customers. Moreover, it's very difficult to get the regulatory approval to build another set of infrastructure once a network is already set up in an area. In other words, telecom companies can sometimes operate as legal monopolies.
Still, there have been concerns about the company's business. In particular, CenturyLink has not grown its top-line number for quite some time. The thing is, though, while its legacy business is not really producing growth, the company has found a new growth driver: enterprise high-bandwidth data services.
In the first quarter of 2017, CenturyLink generated $769.0 million from enterprise high-bandwidth data services, representing an increase of more than four percent year-over-year and two percent sequentially. High-bandwidth data services may not be what CenturyLink is traditionally known for, but it has grown so much that it now represents approximately 70% of the company's total strategic revenue. (Source: "CenturyLink Reports First Quarter 2017 Results," CenturyLink Inc, May 3, 2017.)
Industry trends may also work in CenturyLink's favor this time around. At the company's most recent earnings conference call, CenturyLink President and Chief Executive Officer Glen F. Post noted that, "Third-party research reports forecast mid-single digit compounded annual growth rate in U.S. Enterprise high-bandwidth data services through 2021 and mid-to-upper single digit compounded annual growth rates in U. S. Enterprise Markets Managed Network Services through 2021." (Source: "CenturyLink (CTL) Q1 2017 Results – Earnings Call Transcript," Seeking Alpha, May 3, 2017.)
And that's not all. Going forward, there could be a huge catalyst for this income stock. CenturyLink announced last year that it is acquiring Level 3 Communications, Inc. (NYSE:LVLT), a multinational telecom and Internet service provider company, in a deal valued at $34.0 billion. The new company would be the second-largest domestic communications provider servicing global enterprise customers.
Leading Business Focus and Scale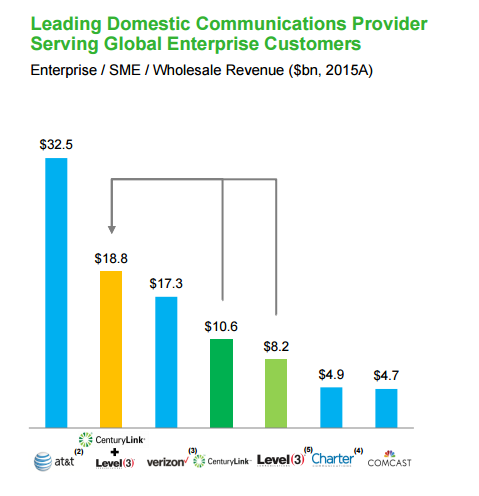 Source: "CenturyLink to Acquire Level 3," CenturyLink Inc, October 31, 2016.
Buying Level 3 will add 200,000 route miles of fiber to CenturyLink's network and will increase its on-net buildings by almost 75%, to approximately 75,000. The company expects to achieve annual run-rate cash synergies of $975.0 million.
After the acquisition, CenturyLink would also have a huge focus on its current strategic segments. It calculated that 76% of the combined company's revenue will come from the enterprise and wholesale business.
The deal has been approved by shareholders of both companies and is now waiting for regulatory approval. The companies expect to complete the transaction by the end of September 2017.
Also Read:
10 Highest-Paying Dividend Stocks for 2017
3 High-Dividend-Paying Stocks Yielding Up to 12.8%
The Bottom Line on This Income Stock
So, we know that the situation at CenturyLink may not be as bad as its stock performance has been suggesting, and there are some future catalysts. But with a huge deal coming up, will the company have enough cash to keep rewarding shareholders?
Well, the company generated a solid $492.0 million of free cash flow in the first quarter. It also recently completed the sale of its data centers and colocation business, bringing in after-tax net cash proceeds of $1.75 billion. As for the acquisition, CenturyLink said that the deal would be accretive to free cash flow starting in the first year, flowing close and significantly accretive thereafter.