Texas Instruments Incorporated Stuns Wall Street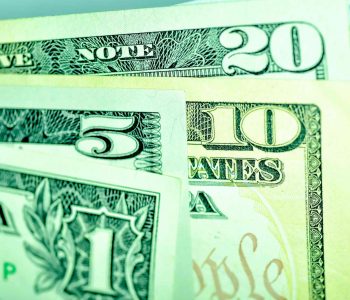 Texas Instruments Incorporated Ranks as One of Wall Street's Top Dividend Stocks
Even top dividend stocks have struggled this year over double-digit unemployment, the COVID pandemic, and a borderline economic depression. But you wouldn't know it listening to the recent conference call by Texas Instruments Incorporated (NASDAQ:TXN).
In a surprise press release, the chipmaker's executives announced TXN would hike its quarterly distribution by 13% to $1.02 per share.
If the decision gets the greenlight from the board of directors, it will represent Texas Instruments' 17th consecutive annual distribution increase and raise the forward yield on shares to almost three percent. (Source: "Texas Instruments raises dividend by 13%," MarketWatch, September 17, 2020.)
The news stunned the investor community and sparked a buying frenzy on Wall Street. Shares closed the following session sharply higher, nearing a fresh all-time high. But this could be just the beginning for TXN stock.
Admittedly, COVID-19 has taken a bite out of Texas Instruments Incorporated's profitability.
Second-quarter sales came in at only $3.2 billion, falling a little short of Wall Street estimates. Management said that the drop came almost entirely from the automotive sector, which has dialed back production due to factory shutdowns. (Source: "TI reports second quarter 2020 financial results and shareholder returns," Texas Instruments Incorporated, July 21, 2020.)
But analysts see signs of an emerging turnaround.
While the previous earnings report was disappointing, sales only dropped two percent from the previous quarter. With plants and factories poised to reopen, Texas Instruments executives expect a quick recovery. Management also issued positive guidance for the remainder of the year, which represents a big vote of confidence in the underlying business.
But the real opportunity lies in the emerging trend that tech pundits have dubbed the "Internet of Things" (IoT).
Over the next few years, billions of ordinary objects will be connected to the internet, anything from street lamps and bathroom scales to trash cans and factory equipment. Analysts predict that this development could create a new multi-billion-dollar industry to make, deploy, and manage these IoT devices, in addition to adding trillions of dollars in additional economic activity.
Texas Instruments has positioned itself right in the middle of this boom. The company makes analog chips, which convert real-world data like speed, sound, temperature, and electrical currents into digital signals. In other words, the "nuts and bolts" that will make the IoT bonanza even possible.
This has created a nice tailwind for Texas Instruments Incorporated.
Prior to COVID-19, earnings per share had been growing at a low-teen annual clip. And this had translated into impressive total returns for shareholders.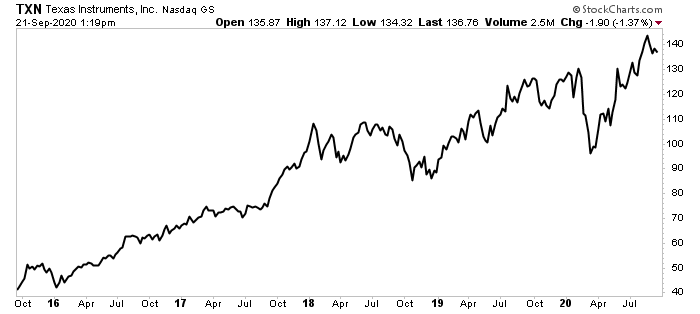 Chart courtesy of StockCharts.com
But more growth is likely on the way. Over the next five years, analysts project that Texas Instruments will grow earnings per share at a 10% compounded annual clip. And, given the company's modest payout ratio and light debt load, executives should have no problem boosting the dividend in line with profits.
Income hunters should give this top dividend stock a second look.