CBRL Stock: A Top Dividend Stock That You Likely Haven't Considered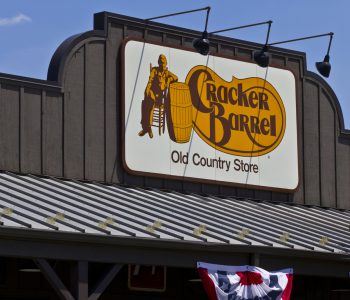 Collecting Dividends from a Restaurant Stock?
Today's top dividend stock comes from an industry that many income investors haven't really considered: restaurants.
Dining out is a popular thing for Americans, but investors haven't really warmed up to restaurant stocks. The industry is not exactly risk-free and some of the most established players are reporting year-over-year declines in comparable-store restaurant sales.
There is, however, one company that income investors should not ignore: Cracker Barrel Old Country Store, Inc. (NASDAQ:CBRL).
Cracker Barrel is a unique player in the restaurant business. A typical Cracker Barrel Old Country Store consists of not only a restaurant, but also a gift shop. The company currently owns and operates 644 Cracker Barrel locations and four Holler & Dash Biscuit House locations in 44 states.
Having a retail shop in a restaurant may not seem to be the most intuitive idea, but it has become an integral part of the Cracker Barrel experience. The retail shop is also used as a guest waiting area and is generating $440 of sales per square foot with a 50% gross margin.
One of the major concerns for restaurant stocks is the ongoing decline in food prices. When groceries cost less than before, consumers may be more willing to cook their meals at home. This has been reflected in the lackluster sales numbers at quite a few restaurant chains.
Cracker Barrel, on the other hand, managed to find growth in this challenging industry environment. The chart below compares Cracker Barrel's sales growth with the overall casual dining industry.
Sales Growth: Cracker Barrel Vs. Casual Dining Industry
Source: "Bank of America Merrill Lynch Consumer and Retail Technology Conference," Cracker Barrel Old Country Store, Inc., last accessed June 5, 2017.
As you can see, while the industry's performance has been lackluster, Cracker Barrel was able to deliver consistent top l-ne growth in each of the last five fiscal years.
Thanks to margin improvements, top-line growth translated to the bottom line. Through cost-saving initiatives, Cracker Barrel expanded its operating margin from 6.9% in fiscal year 2011 to 9.6% in fiscal year 2016. Combined with sales growth, higher margins allowed the company to significantly increase its operating income over this period.
Consistent Margin Improvements

Source: Ibid.
According to Cracker Barrel's initial strategic plan, the goal was to increase its operating margin to approximately nine percent by fiscal year 2017. But as you can see, the company has already exceeded the target in its fiscal 2016.
In fact, Cracker Barrel's latest earnings report showed that in the three months ended April 28, 2017, operating margins expanded another 60 basis points year-over-year to 10.2%. (Source: "Cracker Barrel Reports Results for Third Quarter Fiscal 2017, Raises Full-Year Earnings Guidance, Increases Quarterly Dividend and Declares Special Dividend," Cracker Barrel Old Country Store, Inc., June 5, 2017.)
The company also raised its earnings guidance. It now expects to earnings per diluted share for its fiscal year 2017 to be between $8.25 and $8.35, which, at the midpoint, would represent a 5.6% increase from the $7.86 per share reported in fiscal 2016.
Returning Value to Shareholders
For a solid business to also be top dividend stock, it has to be willing to return value to shareholders. The good news is, Cracker Barrel is doing an excellent job at that.
CBRL stock currently pays $1.20 per share on a quarterly basis. At today's price, that translates to an annual dividend yield of 2.86%. While the yield may not be something to brag about, note that over the last five years, Cracker Barrel's quarterly dividend rate has increased 200%.
Here's the best part: other than paying regular quarterly dividends, the company also rewards investors with special cash dividends. Cracker Barrel paid a $3.00-per-share special dividend in fiscal 2015 and a $3.25-per-share special dividend in fiscal 2016, and has declared a $3.50 special dividend for fiscal 2017.
If you take into account the company's special dividend, you'd see that the cash-on-cash yield of this top dividend stock right now is actually 4.9%.