3 Top Dividend Stocks for 2019 (Yielding Up to 10.9%)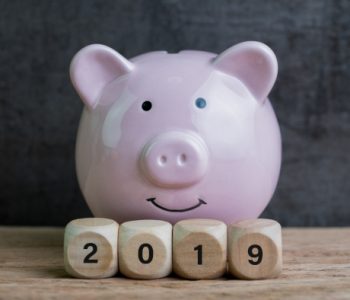 iStock.com/Nuthawut Somsuk
Dividend Investing in 2019 and Beyond
In the U.S. stock market, things have been volatile, to say the least. When the Dow Jones Industrial Average dropped more than 800 points in a single trading session not that long ago, many investors learned the hard way that stocks don't always go up.
That's why here at Income Investors, we look at companies not just from a stock price performance perspective, but also from a dividend angle. When a company wants to return cash to investors through dividends, it does not need the approval of the stock market. In other words, a stock might decline in a market downturn, but if the company can keep paying dividends, shareholders can still earn a cash return with certainty.
For investors interested in earning a cash return with certainty, I have compiled a list of three top dividend stocks for 2019 that yield up to 10.9%.
List of 3 Top Dividend Stocks for 2019
| | | | |
| --- | --- | --- | --- |
| Company Name |  Stock Exchange | Ticker Symbol | Dividend Yield |
| Aqua America Inc | NYSE | WTR | 2.3% |
| Realty Income Corp | NYSE | O | 4.6% |
| Monroe Capital Corp | NASDAQ | MRCC | 10.9% |
1. Aqua America Inc
When it comes to earning a stable stream of revenues and profits, few industries can do a better job than utilities. People may not buy as many new cars when times are tough, but most of them probably won't skip their hydro and gas bills. And with a recurring business, utility companies can pay durable dividends.
Aqua America Inc (NYSE:WTR) is a water and wastewater utility company headquartered in Bryn Mawr, Pennsylvania. It currently serves around three million customers in Ohio, Pennsylvania, New Jersey, Illinois, Texas, Virginia, North Carolina, and Indiana.
With a quarterly dividend rate of $0.219 per share, WTR stock has an annual yield of 2.3%.
The yield itself might not be that exciting, but risk-averse income investors should consider this company for 2019 due to the longevity and growth in its payout. Aqua America has been paying consecutive quarterly cash dividends for more than 73 years. Moreover, the company has also raised its payout in each of the past 27 years. (Source: "Dividend History," Aqua America Inc, last accessed October 10, 2018.)
The best part is, despite all the dividend hikes, the payout is more than safe. In the second quarter of 2018, Aqua America's earnings per share grew 8.8% year-over-year to $0.37. Considering that the company declared and paid a quarterly dividend of $0.2047 per share during this period, it achieved a payout ratio of 55.3%, leaving a wide margin of safety. (Source: "Aqua America Reports Financial Results for Q2 2018," Aqua America Inc, August 1, 2018.)
2. Realty Income Corp
Being a landlord is also a great way to earn a passive income. However, buying a property and renting it out yourself is not always a fun experience. What if the tenant wants to get their leaky faucet fixed at midnight? Or what if they are late on their payments?
If you want to collect rental income without having to deal with all the hassles of being a landlord, you should take a serious look at Realty Income Corp (NYSE:O). A real estate investment trust with a portfolio of more than 5,400 properties under long-term net lease agreements, the company is basically a giant landlord.
As an investor, you don't need to worry about the day-to-day operations of the properties; all you need to do is sit back, relax, and enjoy the dividend checks rolling in.
And as it turns out, the dividend checks from Realty Income Corp come to your door much more frequently than those from most other companies. The majority of dividend stocks today distribute on a quarterly basis. Realty Income, on the other hand, follows a monthly dividend policy. With a monthly dividend rate of $0.2205 per share, O stock offers a generous annual yield of 4.6%.
While past performance does not guarantee future results, Realty Income's business model has been proven to work through thick and thin. Known as "the monthly dividend company," O stock has paid 578 consecutive monthly dividends and has raised its payout every quarter for the past 84 quarters. (Source: "Dividend Payment Information," Realty Income Corp, last accessed October 10, 2018.)
3. Monroe Capital Corp
To round off the list of three top dividend stocks for 2019 is Monroe Capital Corp (NASDAQ:MRCC), a business development company (BDC) headquartered in Chicago, Illinois. Compared to the previous two dividend stocks, Monroe is a much lesser-known name, as the company does not serve consumers directly. And since MRCC stock only started trading in 2012, it's relatively new to investors as well.
What makes Monroe Capital Corp stand out is the sheer size of its payout. Paying quarterly dividends of $0.35 per share, MRCC stock offers investors a jaw-dropping yield of 10.9%.
Of course, in today's market, an ultra-high dividend yield can be a sign of trouble. So whenever you see a double-digit yielder, it's important to check whether the company can cover its payout.
As a provider of financing solutions to lower-middle-market companies in the U.S. and Canada, Monroe Capital makes money by lending it out at higher interest rates than it borrows at. The profit is called "net investment income."
In the second quarter of 2018, the company earned a net investment income of $7.9 million, or $0.39 per share. This provided more than enough coverage for its quarterly dividend payment of $0.35 per share. (Source: "Monroe Capital Corporation BDC Announces Second Quarter Results," Monroe Capital Corp, August 7, 2018.)
Going forward, Monroe Capital Corp is well positioned for rising interest rates. Most of the loans in the company's investment portfolio have floating interest rates. While the company also has interest-bearing liabilities, management estimated that if the benchmark interest rates go up by 100 basis points, the company would make an extra $3.2 million in annual net investment income. (Source: "Form 10-Q," Monroe Capital Corp, last accessed October 10, 2018.)
With multiple rate hikes expected from the U.S. Federal Reserve in 2019, Monroe Capital could get a solid boost at the bottom line. And that would be good news for investors of MRCC stock.