Three Simple Reasons to Own Johnson & Johnson (NYSE:JNJ) Stock Forever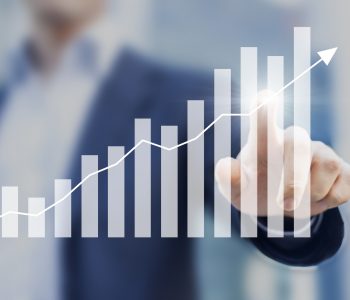 iStock.com/NicoElNino
1 Top Dividend Stock for 2017 and Beyond
When it comes to helping income investors achieve their goals, few have done a better job than Johnson & Johnson (NYSE:JNJ) stock.
The key here is dividend growth. As consumers, we have firsthand experience of how prices have been going up. For those that want to use returns from their dividend portfolios to cover day-to-day expenses, a growing stream of dividends is crucial to maintain their standard of living.
And that's exactly what JNJ stock provides.
Growing Dividends
Johnson & Johnson has been one of the most solid dividend payers in the U.S. stock market. The company has raised its quarterly dividend rate every year for the past 55 years. That makes JNJ stock a "dividend king."
Moreover, the rate at which the company is raising its payout has not shown any sign of slowdown.
Johnson & Johnson's latest dividend hike was announced this April. The new quarterly dividend rate of $0.84 per share represented a five-percent increase from the previous payment.
The chart below shows the JNJ stock dividend history for the past 20 years:

Source: "Dividend History," Johnson & Johnson, last accessed August 3, 2017.
Growing Market
When it comes to finding stocks to own for the long term, investors know how important it is for companies to have durable competitive advantages. A durable competitive advantage can protect a company's profits from its competitors.
What's less talked about, though, is the growth of the overall market. If a company holds a dominant position in a market but that market is shrinking, the company would see its sales decline, no matter how strong its competitive advantage is.
That's why it is of utmost importance to invest in companies with a growing market.
The good news is that Johnson & Johnson operates in a growing market. The company has three segments: Consumer, Pharmaceuticals, and Medical Devices.
Population aging is a major demographic trend not just in the U.S., but around the world. This means the market for JNJ's products will likely grow. As more people enter their golden years, healthcare spending is expected to rise. Johnson & Johnson is one of the biggest healthcare companies in the world. This demographic trend could become a huge catalyst for JNJ stock.
Growing Financials
Here's the best part: despite being a century-old company, Johnson & Johnson is still growing its business. And that growth is reflected in its financials.
The company reported earnings last month. In the second quarter of 2017, JNJ generated $18.8 billion in sales, up 1.9% year-over-year. Excluding impacts from currency exchange, operational sales increased 2.9% year-over-year. (Source: "Johnson & Johnson Reports 2017 Second Quarter Results," Johnson & Johnson, July 18, 2017.)
Also Read:
Johnson & Johnson (JNJ) Dividend 2017: Yield, Dates, Splits, Prediction, and Everything You Need to Know
JNJ Stock: Johnson & Johnson Still a Top Pick for Long-Term Investors
The bottom line improved as well. Adjusted earnings came in at $1.83 per share, representing a 5.2% increase from the year-ago period. On a constant currency basis, operational earnings per share was up 6.9%.
Note that adjusted income before tax showed improvements in each of the company's three main segments.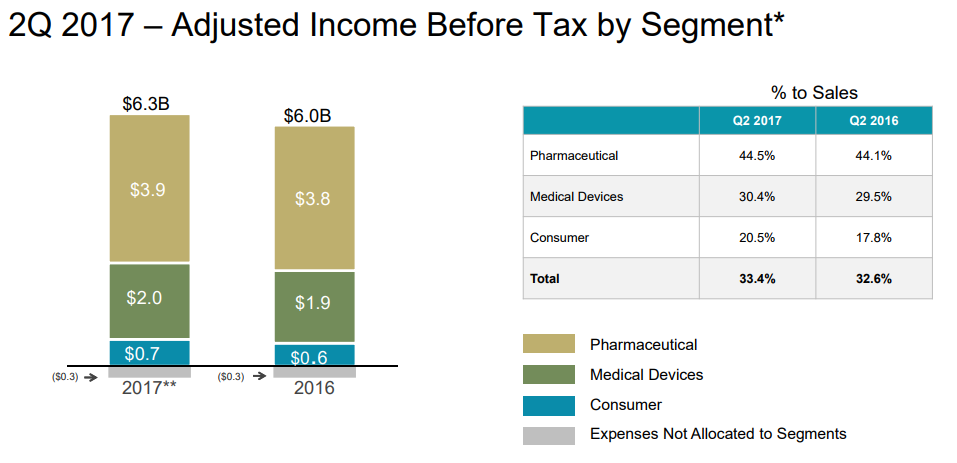 Source: "2nd Quarter 2017 Earnings Call Presentation," Johnson & Johnson, last accessed August 3, 2017.
The Bottom Line on JNJ Stock
In today's market, bargains are hard to find. Yet despite its strengths, Johnson & Johnson is not really expensive. Trading at $132.37 apiece, the company has a price-to-earnings (P/E) multiple of 22.35 times, significantly lower than the industry's average P/E of 30.53 times. Adding in the fact that it has a growing market, growing financials, and growing distributions, JNJ stock could be a top name to own for 2017 and beyond.