Thomson Reuters Corp: A Solid Dividend Stock You Might Not Have Considered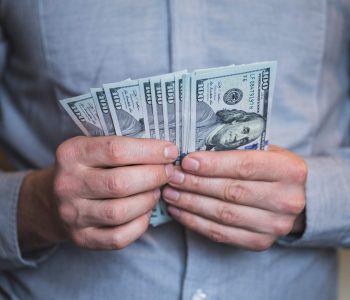 1 Dividend Stock to Think About
To most people, the name Thomson Reuters Corp (NYSE:TRI) is often associated with news. Indeed, Reuters news agency has been around since 1851, and it now has about 200 locations worldwide.
However, the current Thomson Reuters Corp is about much more than just news. The company was formed when Thomson Corporation purchased Reuters Group in April 2008. Now headquartered in Toronto, Ontario, Canada, TRI is a leading provider of business information services.
The company has five operating segments: Legal Professionals, Corporates, Tax & Accounting Professionals, Reuters News, and Global Print. They accounted for 41%, 22%, 14%, 11%, and 12% of TRI's total revenue last year, respectively. (Source: "Thomson Reuters Summer 2020 Investor Booklet," Thomson Reuters Corp, last accessed October 6, 2020.)
In other words, news is actually a rather small part of Thomson Reuters' business.
The company also has deeply entrenched positions in its operating segments. To give you an idea, 96 of AmLaw 100 firms, all of the Fortune 100 firms, and all of the top 100 U.S. CPA firms are Thomson Reuters customers.
Another interesting fact about Thomson Reuters is that its business is largely recurring. For instance, in the company's Legal Professionals segment, 92% of revenue is recurring and the retention rate is around 91%. In the Tax & Accounting Professionals segment, the retention rate is approximately 90%.
With deep customer relationships, strong retention rates, and a recurring business model, TRI stock is well-positioned to pay recurring dividends.
In fact, with TRI stock on track to deliver total dividends of $1.52 per share this year, the company has paid increasing dividends for 27 consecutive years. (Source: "Dividend Timetable," Thomson Reuters Corp, last accessed October 6, 2020.)
Thomson Reuters Corp: Rising Dividends Backed by a Growing Business
Those dividend hikes were backed by a growing business. In 2019, Thomson Reuters' revenue grew seven percent year-over-year to $5.9 billion. (Source: "Thomson Reuters Reports Fourth-Quarter and Full-Year 2019 Results," Thomson Reuters Corp, February 25, 2019.)
Of course, the COVID-19 pandemic has changed the growth trajectory of a lot of companies this year. Thomson Reuters has been impacted, too, but its business has shown a lot of resilience.
According to the most recent earnings report, Thomson Reuters generated $1.4 billion in revenue in the second quarter of 2020, down just one percent year-over-year. Adjusted earnings came in at $0.44 per share, which actually marked a sizable improvement from the $0.29 per share it earned in the year-ago period. (Source: "Thomson Reuters Reports Second-Quarter 2020 Results," Thomson Reuters Corp, August 5, 2020.)
Considering that the company declared a cash dividend of $0.38 per share, its profits covered the payout with ease.
And while it's too early to say when and how the world economy will recover, management has reaffirmed their full-year outlook. For 2020, Thomson Reuters Corp is expected to grow its revenue by one to two percent from 2019.
Thomson Reuters Corp (NYSE:TRI) Stock Chart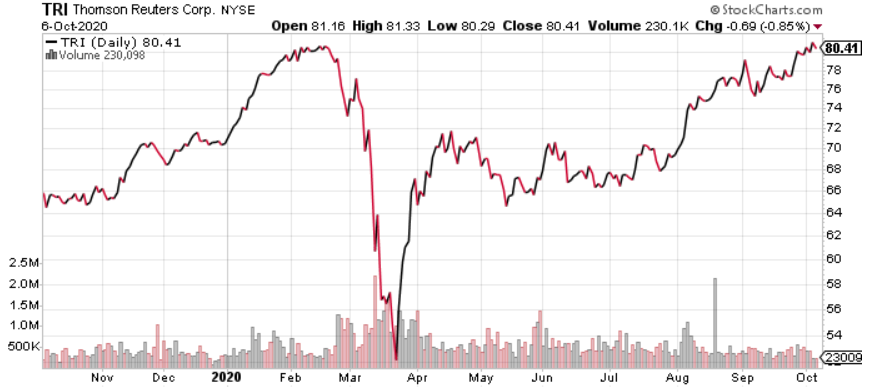 Chart courtesy of StockCharts.com
As you can from the above chart, Reuters stock tumbled during the market sell-off in March, but it has since climbed back to its pre-pandemic level. Over the past 12 months, TRI stock is up 19.8%.
However, because of the inverse relationship between dividend yield and stock price, Thomson Reuters Corp is not really a high-yield stock, even after decades of consecutive annual dividend hikes. With its stock trading at $80.41 apiece, the company offers an annual dividend yield of 1.9%.
One last thing to note about Thomson Reuters is that, as a Canadian company, it trades on both the Toronto Stock Exchange and the New York Stock Exchange. And because TRI stock's dividends are paid in U.S. dollars, it's very convenient for American income investors to own its shares.