STAG Industrial (NYSE:STAG) Stocks' Monthly Dividend Stock Yields 5%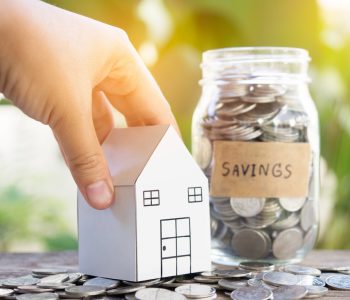 1 Monthly Dividend Stock for Income Investors
Readers of this column would know that I'm a big fan of monthly dividend stocks. With more frequent distributions, they are great for income investors who are relying on dividends to cover monthly expenses. Today's article is about a monthly dividend stock that's currently yielding five percent.
The company in question is STAG Industrial Inc (NYSE: STAG), a real estate investment trust (REIT) headquartered in Boston, Massachusetts. There are plenty of REITs trading in today's stock market, but STAG Industrial is one that deserves special attention.
You see, the most well-known REITs right now tend to focus on retail, residential, office, or healthcare properties. STAG Industrial, on the other hand, specializes in industrial properties.
Unique Investment Opportunity
To be more specific, STAG Industrial focuses on the acquisition and operation of single-tenant industrial properties. And that specialization is what makes it a unique investment opportunity.
The idea is that when a property is built for single-tenant use, it is either fully occupied or completely vacant. That's called "binary risk." For a landlord that owns one single-tenant property, they either receive full occupancy rent or zero rent. In other words, the binary risk could mean higher potential volatility in cash flows.
As a result, investors often use higher discount rates when evaluating individual single-tenant properties to take into account the binary risk. Now, what if you can have a portfolio that mitigates the binary risk nature of individual single-tenant assets?
Well, if you have a portfolio that aggregates the binary risk cash flows of individual properties, you can mitigate correlation and create cash flows with a less volatile profile. Investors that have the ability to do this will apply a lower discount rate when evaluating these assets.
Because there are two types of investors, STAG Industrial believes that single-tenant industrial properties are persistently mispriced. And because the company can aggregate binary risk cash flows, it sees an attractive opportunity to create value through portfolio construction.
The key here is diversification. STAG Industrial's portfolio currently consists of 324 buildings located in 37 states. It has 279 tenants and a well-laddered lease maturity schedule. No one tenant accounts for more than three percent of STAG's annualized rental revenue. By the end of the first quarter, the company's portfolio had a weighted average lease term of 4.4 years.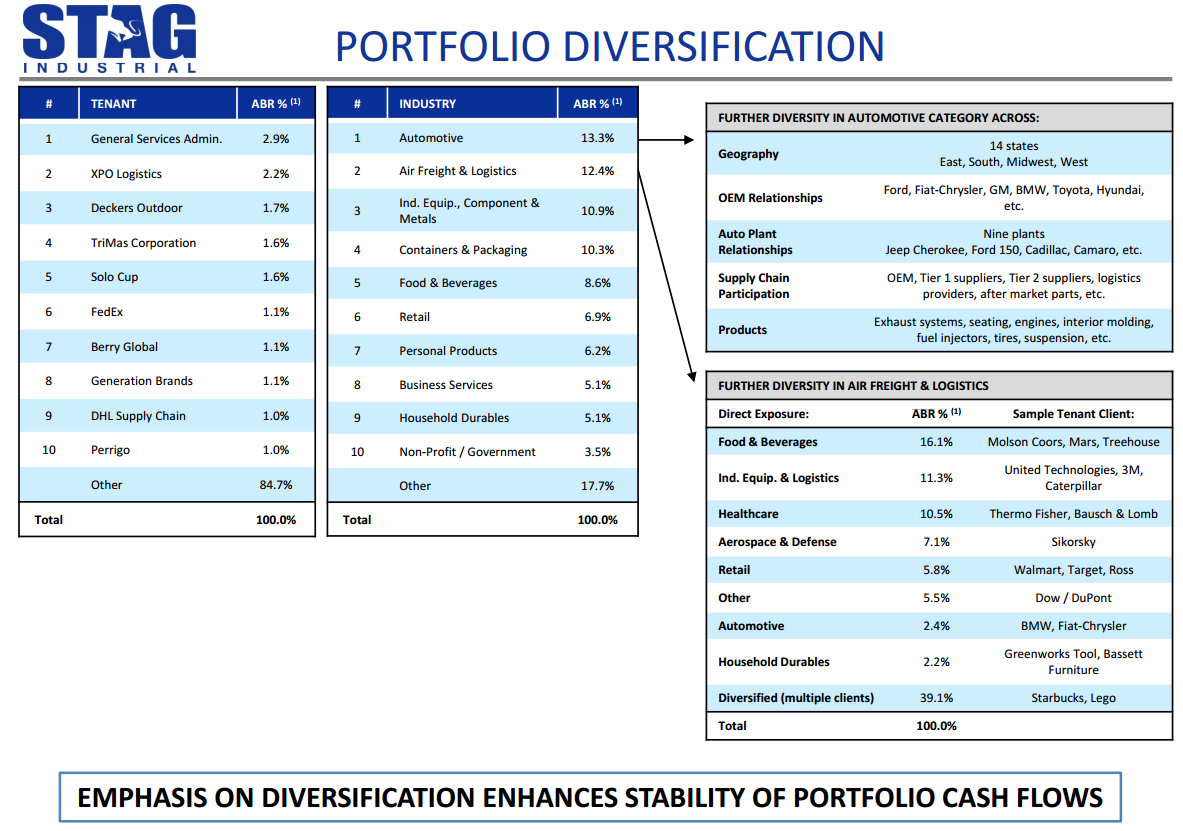 (Source: "Investor Presentation Spring/Summer 2017," STAG Industrial Inc, last accessed June 8, 2017.)
The strategy has worked. Since STAG Industrial's initial public offering (IPO) in April 2011, the company's credit loss was less than 0.1% of its revenue. STAG also has a current implied capitalization rate of 6.4%, which is better than the industrial REIT peer group's average capitalization rate of 5.1%.
Here's the best part: because the company is structured as a real estate investment trust, it is required by law to distribute most of its profits to shareholders. STAG Industrial currently pays monthly dividends of $0.1175 per share. At today's price, that translates to an annual yield of 5.03%.
This monthly dividend stock has also been raising its payout. Since STAG Industrial's IPO, its monthly dividend rate has increased 35.6%. (Source: "Dividends," STAG Industrial Inc, last accessed June 8, 2017.)
Final Thoughts On This Monthly Dividend Stock
At the end of the day, keep in mind that STAG Industrial operates in a very fragmented marketplace. The biggest player in the single-tenant industrial property business controls less than three percent of the market. This means there are plenty of opportunities for STAG Industrial to expand its presence.
STAG stock has already delivered 185% in total returns since its IPO in 2011. Given its unique business model and risk management guidelines, the best could be yet to come for investors of this monthly dividend stock.
Also Read:
Top 7 Stocks to Earn Monthly Dividends in 2017
The 7 Top Monthly Dividend Stocks for 2017