CNI Stock (NYSE:CNI) Soared 890%… and Has Lots of Upside Left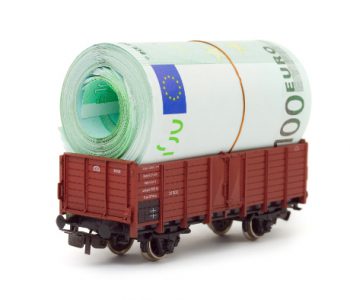 A Top Dividend Stock for the Next 100 Years
Today's chart highlights our favorite place to find top dividend stocks: irreplaceable assets.
Irreplaceable assets can't be replicated. Nobody can just come along and build a rival business from scratch. Needless to say, this makes them powerful wealth creation tools for owners.
Take, for instance, the Canadian National Railway Company (NYSE:CNI). Sure, railroads almost never make the front page of Yahoo! Finance. Despite a stodgy reputation, though, this stock has made shareholders a fortune for a couple of reasons.
First, the company's rail lines tops my list of the ultimate legacy assets. CN owns approximately 19,600 route-miles of track. These rail lines ship about $175.0 billion worth of goods annually across Canada and the Midwest, resembling the arteries of the North American economy. (Source: "Quick Facts Figures," Canadian National Railway Company, last accessed March 30, 2017.)
The company laid down most of these tracks over a century ago. Over time, cities popped up along the lines, yards, and terminals. If you wanted to replicate the company's empire today, landowners would demand billions in buyouts. This creates a colossal barrier to entry, allowing CN to earn oversized profits year after year.
Better still, the business has few rivals.
You have a lot of options to ship cargo: air, barge, truck. Trains, though, can move a tonne of freight 430 miles on a single gallon of fuel. This makes rail the most fuel-efficient method of shipping goods over land. (Source: "Fuel Efficiency," CSX, last accessed March 30, 2017.)
CN continues to find ways to extend that advantage. Executives have brought in several measures to slash costs, such as increasing fuel efficiency, running longer trains, and cutting idle time at terminals. All of which means that if we're shipping goods across the country, CN will get a piece of the action. These efforts have turned CN into a cash cow.
Since 2003, the stock's dividend has grown eight-fold. Even through the financial crisis of 2009, the company managed to increase its payout. (Source: "Stock Information," Canadian National Railway Company, last accessed March 30, 2017.)
Such success proves irreplaceable assets make great investments. In the chart below, you can see the long-term uptrend. Shares have soared 890% over the past 15 years, recently hitting fresh all-time highs.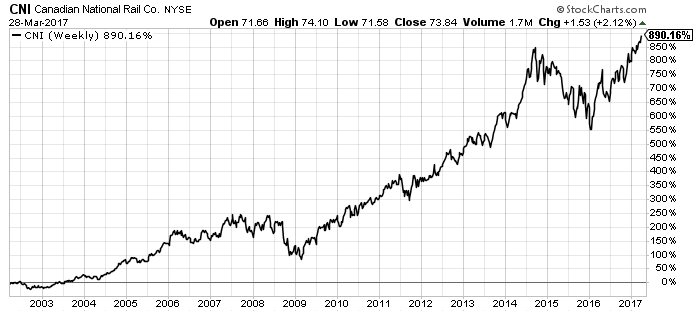 Chart courtesy of StockCharts.com
You can expect more dividend hikes to come, as CN's entrenched market position allows it to raise prices almost at will. And if you can use history as any guide, most of those profits will get passed onto shareholders.
Bottom line: irreplaceable assets make lucrative investments. Companies that own them tend to make the best dividend stocks around. My approach is to buy them, forget about them, and let these stocks make you rich.