Plains All American Pipeline Stock Now Yields 7.7%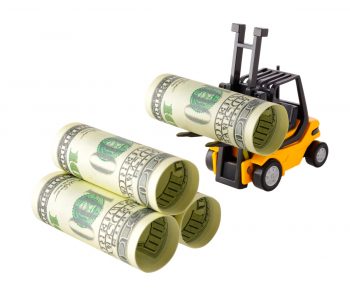 Earn 7.7% From This Top Dividend Stock
If you're looking for top dividend stocks, you could do worse than this 7.7% yield out of the oil patch.
Regular readers know I prefer to invest in "pick-and shovel" businesses to profit from a commodity boom. Rather than betting everything on the next gusher, these firms sell tools and services to an entire industry. This can be a far safer (and more lucrative) way to profit.
Take Plains All American Pipeline, L.P. (NYSE:PAA), for example. The trust owns the stuff that ships, stores, and processes crude oil and other energy commodities. And while this name won't impress friends at your next cocktail party, Plains All American has a place on my list of top dividend stocks.
First, you need to get ready for "Oil Boom 2.0." U.S. energy output has surged across the country. Drilling technology keeps getting better, allowing producers to turn a profit even at low prices. The number of rigs in operation, especially in the West Texas Permian Basin, has soared over the past year.
It's great news for industry suppliers. You can make money hand-over-fist providing everything from fracking sand to campsite catering. The boom has also created a big need for more pipelines, storage tanks, and processing facilities, as new supplies overwhelm existing infrastructure.
Plains All American has positioned itself well. Earlier this year, executives bought Concho Resources Inc's (NYSE:CXO) "Alpha Crude Connector" pipeline system. The company has also expanded its "Cactus" pipeline and "BridgeTex" transit network, with added capacity expected to come online in late 2017. (Source: "Concho Resources Inc. Announces Sale of the Alpha Crude Connector System for $1.215 Billion," Business Wire, January 24, 2017.)
Altogether, the partnership now handles some 4.6 million barrels of oil each day. Most of this network is concentrated around the fastest-growing shale fields. And while "wildcatters" hope to hit it big on the next strike, this trust can profit no matter who finds oil. (Source: "About Us," Plains All American Pipeline, L.P., last accessed May 8, 2017.)
Finally, Plains All American has shaped up after the last oil bust.
The partnership extended itself a little too far with debt during the previous boom. This forced management to cut overhead, pay off debt, and sell off non-core assets. The company even trimmed the distribution, much to the disappointment of unitholders.
These efforts have left a smaller, though more profitable, firm. Today, Plains All American pays a quarterly distribution of $0.55 per unit, which comes out to an annual yield of 7.7%. And, as you can see in the chart below, investors seem happy with the changes.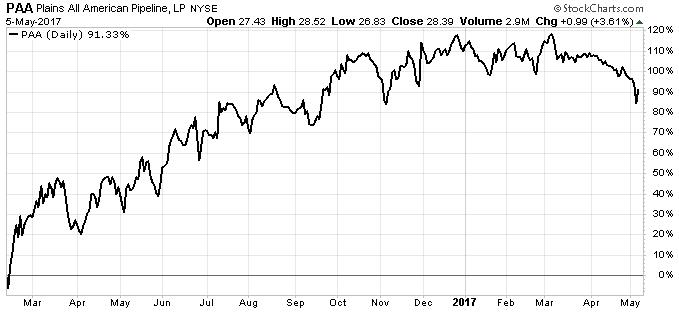 Chart courtesy of StockCharts.com
I expect this payout to start growing again soon. Soaring output from U.S. oil fields should boost fee income. Most of those profits will likely get passed on in the form of lucrative dividends.
Bottom line: America is on the cusp of Oil Boom 2.0. Rather than betting on some wildcat project out of West Texas, a far safer way to profit is by investing in"pick-and-shovel" companies. And if you're looking for income, few top dividend stocks can match the yield at Plains All American Pipeline, L.P.
Also Read:
The Best Pipeline Stocks for Retirement Income
Pipeline Stock List: Collect Reliable Dividends from These Pipeline Stocks