Seagate Technology Stock (NASDAQ:STX) Is Now Yielding 5.9%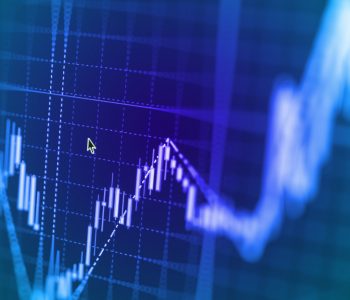 This Dividend Stock Raised Its Payout 152% in the Last 5 Years
When searching for dividend stocks, investors don't usually look at the tech sector. Due to the industry's fast-changing nature, people simply don't expect tech companies to pay sustainable dividends. And that's why today's top dividend stock, Seagate Technology PLC (NASDAQ: STX), is a special one.
Seagate Technology is a company that specializes in data storage solutions. Among its offerings are hard disk drives (HDDs), solid state drives (SSDs), and solid state hybrid drives (SSHDs). Its products are used in personal computers, as well as high-end servers. Some of Seagate's products are sold through distributors and retailers, but the company also sells directly to original equipment manufacturers (OEMs).
When you look at Seagate Technology, the first thing you will notice is probably going to be its dividend yield. Trading at $42.51 per share, STX stock is currently yielding 5.93%, an extraordinary number compared to most tech stocks in today's market.
Of course, sometimes a high yield can be no more than a red flag for a dividend stock. Because a company's dividend yield moves inversely to its share price, a high dividend yield could simply be a result of bad stock performance.
And to be honest, Seagate wasn't always a stock market favorite; its share price fell sharply for the most part of 2015. But more recently, this dividend stock has been enjoying a nice, V-shaped recovery. Over the last 12 months, Seagate's share price has more than doubled.
So, is this dividend stock worth considering for income investors?
Well, first of all, the company is in the right business. Technology is currently the hottest sector, but Seagate is not one of those companies getting the most attention. Compared to this data storage company, investors seem to be after the more high-profile companies, such as those making gadgets and processors.
But that doesn't mean data storage is not important. With more information available than ever before and the amount keeping on increasing, the demand for data storage solutions is going up on both personal devices and in the cloud. With expertise in both hard disk drives and solid state drives, Seagate is well-positioned to capture growth in the data storage industry.
Also, despite not being in the headlines very often, Seagate is actually at the frontier of its industry. The company recently shipped its new 12-terabyte helium enterprise drives to cloud providers for evaluations. Volume shipments of this latest enterprise capacity HDDs are expected to begin in the June quarter of 2017. At the same time, the company is partnering with DJI, the biggest maker of consumer drones, to develop data solutions for the unmanned aerial vehicles (UAV) ecosystem.
Furthermore, the company has been growing its current business. In the third quarter of Seagate's fiscal year 2017 ended March 31, 2017, the company generated $2.7 billion of revenue, up three percent year-over-year. Gross margin was 30.5%, representing a huge improvement from the 20.2% reported in the year-ago period. (Source: "Seagate Technology Reports Fiscal Third Quarter 2017 Financial Results," Seagate Technology PLC, April 26, 2017.)
For the quarter, Seagate shipped a total of 65.5 exabyte HDDs, translating to an average capacity per drive of 1.8 terabytes. The chart below shows that both average capacity per drive and total capacity shipped have been increasing year over year.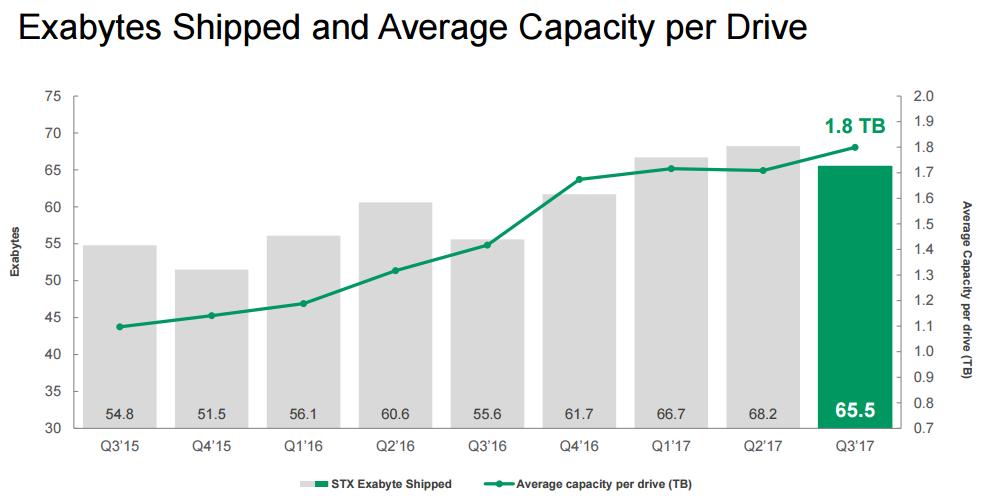 Source: "Fiscal Q3 2017 Supplemental Financial Information," Seagate Technology PLC, April 26, 2017.
One of the things that dividend investors would want to pay attention to is cash flow. At the end of the day, for a company to be able to pay dividends in the long run, it needs to generate enough cash. The good news is that Seagate generated $426.0 million in cash flow from operations in the most recent quarter, which was more than enough to cover its cash dividends of $186.0 million.
Seagate has also done something not many tech companies managed to do: raise its payout. In an industry where a lot companies don't even know if they are going to be around in the next five years, paying a dividend and growing it is truly a luxury. Seagate currently pays quarterly dividends of $0.63 per share, and over the last five years, its quarterly payout has increased 152%. (Source: "Dividends," Seagate Technology PLC, last accessed May 23, 2017.)
The Bottom Line on This Dividend Stock
But of course, no company is perfect. Even though the demand for data storage solutions should be solid going forward, there could be short-term headwinds for Seagate. For instance, personal computer shipments have been weak. Seagate, which delivers a lot of HDDs for computer manufacturers, could see its business impacted if the trend persists. Moreover, the company has a lot of business overseas. A strong U.S. dollar and lackluster economic growth in other parts of the world would not be good news for STX stock.
Also Read:
10 Highest-Paying Dividend Stocks for 2017
7 Dividend Stocks to Invest into in 2017
Bottom line: Seagate may not be as bulletproof as the other best dividend stocks. But due to the strengths in its core business and a handsome payout, it is still a dividend stock worth considering by investors.