This Monthly Dividend Stock Yields 6.3%, and is About to Raise Its Payout Again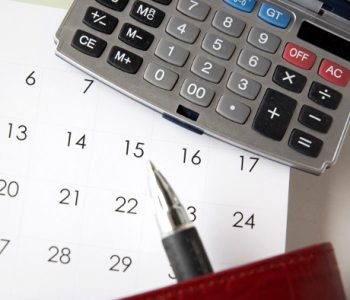 iStock.com/daniaphoto
Top Monthly Dividend Stock to Consider
Today's chart highlights a high-yield monthly dividend stock that's about to raise its payout soon, EPR Properties (NYSE:EPR).
Headquartered in Kansas City, Missouri, EPR Properties is in the real estate business. It currently owns 392 properties located in 43 states, D.C. and Canada. By renting out these properties through triple-net leases (meaning the tenants are responsible for paying the property tax, maintenance costs, and insurance on the leased properties), EPR earns a steady stream of rental income.
And because EPR Properties chooses to be taxed as a real estate investment trust (REIT), it must distribute at least 90% of its profits every year to shareholders through dividends. The company currently pays monthly dividends of $0.34 per share, giving EPR stock an impressive annual yield of 6.3%.
Also Read:
5 Monthly Dividend Stocks Yielding Up To 10.2%
In today's market, most dividend-paying companies distribute on a quarterly basis. By paying dividends every month, EPR Properties make it easier for income investors to match their day-to-day expenses with dividend income.
Moreover, the payout has been growing. In 2012, the company's dividends totaled $3.00 per share. In 2017, it is on track to pay total dividends of $4.08 per share for an increase of 36%.
EPR Stock Dividend History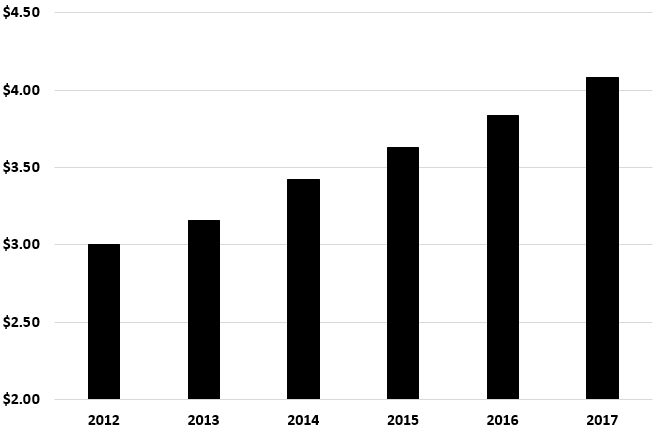 Source: "Dividends," EPR Properties, last accessed December 28, 2017.
Mind you, rising dividends are not the only reward EPR stock investors have collected over the years; the company also stands out in terms of total return. From its initial public offering (IPO) in 1997 to September 30, 2017, EPR stock has delivered total shareholder return (including share price appreciation and reinvested dividends) of 1,492%, beating both the MSCI U.S. REIT Index (462%) and the Russell 1000 Index (306%). (Source: "About EPR," EPR Properties, last accessed December 28, 2017.)
Past performance does not guarantee future results, especially when it comes to share price movements. However, based on the company's financials, higher cash payouts are likely on their way.
You see, despite running a relatively boring business (being a landlord), EPR has been improving its financials. In the first nine months of 2017, the company generated $428.3 million of revenue, representing an 18% increase year-over-year. (Source: "EPR Properties Reports Third Quarter 2017 Results," EPR Properties, November 8, 2017.)
Adjusted funds from operations (AFFO), which measures the amount of cash generated from the REIT's operating activities, was $264.7 million, or $3.73 per diluted share, for the first nine months. The per share figure represented a five-percent increase from the year-ago period.
Considering that EPR Properties declared total dividends of $3.06 per share in the first nine months of this year, its AFFO of $3.73 per share means the company was paying out 82% of the cash it generated from operations. This leaves a margin of safety.
And if you are concerned about how the booming e-commerce industry is going to affect retail real estate, don't worry; EPR does not own any retail malls. Instead, it invests through three segments: Entertainment, Recreation, and Education. These properties, which include the likes of movie theaters and ski resorts, provide an experience rather than a physical product, meaning EPR is well positioned to capitalize on the booming experience economy.
With a growing business, the company will likely dish out bigger dividends down the road. EPR Properties usually reviews its dividend policy at the beginning of each year. Given the company's excellent financial situation, I wouldn't be surprised if EPR announces another dividend increase in the next few weeks.