Tootsie Roll Industries, Inc.(NYSE:TR): This Little-Known Stock Has Raised Its Dividend for 51 Years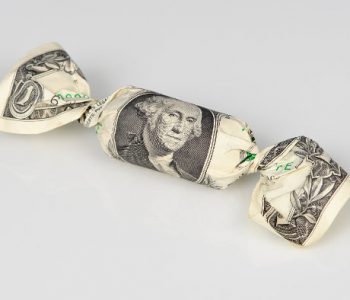 iStock/Konradost
Tootsie Roll: A Sweet Treat for Investors
For decades, parents have handed out Tootsie Rolls as Halloween treats. Most people, though, don't know the chocolate maker has also handed out plenty of treats for income investors over the years.
Buoyed by rising profits from sweets and candies, Tootsie Roll Industries, Inc. (NYSE:TR) has boosted its dividend for over five decades. Last year, executives hiked the payout another 12.5%–a sign the management sees more good things ahead.
Admittedly, the stock's one-percent payout might not to satisfy the most yield-hungry investor. But given the company's timeless business, those payments will almost certainly continue to roll in. For long-term investors who aren't startled by market ups and downs, shares could produce some sweet returns.
For owners, it's a simple operation to wrap your head around. A candy bar costs a few pennies to make, you change a dollar, and it's addictive. And because you don't have to reinvent your business every few years, the company doesn't need to spend a lot of money on research and development; all of the profits flow straight to the bottom line.
Tootsie Roll has a lot going for it:a stable of iconic brands such as "Andes," "Double Bubble," and "Junior Mints;" light competition from private-label producers; and ongoing investments in factories, plants, and equipment to cut costs and boost margins.
Even as consumers switch from confectionery to healthier treats–revenues haven't increased for five straight years–Tootsie Roll has kept other costs down by trimming payrolls and closing under-performing plants in an effort to become more efficient. All of this has contributed to mid-single digit earnings growth over the past decade, according to the company's financial reports.
You can see the power of this business in Tootsie Roll's numbers. The company enjoys some of the thickest margins of any business I know of, with gross margins consistently around 38%. Net margins usually come in around the mid-teens.
Because most other companies plow their profits back into their business to fund expansion, there often isn't much cash left over for shareholders. But given the number of candy bars Americans consume each year doesn't change much, Tootsie Roll's management can milk operations. On sales of just over $521.0 million, the company generated just under $82.5 million in free cash flow the last four quarters.
That has translated into a tidy income stream. Over the past decade, executives have increased the distribution at a 4.4% annual clip. Extra cash has funded a lucrative buyback program, increasing shareholders' stake in a wonderful business with each passing year.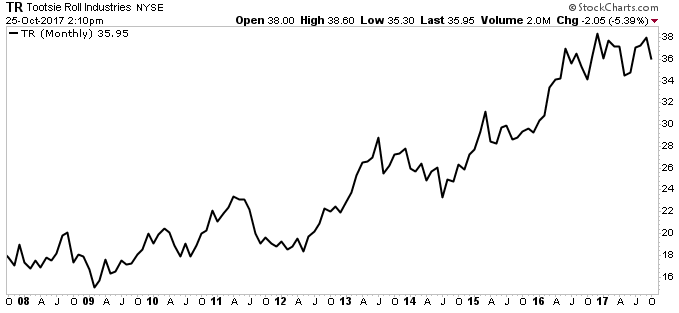 Source: StockCharts.com
But like any business, Tootsie Roll comes with some warts.
Unlike most public companies, management doesn't host investor days or earnings calls. Earnings reports–which amount to a brief, two-page memo each quarter–explains why no analysts cover it.
Hedge funds have also criticized Tootsie Roll's board of directors. Only four people oversee the business, three of whom have served for longer than 10 years. The teams needs a refresh, at least according to company critics.
I, for one, find management's crusty attitude charming. They run their business for the next 50 years and don't try to appease Wall Street's quick money mentality. And as long as executives keep mailing out the dividend checks, I won't complain too much.