This Little-Known Monthly Dividend Stock Yields 8.2%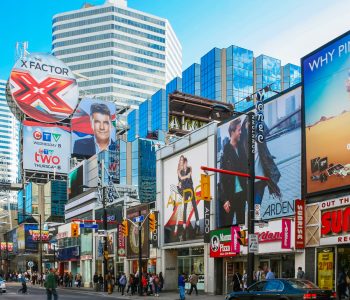 iStock.com/Pere_Rubi
Monthly Dividend Company with an Increasing Payout
Broadcasting companies are not known to be the most generous dividend payers, but this one is a bit different. The company not only offers an annual yield of 8.2%, but mails out dividend checks to investors monthly rather than quarterly.
I'm talking about Corus Entertainment Inc. (OTCMKTS: CJREF), a media and broadcasting company headquartered in Toronto, Ontario, Canada.
American investors may not be familiar with its name, but Corus is one of the largest media companies in Canada. It came to existence as a spin-off from Shaw Communications Inc (TSE: SJR.B) in 1999. Over the years, Corus grew tremendously. In particular, the company acquired Shaw Media's portfolio of television brands in April 2016. Today, Corus' portfolio includes 54 specialty TV channels, including "Global Television," "HGTV Canada," "Food Network Canada," "History," "National Geographic," and "Disney Chanel Canada," just to name a few. The company also owns 39 radio stations located in eight of Canada's top 10 markets.
Generous Dividends
For income investors, the number-one reason to consider Corus is its generous distributions. The company currently pays monthly dividends of CA$0.095 per share. At today's price, that translates to an annual yield of 8.2%.
Also Read: The 7 Top Monthly Dividend Stocks for 2017
Because of its Canada-based operations, Corus doesn't get much exposure in U.S. financial media. However, those that have found the monthly dividend stock and held on to it over the years would have collected a steadily increasing stream of income.
The chart below shows the company's payout history for fiscal years ended August 31. The amount is in Canadian dollars.
Annual Dividend Payout History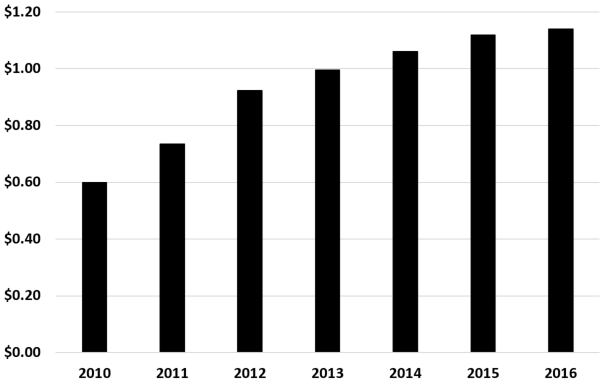 Source: "Dividends," Corus Entertainment Inc, last accessed October 5, 2017.
In the company's fiscal 2010, Corus paid total dividends of CA$0.60 per share. In fiscal 2016, the amount had grown to CA$1.14 per share. That's a 90% increase.
Growing Financials
Of course, in order for the company to continue its dividend increase streak, it needs to grow its business. The good news is, that's exactly what Corus had been doing.
In the third quarter of the company's fiscal 2017, consolidated revenue increased 28% year-over-year to CA$462 million. Corus demonstrated strong growth across the board. Advertising revenue rose 27% and subscriber revenue grew 26%, while merchandising, distribution and other revenues surged 41% year-over-year. (Source: "Third Quarter 2017 Report to Shareholders," Corus Entertainment Inc, last accessed October 5, 2017.)
Top-line growth translated to the bottom line. For the quarter, consolidated segment profit came in at $175.8 million, representing a 35% increase from the year-ago period.
As income investors are well aware, expansion projects can be quite costly. If management just focuses on growing the headline financial metrics without taking into account the cost, the projects may not be conducive to creating shareholder value.
Fortunately, generating cost synergy has been a priority in Corus' growth strategy. In particular, the company is on its way to achieve cost savings of $40.0 million to $50.0 million in the first two years after the close of its Shaw Media acquisition.
Adding cost synergy to its massive top line growth, Corus is well positioned to create more shareholder value down the road.
Final Thoughts on This Monthly Dividend Stock
The company is firing on all cylinders. Corus owns four of the top five specialty channels among adults in Canada and five of the top five specialty channels among women and children. (Source: "Third Quarter Earnings Conference Call," Corus Entertainment Inc, last accessed October 5, 2017.)
In addition, despite consistently raising its dividends, the company is not really paying out all that much. In its fiscal 2016, cash dividends accounted for just 48% of its free cash flow. Such a conservative payout ratio leaves not only a margin of safety, but also the potential for future dividend increases. (Source: "Investor Presentation," Corus Entertainment Inc, last accessed October 5, 2017.)
At the end of the day, there are more solid businesses than broadcasting and entertainment. But most them don't pay investors monthly and can't offer a yield nearly as high as what Corus does. That's why for those looking for a monthly dividend stock, Corus Entertainment should be near the top of their list.