This Lender Pays Out a 9.2% Yield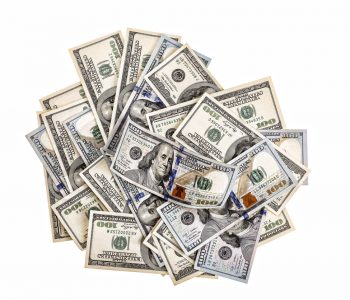 iStock.com/GANNAMARTYSHEVA
This Income Stock Yields 9%
I like investing in "payday loans."
These short-term payments typically come with some of the highest interest rates around. By serving as the lender of last resort, payday loan companies can collect triple-digit interest rates.
Of course, higher yields come with higher risk. Your typical payday loan customer stands in a difficult financial situation, so you have a high chance of default. But if you manage the risks property, it's a profitable business.
You can find the same thing in the business world. From time to time, struggling companies can find themselves in dire financial straights. While most banks and investors won't touch these businesses, a growing list of alternative lenders have stepped in to fill this gap—for a high fee, of course.
One such lender is TPG Specialty Lending Inc (NYSE:TSLX). The Texas-based business development company doesn't have a wide following, but for those looking for a new income stream, it might be worth a second look.
TPG has carved out a lucrative niche in the financial industry.
The company specializes in complex loans, with its typical client usually suffering from declining sales, high debt loads, or some kind of other financial trouble.
I'm sure you've heard the name of some of these customers before: TPG's portfolio includes loans to Aeropostale, Inc., iHeartMedia Inc (OTCMKTS:IHRTQ), and Sears Holdings Corp (NASDAQ:SHLD). In other words, the corporate equivalents to subprime borrowers.
This niche, however, is surprisingly profitable.
Customers have to pay steep interest rates, but because TPG has little in the way of competition, management can put strict covenants on loans.
For proof, take a look at the company's financial results. Since going public in 2014, TPG Specialty Lending Inc has earned an annual return on equity of 12.2%. And because this company often stands first in line to get paid, the business has enjoyed a surprisingly low default rate.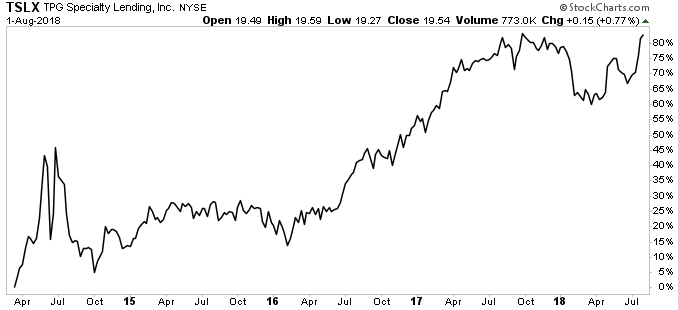 Chart courtesy of StockCharts.com
Most of these profits get passed on to shareholders.
Management pays a base quarterly dividend of $0.39 per share, and executives supplement these payments with variable distributions throughout the year, which vary depending on profits.
It's a smart policy. During a good year, management can pay shareholders their fair share of earnings, but during a downturn, executives can take the steps necessary to conserve cash.
Of course, TPG Specialty Lending Inc isn't perfect.
The company lends money to some of the riskiest customers in the industry. Investors have to expect some defaults from time to time.
That said, a 9.2% upfront yield more than compensates investors for these risks. And through a combination of detailed research, stringent lending criteria, and strict loan covenants, management has also done a great job managing their downside.
I wouldn't consider TPG Specialty Lending Inc a core position. But for those with an already well-diversified portfolio, this stock could provide a nice income supplement.