This Income Stock Hasn't Missed a Dividend Since 1930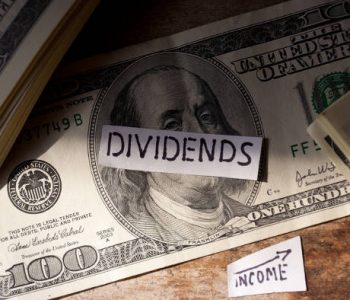 An Income Stock to Own Forever
Today's chart shows my favorite way to identify top income stocks… forever assets.
Regular readers know my ideal holding period is forever. I look for great companies that have paid out dividends for generations. Owning timeless businesses like these is the single best method, in my opinion anyway, for ordinary investors to build wealth in the stock market.
Case in point: Hershey Co (NYSE:HSY). When people think chocolate, Hershey pops into their minds first . It's a simple, cash gushing business that doesn't take an MBA to wrap your head around. The company tops my list of forever assets for a couple of reasons.
First, it's timeless.
Hershey has posted profits like clockwork since 1894. Think of everything that has happened over that time: wars, financial crises, stock market crashes. Yet, through it all, this company breezed through every business downturn that America has ever faced.
If you love Hershey, you're not likely to switch. As long as the company delivers the same great-tasting product, most people will stick with it. I don't know what the next hot gadget will be, but I'm pretty sure Americans will enjoy Hershey chocolates decades from now.
Better still, the business cranks out cash flow.
Hershey doesn't have to build new plants or invent new products each year. It doesn't even have to spend that much on advertising.
You can see what this means in the company's financial statements. In 1996, Hershey spent $172.0 million in property and equipment. By 2016, capital expenditures grew to only $270.0 million.
That number is basically unchanged after inflation. Meanwhile, cash flow from operations grew threefold to $1.0 billion annually. This company can grow richer each year without demanding much in the way of on-going investment.
This frees up a lot of cash for investors.
Last year, Hershey paid out $988.0 million in dividends and buybacks. On a full shareholder yield basis, that represents a total distribution of 4.4%.
Long-time owners have made a fortune. Hershey has paid a dividend every year since 1930. Even when most companies slashed their payouts during the financial crisis, this firm increased its distribution.
Of course, all of these points are just common sense. Wonderful businesses with lots of cash flow and regular dividends should do well over time. As you can see in the chart below, owning forever assets like Hershey can be a truly lucrative investment.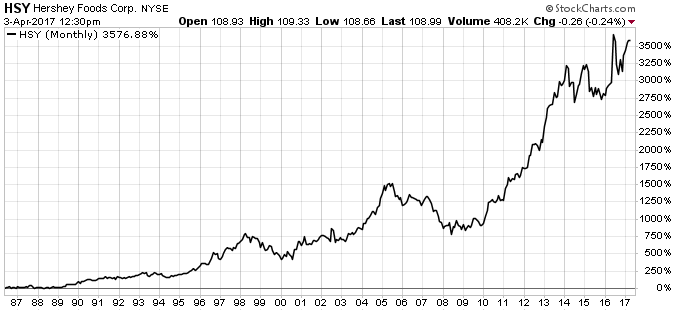 Chart courtesy of StockCharts.com
Hershey isn't a good buy right now, however. Shares looks a little expensive after its recent run. I'm waiting for the stock to fall out of favor, which happens every decade or so.
Once in a while, "Mr. Market" hands us an opportunity to scoop up these wonderful income stocks on the cheap. I urge you to make a list of forever assets like Hershey. Look for timeless businesses with a long history of rewarding shareholders… then wait for your chance to strike.