This 9.1% Yielder Raises Its Payout Every Three Months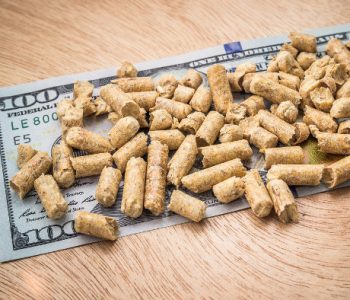 iStock.com/Irina Vodneva
A Top Pick for Yield-Seeking Investors
Today's article highlights a generous dividend-payer that most people have never heard of.
I'm talking about Enviva Partners LP (NYSE:EVA), a master limited partnership (MLP) headquartered in Bethesda, Maryland.
We have profiled dozens of MLPs here at Income Investors. Most of them are in the midstream oil and gas sector. Enviva, on the other hand, runs an entirely different business.
The partnership was created in 2004 with a very clear purpose: developing a cleaner energy alternative to fossil fuels. Enviva achieves that purpose by producing something called wood pellets.
Wood pellets are a type of pellet fuel. They come from wood chips and can be used for power generation. Enviva aggregates wood chips and processes them into pellet form. When electric utilities replace coal with wood pellets in power generation, they can reduce their lifetime carbon footprint by approximately 80%.
Also Read:
3 Clean Energy Stocks Yielding Up to 8.5%
The neat thing about the wood pellet business is that in several parts of the world, especially the European Union (EU), there have been increasingly stringent renewable targets. In the EU, solid biomass (such as wood pellets) is responsible for over 40% of renewable energy production. And yet many of the industrial economies in the U.K. and EU are still quite far from meeting their national-level 2020 and 2030 renewable targets. In Japan, the government is targeting 6.0 to 7.5 gigawatts of biomass-fired generation capacity by 2030. As a result, the demand for wood pellets is expected to increase at a compound annual growth rate of 18% through 2021. (Source: "Business Overview," Enviva Partners LP, last accessed February 6, 2018.)
And as it turns out, Enviva is the only enterprise supplier that has the capacity to meet that demand. It owns and operates six plants located in Virginia, North Carolina, Mississippi, and Florida, with total production capacity of nearly three million metric tons. That makes Enviva the largest supplier of utility-grade wood pellets in the world.
Furthermore, the partnership aims to fully contract its production capacity under long-term agreements. As of October 1, 2017, Enviva's take-or-pay contracts with utilities and large-scale power generators had a weighted average remaining term of 9.7 years and a contracted revenue backlog of $5.5 billion.
With highly contracted operations, Enviva can generate a predictable stream of revenue and income, and return some of its profits to investors.
The partnership currently pays quarterly distributions of $0.62 per unit, giving EVA stock an annual yield of 9.1%.
Enviva's generous distribution policy is backed by solid financials. In the third quarter of 2017, the partnership generated $16.9 million in distributable cash flow while paying out $16.2 million in cash distributions. That translated to a distribution coverage ratio of 1.04 times, which left a margin of safety. (Source: "Enviva Partners, LP Reports Financial Results for Third Quarter 2017 and Announces Ninth Consecutive Distribution Increase," Enviva Partners LP, November 2, 2017.)
The payout has been growing too. Enviva Partners went public in May of 2015, and since then, it has raised distribution every single quarter. From its initial minimum quarterly distribution of $0.4125 per unit (the first payment of $0.2630 per unit was a prorated amount) to today's payout of $0.62 per unit, Enviva's distribution has grown by more than 50%. (Source: "Enviva Partners, LP Announces Tenth Consecutive Distribution Increase," Enviva Partners LP, January 31, 2018.)
In the world of ultra-high yielders, a company that can cover its payout is already a rare find. Factoring in Enviva's ability to grow its payout, the stock is a top pick for yield-seeking investors.