The Surprising Reason to Be Bullish on McDonald's Stock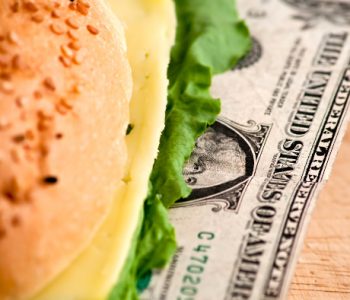 This Could Send McDonald's Stock Soaring
Today's chart highlights my favorite way to identify top dividend stocks… shrinkage.
Many investors want to invest in growing businesses. The best income stocks, however, often get smaller.
Case in point: McDonald's Corporation (NYSE:MCD). In 2015, chief executive officer Steve Easterbrook announced plans to refranchise 4,000 company-owned stores. And, while slimming down might seem like an odd strategy, investors should cheer this move for a couple of reasons. (Source: "McDonald's: Executing The Turnaround Plan," McDonald's Corporation, November 10, 2015.)
First, it allows McDonald's to focus on the most profitable part of the fast-food business: branding. In any industry, 20% of the work yields 80% of the profit. Great companies don't need to own the entire value chain; by selecting the best playgrounds, you can make more money with less effort.
If you can make most of your profits from royalties, why bother with stores? Leave the donkey work of actually running the restaurants–the leanest part of the business–to franchisees. McDonald's shareholders can kick up their feet and just collect a cut on every sale.
Better still, franchisees must now front most of the capital to run these stores. You have to spend millions of dollars on land, buildings, and equipment for each location, not to mention refurbishing stores every few years with wood tables, faux leather seats, and other features to keep customers happy.
For shareholders, this means big savings. Management projects that selling off restaurants will trim $500.0 million each year in overhead. And, while executives didn't disclose the sale price of these locations, it will free up billions of dollars in capital for owners.
Most of this money will get passed on to shareholders. Last year, management raised the quarterly dividend six percent to $0.94 per share. And, in the company's Global Growth Plan published in March, executives promised to return between $22.0 billion and $24.0 billion to shareholders through stock buybacks. (Source: "McDonald's Unveils New Global Growth Plan," McDonald's Corporation, March 1, 2017.)
Investors love it. McDonald's stock has soared 17% over the last six months. And, as you can see in the chart below, shares closed at an all-time high last week.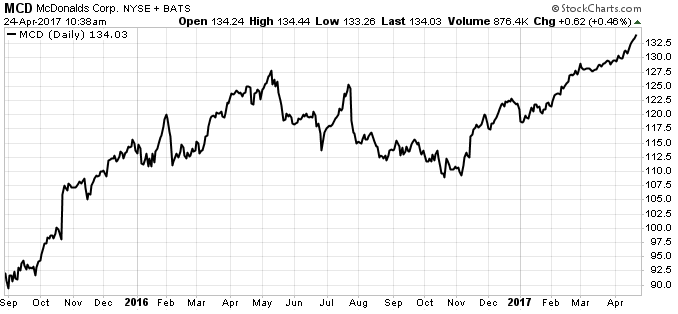 Chart courtesy of StockCharts.com
It might sound counterintuitive, but great companies get smaller. You often see wonderful businesses cherry pick the best parts of their industry and outsource the rest. This shrinkage–selling off less lucrative operations–can create windfall profits for owners.
McDonald's looks like a textbook case. Refranchising stores will leave a leaner, meaner company. That should translate into higher dividends (and a growing stock price) in the years to come.