The No. 1 Reason to Turn Bullish on Macy's Inc (NYSE:M) Stock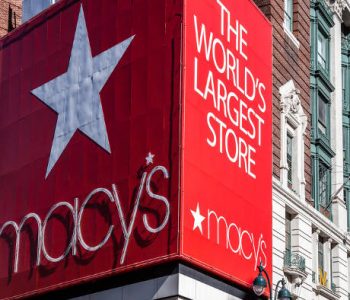 M Stock: New Strategy Fueling Gains in Share Price
It seems Macy's Inc (NYSE:M) means business this time. After a decade of dismal performance for investors, M stock is showing a momentum rarely seen in the traditional retail segment of the market.
In the past three months, Macy's stock has outperformed the S&P 500, gaining over eight percent when the broader market returned just below three percent during the same period.
So what's changed at Macy's., which was struggling to reinvent itself in the face of a growing competition from online retailers, both small and big?
In one of the most drastic moves to restructure its business, Macy's announced last month that it will shut its 100 full-time locations in the U.S. and initiate a rebranding exercise that will drive profitable growth by making it a premier omni-channel shopping destination.
Its rebranding plans include, "re-creating Macy's physical store presence as customer shopping preferences and patterns evolve, reallocating investments to highest-growth-potential store and digital businesses, and capitalizing on opportunities within the company's real estate assets," according to a press release. (Source: "Macy's, Inc. Outlines Moves to Drive Profitable Growth and Enhance Shareholder Value," Macy's Inc, August 11, 2016.)
Once this exercise is complete, most likely by early next year, Macy's will be a much learner and more efficient company, closing about 15% of its full-time retail space where profitability was declining and the return on investment (ROI) was inadequate.
"We will continue to carefully analyze consumer shopping patterns and trends, and use data and customer insights as the basis for innovations to drive the business," said Jeff Gennette, president of Macy's Inc, who will take over as chief executive officer early next year. "You can look forward to a company that expedites decision-making, moves faster, and is bolder in its approach to the customer." (Source: Ibid.)
Analysts Predicting 22% Jump in Macy's Stock Price
Before these initiatives, Macy's stock was struggling to impress investors, as the company reported a negative growth of three percent in its sales, while profit shrunk over 14% last year. In the second quarter, the decline in profits was much steeper, as earnings per share (EPS) dropped over 65%, according to Macy's financial statement.
But it seems that new CEO Gennette isn't hesitant to take bold steps to turn the company around.
And investors appear to believe in him, as they upgraded Macy's stock price to $44.00, a 22% jump from its September 21 close. Paul Lejuez and Tracy Kogan, analysts at Citigroup, released an optimistic note on the company's future outlook last week, in which they said they  believe Macy's is on the right track and that its revamp plan will generate a positive outcome for its shareholders. (Source: "Macy's 'Gets It' and Stock Can Ring Up a 25% Gain," Barron's, September 14, 2016.)
Despite a dismal sales performance for the past many years, management has been able to generate enough cash to pay M stock investors consistent dividends.
Final Word on Macy's Stock
Macy's stock's current dividend yield is over four percent, which is a much better deal when you compare it with other comparable assets in the retail space, such as Wal-Mart Stores, Inc. (NYSE:WMT), which is offering a 2.8% dividend yield.
Since resuming its share repurchase program in August 2011, Macy's has bought back approximately $7.3 billion worth of shares through January this year. Further, its board approved to buy back another $1.5 billion worth of shares this year. (Source: "Highlights of Progress in 2015," Macy's Inc, 2015
And if you want to get an idea of how much Macy's actually pays out to shareholders, you can add the company's share buybacks to this equation. If you were to include these stock repurchases as part of a total shareholder yield, Macy's return to its shareholders jumps to about six percent, a pretty decent return in today's low-interest-rate environment.