BPL Stock: The Most Overlooked High-Dividend Stock with 7.3% Yield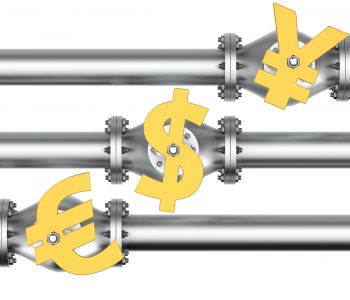 Boosting Portfolio Return with This High-Yield Stock
Finding high-yield stocks is easy; open a dividend screener, and it automatically shows you the stocks with the highest yields. What's more difficult, however, is finding high-yield stocks worth owning for income investors. That's why Buckeye Partners, L.P. (NYSE:BPL) is one special high-dividend stock.
Buckeye Partners is not a name you hear about often in financial media. Even though the company is one of the leading players in its industry and has been paying solid dividends, it has never really made headlines.
And in this case, no news is good news. A stock's dividend yield moves inversely to its price. When a solid dividend stock is flying under the radar, it could offer a good opportunity for value-conscious income investors.
So, who is Buckeye Partners?
Buckeye Partners owns and operates midstream energy assets such as pipelines and terminals. The partnership's roots can be traced back to 1886, when The Buckeye Pipe Line Company was incorporated as a subsidiary of the Standard Oil Company. After Standard Oil's dissolution in 1911, Buckeye became an independent, publicly owned company. Over the years, Buckeye expanded its presence and became one of the largest independent pipeline companies in the country.
There is a critical point in Buckeye's history that investors should pay attention to: the company's reorganization into a master limited partnership (MLP) in December 1986. Becoming an MLP has two major implications.
First, an MLP does not have to pay taxes at the corporate level, so long as it generates 90% or more of its income from qualifying sources, such as the exploration, development, mining, production, refining, or transportation of a natural resource.
Second, an MLP is required by law to distribute almost all its available cash to its investors, who are called unitholders. With this huge tax advantage and mandatory distributions, it's easy to see how MLPs can be good candidates for income investments.
Buckeye is a midstream MLP. With approximately 6,000 miles of pipeline, it is one of the largest independent petroleum products pipeline operators in the U.S. The partnership also owns and operates a huge terminal network consisting of more than 120 liquid petroleum products terminals, with aggregate storage capacity of over 115-million barrels.
Of course, since Buckeye operates in the energy sector, one cannot ignore the recent downturn in commodity prices. With oil and gas prices plunging dramatically since the summer of 2014, many energy companies have cut their dividends. Some have even gone bankrupt.
That's why Buckeye is special. The partnership has not only survived, but was actually raising its distributions during the commodity price downturn. In the past five years, Buckeye's per-unit quarterly distribution rate has increased 19.3%. (Source: "Distribution History," Buckeye Partners, L.P., last accessed May 3, 2017.)
The partnership has also grown its financials to support the rising payout to investors. The chart below shows Buckeye's adjusted earnings before interest, taxes, depreciation, and amortization (EBITDA) over the last five years.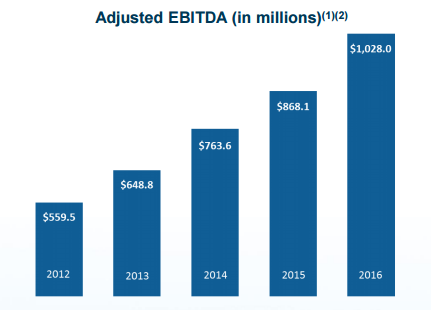 Source: "Investor Fact Sheet," Buckeye Partners, L.P., last accessed May 3, 2017.

Why Buckeye Partners Is a Top High-Dividend Stock
Looking a bit further back, you'll see that Buckeye has never missed a single distribution payment since it became an MLP in 1986.
But to be honest, Buckeye's success shouldn't really come as a surprise. It is effectively the owner and operator of a huge energy toll road. Companies pay Buckeye a predetermined fee to transport and store their energy products. Buckeye's business didn't get crushed during the oil price downturn because it wasn't drilling new wells. In 2016, 95% of the partnership's adjusted EBITDA was fee-based.
Also Read:
Top 10 Safe Dividend Stocks for Retirees in 2017
The Best Pipeline Stocks for Retirement Income
Buckeye currently pays $1.2375 per share on a quarterly basis, translating to an annual yield of 7.30%. The average yield of S&P 500 companies is a measly 1.94%, so Buckeye is truly a high-dividend stock.
The best part is that further distribution hikes could be on the way. According to Buckeye's chairman, president, and chief executive officer, Clark C. Smith, the partnership plans to increase its quarterly distribution by $0.0125 per quarter for the rest of 2017. (Source: "Buckeye Partners LP Reports Results For The Fourth Quarter And Full Year 2016," Buckeye Partners, L.P., February 10, 2017.)
Bottom line: pipeline companies have been delivering solid returns to investors for decades. Buckeye Partners is a high-dividend stock that today's income investors should not ignore.