The Best Dividend Stock Nobody Is Talking About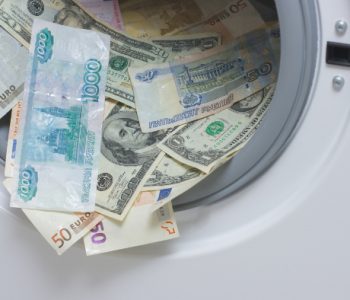 A Top Dividend Stock to Own Forever
Cool tech startups always grab headlines, but many of the best dividend stocks get little coverage in the press.
You don't need hot gadgets to make money. As regular readers know, I'm a big fan of "boring" businesses. People always need to buy staples like beer, soda, and toothpaste, which is why these products have built fortunes for investors.
Case in point: Clorox Co (NYSE:CLX). In addition to cleaning supplies, the company owns a number of top brands: "Glad" trash bags, "Hidden Valley" dressing, and "Brita" water filters. Sure, this stock won't wow friends at your next cocktail party. The company, though, tops my list of dividend stocks for a couple of reasons.
First, these products are timeless. Clorox doesn't have to invent the next cool gadget every few years. The product giant doesn't deal in credit default swaps or collateralize debt obligations.
I have to take out the trash each week. You have to clean your home no matter who is sitting in the White House. I don't know what the next social network could be, but I'm pretty sure people will need garbage bags 30 years from now.
Better still, it's lucrative. A jug of bleach costs pennies to make and you sell it for a few dollars. And most customers will stick to a name they trust over a knockoff.
New rivals would have a tough time breaking into the business. It would cost billions to match Clorox's plants and equipment. And even if you could cough up the dough, few grocers will swap their prime shelf space for an unproven upstart.
Finally, the firm gushes cash flow. Hot growth stocks must plow their profits back into operations to fund expansion. You wouldn't call cleaning products, though, a fast-growing market. For this reason, Clorox doesn't need to make big investments into new factories.
Executives pay out most of the profits to shareholders. Today, Clorox pays a quarterly dividend of $0.80 per share; that comes out to an annual yield of 2.3%. And while you never see this stock featured in the media, shares have quietly crushed the market over decades.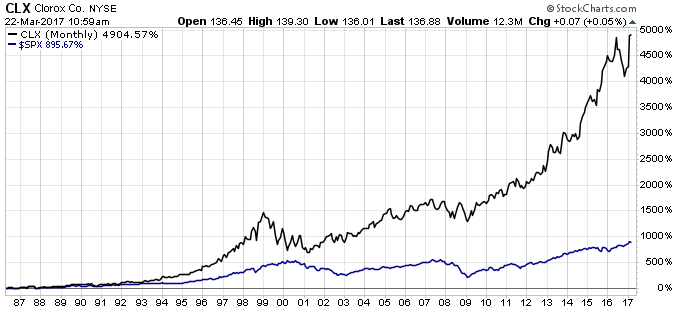 Chart courtesy of StockCharts.com
Bottom line: where tech stocks give hope, dividend stocks deliver proof. Where tech stocks make headlines, dividend stocks cash profits. And where tech stocks can pay quick gains, dividend stocks pay for college funds.
You don't need to spot the "next Apple Inc. (NASDAQ:AAPL)"' to build wealth. I find my best investment ideas just by looking around the house. Downright boring businesses like Clorox often make the best dividend stocks around.