The 10 Highest-Yielding Stocks in the S&P 500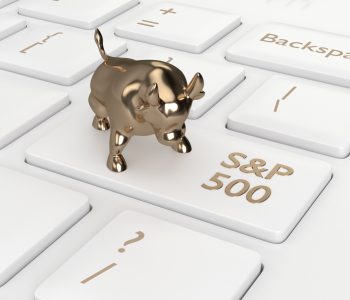 iStock.com/ayo888
These Stocks Yield Up to 10.4%
The average stock in the S&P 500 pays a dividend yield of under two percent, which won't exactly knock the socks off of most income-seeking investors.
Following a 10-year bull market, equities look expensive. It feels impossible to find a decent yield in today's stock market.
But it's still possible to find good payouts. There are lots of wonderful businesses that sport decent yields if you know where to look. It just requires digging a little deeper.
To spot some of these hidden payouts, I like to run a screen for high-yield stocks. At our analyst meeting last week, my colleague Jing Pan suggested reviewing the highest-yielding stocks on the S&P 500. Given that this index consists of some of the largest, most profitable companies in the world, you can immediately weed out a lot of low-quality names.
No, I wouldn't call it the most sophisticated stock screen ever invented, but you will find a few interesting ideas listed here. So let's look at the highest payouts in the S&P 500 and see whether any of them are interesting.
| | | |
| --- | --- | --- |
| Company | Market Cap (Billions) | Yield |
| CenturyLink Inc | $23.6 | 10.4% |
| L Brands Inc | $8.0 | 7.9% |
| Iron Mountain Inc | $9.7 | 6.9% |
| Kimco Realty Corp | $6.8 | 6.8% |
| Ford Motor Company | $36.6 | 6.5% |
| AT&T Inc. | $265.6 | 6.0% |
| Ventas, Inc. | $19.2 | 5.9% |
| PPL Corp | $21.4 | 5.8% |
| HCP, Inc. | $19.2 | 5.8% |
| Philip Morris International Inc. | $21.4 | 5.8% |
(Source: Yahoo! Finance, last accessed October 3, 2018.)
Before diving into the results, let me make one thing clear: the table above doesn't constitute a list of investment recommendations. Stock screens only represent a place to brainstorm new investment ideas.
Also keep in mind that a high dividend yield sometimes signals trouble. If a particular stock's yield looked set in stone, investors would bid up the price of shares to lock in a deal. So the fact that traders have overlooked such a great dividend might mean they don't believe that the payout is sustainable.
Take Ford Motor Company (NYSE:F), for instance. Last year, the automaker paid out $2.6 billion in dividends. That's a problem, given that the company only generated $2.0 billion in free cash flow. Tariffs on steel, higher interest rates, and declining sales could put pressure on profits in upcoming years. Ford can paper over these problems for now by issuing debt, but it's not an ideal option long-term.
Ford aside, you can find some interesting dividend payers here.
Things are pretty straightforward with Philip Morris International Inc. (NYSE:PM): it's a well-run, powerful tobacco company serving millions of customers around the world. Cigarettes cost pennies to make, are sold for a dollar, and are addictive. And while Americans may have stopped lighting up as often, people around the world continue to pick up the habit, making the business predictable and profitable. If you can ignore the obvious moral qualms of selling a deadly product, companies like Phillip Morris will churn out some of the best returns around.
I love the story over at HCP, Inc. (NYSE:HCP). The partnership owns hundreds of healthcare properties, such as hospitals, senior housing, medical offices, and life science buildings. With medical spending projected to surge over the next few decades, this company will enjoy a growing stream of rental income. That should result in ample dividend hikes for the foreseeable future.
Finally, CenturyLink Inc (NYSE:CTL) also looks interesting. The business has struggled to fend off declining cash flows and mounting interest payments. But following the firm's recent purchase of Level 3 Communications, Inc. (NYSE:LVLT), management projects a big bump in cash flow over the coming year. If executives can hit their revenue and cost-saving targets, it would put the distribution on a more stable foundation.
I like running this stock screen every few months. Sometimes it highlights a great dividend stock I may have overlooked. Just be sure to do your homework before pulling the trigger on any investment idea.