You'll Wish You Had Owned Texas Instruments Stock 10 Years From Now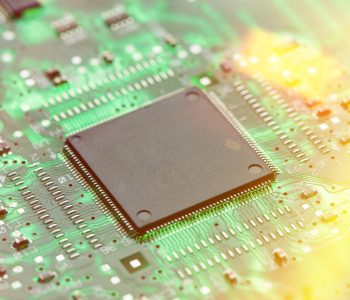 iStock.com/HomePixel
Texas Instruments Stock Has Become an Income Machine
If you don't own Texas Instruments Incorporated (NYSE:TXN), you'll probably be kicking yourself in 10 years.
That might sound like a bold statement, given the chipmaker's struggles in recent months. But in July, TXN stock surged to an all-time high after the company posted better-than-expected financial results. And this could be just the beginning.
In fairness, Texas Instruments Incorporated does face hurdles. The semiconductor business, which suffers from enormous cyclicality, remains mired in a downturn. Trade war tensions have also weighed on results, most notably the government's effective ban of selling equipment to Chinese telecom giant Huawei Technologies Co. Ltd.
But the market seems to have priced in these concerns. Texas Instruments stock has traded sideways for the better part of two years, allowing earnings to catch up to the share price. The company now sells for 17-times forward earnings, the lower end of its historical range.
A rebound in the semiconductor industry could put an end to that discount. In July, management predicted sales for the upcoming quarter would come in between $3.65 billion to $3.95 billion, which would represent flat and eight percent growth quarter-over-quarter. Executives refused to call the bottom of the latest chip cycle, but noted the typical downturn in the past has lasted three to four quarters. Given June marked Texas Instruments' third straight quarterly sales decline, it appears the company could be almost through the crunch. (Source: "TI reports second quarter 2019 financial results and shareholder returns," Texas Instruments Incorporated, July 23, 2019.)
The real opportunity, however, lies in the emerging "Internet of Things:" the connection of everyday objects to the Internet, enabling them to send and receive data. Emerson Electric Co. (NYSE:EMR) predicts the number of connected devices will top 29 billion by 2022, almost double the number of objects online today. Analysts predict services to make, deploy, and manage this technology could represent a new multi-trillion-dollar industry. (Source: "Internet of Things forecast," Emerson Electric Co., last accessed August 3, 2019.)
Texas Instruments, which makes the analog chips that will go into many of these objects, looks well-positioned. These devices regulate functions like speed, sound, temperature, and electrical currents, as well as converting this data into digital signals—in short, the "nuts and bolts" that will make the Internet of Things revolution possible. And thanks to this boom in demand, analysts project Texas Instruments will grow earnings per share at a low-teen annual clip over the next five years.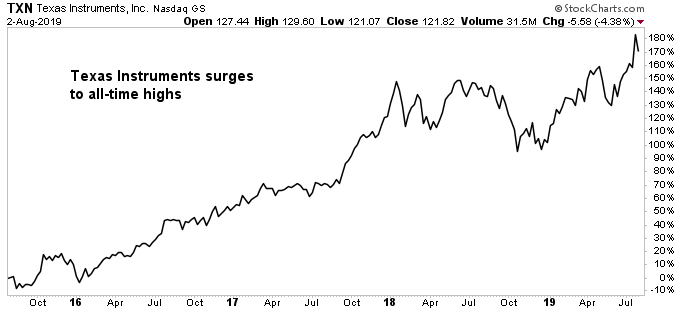 Chart courtesy of StockCharts.com
For shareholders, this boom could turn Texas Instruments Inc into a dividend machine. Management has hiked the dividend for 15 consecutive years, raising the payout to investors 34-fold. Today, shares pay a quarterly distribution of 3.08 apiece, which comes out to a yield of 2.6%.
In addition to dividends, Texas Instruments also returns the money through stock buybacks. Since 2004, management has reduced the total number of outstanding shares by 45%. This effectively doubles the claim remaining investors have to future earnings.
And this could just be the beginning. Management's tendency to under-promise and over-deliver means the company's growth forecast looks conservative. And given Texas Instruments modest payout ratio, executives have plenty of room to pad the dividend and buyback program.
Income investors will wish they had bought Texas Instruments stock 10 years from now.