Texas Bank Authorizes Special Dividend to Shareholders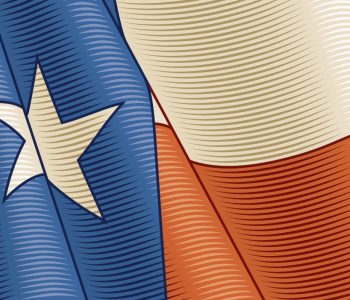 Where I'm Looking for One-Time Special Dividend Payments
I like companies that pay dividends. I like those companies even more when they supplement those payments with the occasional special dividend.
Case in point: Southside Bancshares, Inc. (NASDAQ:SBSI).
In November, the Texas-based company declared a quarterly cash dividend of $0.31 per share. In addition, the board approved a special dividend of $0.03 per share. That's the bank's 16th consecutive special dividend to its shareholders. (Source: "Southside Bancshares, Inc. Declares Fourth Quarter and Special Cash Dividend," Southside Bancshares, Inc., November 7, 2019.)
Those payments, as you can probably imagine, have resulted in impressive investment results. Since 2001, Southside Bancshares stock has delivered a total return, including dividends, of 1,331%. The has crushed the broader S&P 500, which posted a gain of only 130% over the same period.
But how does this quiet company make so much money?
Banks take cash from depositors and lend it to borrowers. Their profit, called net interest income, equals the difference between what the banks collect in interest on loans and what they pay on deposits.
It's not a sure thing, of course. Banks can run into trouble if borrowers fail to repay their loans. They also have to keep enough cash on hand to pay depositors on demand. But when managed correctly, well-run institutions mint profits.
In recent years, banks have padded their profits with fees for routine services—overdrafts, wire transfers, minimum balance charges, etc. Because switching branches presents a big hassle, most customers won't leave when banks raise their rates. This allows executives to jack up prices year after year.
Here's what sets Southside Bancshares, Inc. from the pack. Unlike Wall Street firms, management of this bank eschews complex deals like subprime lending, collateralized debt obligations, and other financial wizardry. This commonsense approach allowed the bank to sail through the 2008 housing bust while continuing to make payments to shareholders.
Moreover, the company's base of operations sits in one of the fastest-growing areas of the country: Texas. Today, the Lone Star state's population is growing three-times faster than the rest of the country. This makes it easy for Southside Bancshares to increase the number of deposits and loans on its balance sheet.
For shareholders, this has created a lucrative income stream. Since 1970, Southside Bancshares, Inc. has paid a dividend every single year. During the financial crisis, management even hiked the payout to their investors.
As mentioned earlier, Southside Bancshares stock currently pays a quarterly dividend of $0.31 per share. That equates to an annual yield of 3.5%.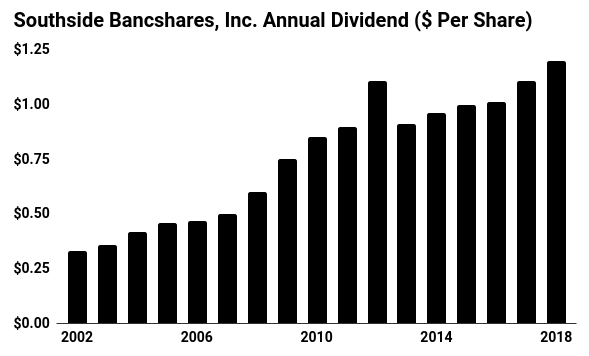 (Source: "KBW Community Bank Investor Conference," Southside Bancshares, Inc., July 30, 2019.)
That yield figure probably won't knock your socks off. But as I mentioned above, management supplements these payments through special dividends.
I love this policy. By paying a non-binding special dividend each year, management can adjust their payout depending on business conditions. This allows executives to conserve cash during downturns and reward shareholders during booms.
Bottom line: Southside Bancshares, Inc. has carved out a profitable niche. It's another one of those quiet, little-known businesses that generate outsized profits. And for SBSI shareholders, that will likely mean more and larger special dividends for years to come.