TEP Stock: This MLP's 8.7% Yield Really is Safe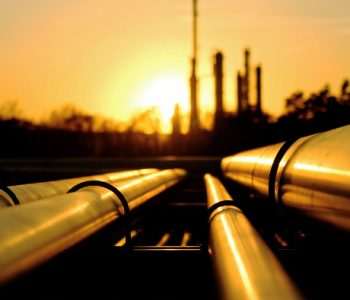 iStock.com/kodda
This Payout Has Increased 575%
It's not easy to find yield nowadays.
Most safe investments pay out next to nothing. If you want a good, double-digit distribution, get ready to do a lot more digging.
Aside from a few small niches, master limited partnerships (MLPs) represent one of the last places left paying decent yields. Oil patch businesses love to structure their operations in this fashion. And, thanks to a number of tax loopholes, some of these firms sport yields as high as five, seven, or even nine percent.
One of my favorites? Tallgrass Energy Partners LP (NYSE:TEP). The firm operates a number of oil and gas pipelines across the Midwest, as well as a couple of processing plants. And while the business doesn't have a big following, Tallgrass could become a popular name among dividend hunters in the years to come.
The business generates stable earnings, for starters. Pipelines work like the classic toll road business. They derive their profits from the fees they charge for moving oil and gas through their network.
Also Read:
Everything You Need to Know Before Investing in MLP Funds
The big benefit here? Tallgrass assumes almost no commodity price risk. While the energy market can swing wildly from year to year, actual volumes (and therefore profits) remain remarkably consistent.
Moreover, the business throws off ample cash flow.
Pipelines cost a lot to build. But, once you have one up and running, ongoing expenses come in at just a fraction of revenue. For this reason, MLPs often gush income. In the case of Tallgrass, the partnership pays out a quarterly distribution of $0.945 per unit. That comes out to an annual yield of 8.7%.
Those checks have swelled more or less in line with profits. Since going public in 2013, management has grown the payout more than fivefold. Analysts project that the distribution will increase at a mid-teen clip over the next five years, thanks to higher pipeline volumes and new routes added to the network.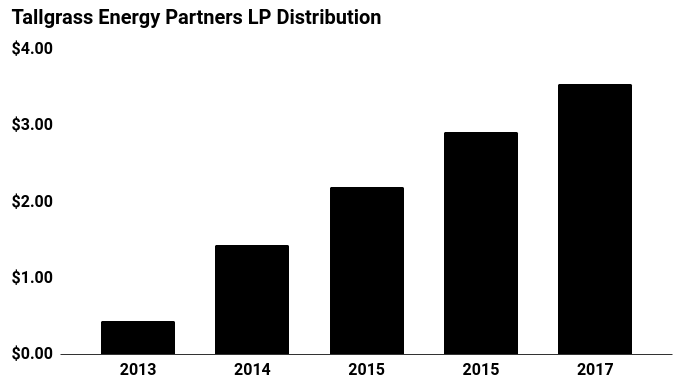 (Source: Tallgrass Energy Partners LP Corporate Filings, last accessed November 24, 2017.)
Tallgrass, like any business, faces possible headwinds. Higher interest rates would clip the bottom line. A sustained period of low oil prices could reduce production industry-wide, which you'd eventually see in slower volumes on the partnership's network.
Management, though, has prepared itself well for any downturn. Through the first nine months of 2017, executives have paid out only $0.81 in distributions for every dollar generated in cash flow. This leaves the top brass some wiggle room to keep paying owners, even if profits slip for a year or two.
In other words, Tallgrass represents one of the last places around where investors can still earn a safe, high yield.