TD Stock: Why This Foreign Bank Deserves Income Investors' Attention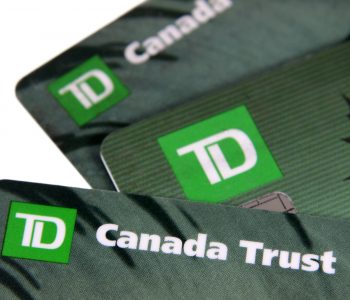 iStock.com/ca2hill
Earn a Safe and Growing Income from TD Stock
Regular readers of this column would know that I'm a big fan of bank stocks. With a profitable business model that's literally centuries old, banks can be some of the most solid dividend payers in the current stock market.
Today's top dividend stock is a foreign bank known for its dividend safety and growth.
I'm talking about Toronto-Dominion Bank (NYSE:TD), a Canadian multinational banking and financial services company headquartered in Toronto, Ontario.
While the bank is based in Canada, it has a sizable presence in the U.S. as well. Moreover, TD bank stock trades on both the Toronto Stock Exchange (TSE) and the New York Stock Exchange (NYSE), so American investors can buy TD shares just as they would with a U.S. company.
Generous Distributions
TD stock deserves income investors' attention because of its generous payouts. Due to the fact that well-established banks are highly sought after as investors searched for yield over the last several years, their share prices have already been bid up and their yields are no longer attractive. For instance, the top two banks in the U.S. by assets, JPMorgan Chase & Co. (NYSE:JPM) and Bank of America Corp (NYSE:BAC), have annual dividend yields of 2.2% and two percent, respectively. TD Bank, on the other hand, is offering a yield of 3.6% at the current price.
And it's not like TD is running a small, regional business. The company is also deeply entrenched in the banking industry. As a matter of fact, TD is a top 10 bank in North America, with CA$1.3 trillion in assets.
Of course, if you use a dividend screener on any of the financial web sites, you can easily find companies with much higher yields than TD. What makes this Canadian bank a top dividend stock is its ability to pay a steadily increasing stream of dividends through thick and thin.
You see, with what happened during the last financial crisis, investors learned that even some of the largest financial institutions could fail without much warning. So dividend safety is a priority for investing in bank stocks.
And that's where TD stock stands out. The company has been paying steadily increasing dividends for decades. In the past 10 years, its quarterly hare payout has been raised from CA$0.265 per share to CA$0.60 per share, translating to a growth of 126%. (Source: "Dividends," Toronto-Dominion Bank, last accessed August 29, 2017.)
A critical reason why the company managed to pay increasing dividends even during recessionary periods is its focus on retail banking.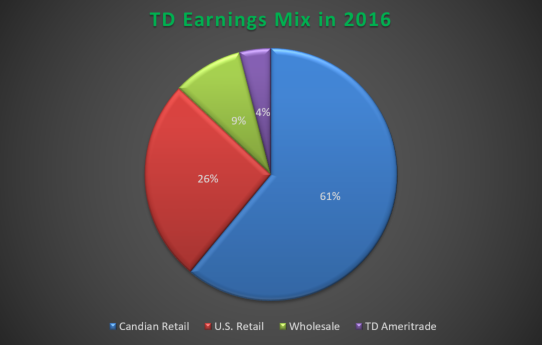 Source: "TD Bank Group Investor Presentation," Toronto-Dominion Bank, last accessed August 29, 2017.
Retail banking may not sound as exciting as investment banking, but it is a business with high barriers to entry. TD's retail segment is currently serving 13-million customers in Canada and more than nine-million customers in the U.S. If someone wants to challenge TD's position, they would need to set up a huge branch network and convince millions of customers to switch—a very costly task indeed.
Also Read:
10 High-Dividend Bank Stocks to Invest Into in 2017
Moreover, retail banking is not as cyclical as wholesale banking. With approximately 87% of TD's 2016 profits coming from its Canadian and U.S. Retail segments, the bank is well-positioned to continue delivering recession-proof returns.
And that's why TD Bank is a top dividend stock for 2017 and beyond.