TCPC Stock: This 10% Yield Could Go Even Higher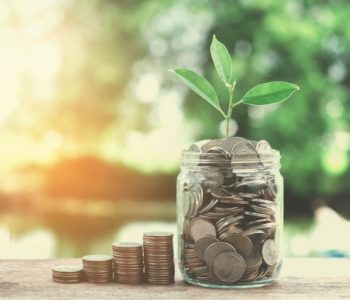 iStock.com/lovelyday12
This High-Yield Stock is Worth a Look
Today's chart highlights one of my favorite double-digit yielders in the market, BlackRock TCP Capital Corp (NASDAQ:TCPC).
The company used to go by TCP Capital Corp, but changed to the current name after its investment advisor Tennenbaum Capital Partners LLC was acquired by BlackRock Capital Investment Advisors LLC in August 2018. Today, BlackRock TCP is an externally managed specialty finance company that focuses on direct lending to middle-market companies and small businesses.
Like many middle-market lenders, BlackRock TCP Capital Corp chooses to be regulated as a business development company (BDC). That means it must return at least 90% of its profits to shareholder through regular dividend payments. In exchange, the company pays little to no tax at the corporate level.
Thanks to this pass-through structure, BDCs have become some of the highest-paying companies in the current stock market. In this case, TCPC stock has a quarterly dividend rate of $0.36 per share, which comes out to an annual yield of 10.0%.
BlackRock TCP Capital Corp: An Impressive Track Record
As an income investor, you want your portfolio companies to pay you not just for a quarter or two, but indefinitely into the future. And on that front, I'm glad to report that TCPC stock has a pretty impressive track record of returning cash to shareholders.
Since BlackRock TCP Capital Corp went public in 2012, its quarterly dividend rate has only been increasing. At the same time, the company has also rewarded shareholders with special dividend payments on several different occasions. (Source: "Dividend History," BlackRock TCP Capital Corp, last accessed September 24, 2018.)
What's even more impressive, though, is the safety in those oversized cash payouts. Since BlackRock TCP Capital Corp came into existence in 2012, it has earned higher net investment income than its dividends in all 25 quarters. (Source: "BlackRock TCP Capital Corp. Investor Presentation," BlackRock TCP Capital Corp, last accessed September 24, 2018.)
The chart below compares the company's net investment income per share to its regular dividends per share in each of the last five years: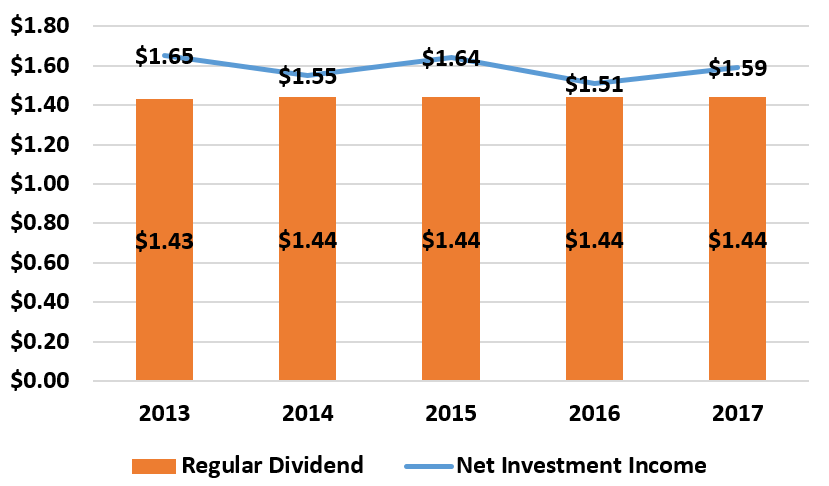 Source: Ibid.
TCPC Stock: Strong Regular Dividend Coverage
By consistently out-earning its dividends, BlackRock TCP Capital Corp has created a margin of safety in its distributions.
The company's total performance stands out as well. From its initial public offering to the end of the second quarter of 2018, TCPC stock delivered total shareholder return of 76.5%. To put it in perspective, the Wells Fargo BDC Index returned a total of 56.2% during this period.
A Rock-Solid Business
Now, you are probably wondering how the company managed to accomplish all this. Well, the answer lies in its secured lending business.
Due to tightening banking regulations in the U.S., it's not easy for small- and medium-sized businesses to get financing from banks. And those that do get loans often have to pay higher interest rates. By focusing on direct origination of loans to middle-market borrowers, BlackRock TCP Capital Corp can earn outsized interest income.
As of June 30, 2018, the effective yield on the company's debt portfolio stood at 11.6%.
To manage the risk associated with high-yield debt, BlackRock TCP Capital's portfolio is well-diversified. Right now, the company has investments in 97 portfolio companies coming from more than 20 different industries. Most of these portfolio companies account for less than one percent of TCPC's total recurring income.
The company has also put an emphasis on making senior secured loans. This means that the borrowers have pledged their assets as collateral. And in the event of a borrower liquidation, investors of a senior secured loan will have a higher claim on the borrower's assets than investors of subordinated debt and equity.
A look at the TCPC's latest earnings report shows that the strategy still works. In the second quarter of 2018, BlackRock TCP Capital earned a net investment income of $23.9 million, or $0.41 per diluted share. This provided more than enough coverage of its quarterly dividend payment of $0.36 per share. (Source: "BlackRock TCP Capital Corp. Announces Second Quarter 2018 Financial Results Including Net Investment Income Of $0.41 Per Share; Third Quarter Dividend Of $0.36 Per Share," BlackRock TCP Captial Corp, August 8, 2018.)
TCPC Stock: Is the Best Yet to Come?
And that's not all. Thanks to the U.S. Federal Reserve's hawkish stance on interest rate policies, BlackRock TCP Capital Corp could earn even higher profits down the road.
By the end of June 2018, approximately 92% of BlackRock's assets bore interest at floating rates, while nearly two-thirds of its liabilities bore interest at fixed rates. Management estimated that if the benchmark interest rates go up by 100 basis points, the company would earn an additional $10.6 million, or $0.18 per share in annual net investment income. (Source: BlackRock TCP Capital Corp, last accessed September 24, 2018, op cit.)
For a business development company, higher profits often translate to bigger dividend checks. With more rate hikes on the horizon, the best could be yet to come for investors of this 10% yielder.