This Little-Known Company's 10% Yield Looks Appealing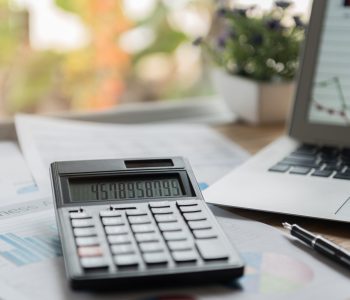 iStock.com/utah778
This High-Yield Stock is Worth a Look
Small companies can deliver big returns, with TCP Capital Corp (NASDAQ:TCPC) being the perfect example.
Headquartered in Santa Monica, California, TCP Capital Corp is a closed-end investment company that focuses on middle-market lending. With a market capitalization of just under $850.0 million, the company doesn't look as established as the large-cap dividend giants. However, TCPC stock still deserves income investors' attention for a very simple reason: the sheer size of its payout.
Right now, TCP Capital pays quarterly dividends of $0.36 per share. At the current price, that gives TCPC stock a jaw-dropping annual yield of 10%.
Of course, in a market where most companies pay less than four percent, a double-digit dividend yield could simply be a sign of trouble. However, if you take a look at what TCP Capital is doing, you'd see that the stock's generous payout is actually backed by a rock-solid business.
As I mentioned earlier, TCP Capital specializes in lending to middle-market companies. These companies typically have enterprise values of between $100.0 million and $1.5 billion.
Back in the day, middle-market companies could meet most of their financing needs by going to commercial banks. But, due to the more restrictive regulatory environment as a result of the Dodd-Frank Act and the Basel III measures, commercial banks have been shifting away from the middle market.
Therefore, these companies have to pay higher interest rates to get financing, which would translate to higher profits for middle-market lenders like TCP Capital. Indeed, as of December 31, 2017, the weighted average annual effective yield of the company's debt portfolio was approximately 11%. (Source: "TCP Capital Corp. Announces 2017 Financial Results Including Fourth Quarter Net Investment Income Of $0.41 Per Share; First Quarter Dividend Of $0.36 Per Share," TCP Capital Corp, February 27, 2018.)
Lending to less-established businesses can carry a significant amount of risk. The good news is that TCP Capital invests primarily in senior secured debt. This means borrowers have to pledge their assets as collateral, and if they can't pay back the loan, TCP Capital will have contractual first claim on their assets, ahead of investors of subordinated debt and equity. By the end of 2017, senior secured debt accounted for 93% of the company's portfolio. (Source: "Raymond James 39th Annual Institutional Investor Conference," TCP Capital Corp, last accessed March 9, 2018.)
For those concerned about this high-yield stock's dividend safety, a look at its financials should be reassuring. In the fourth quarter of 2017, TCP Capital generated net investment income of $0.41 per share, which was more than enough to cover the $0.36 per share of dividends declared and paid during this period. In full-year 2017, the company earned a net investment income of $1.59 per share while paying $1.44 of dividends per share. That translated to a dividend coverage ratio of 110%, also leaving a margin of safety.
In fact, since the company was founded in 2012, its net investment income has managed to cover its regular dividend in all 23 quarters. The chart below shows TCP Capital's regular dividend coverage ratio for each year since its initial public offering (IPO).
TCPC Stock Regular Dividend Coverage Ratio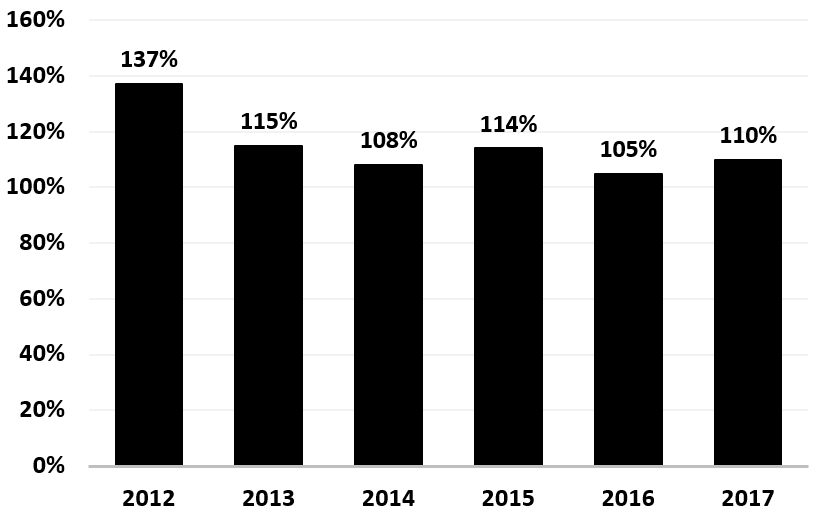 (Source: Ibid.)
And the best could be yet to come. The company has a strategically positioned balance sheet, with 89% of its assets bearing floating interest rates. On the liabilities side, approximately 68% of its borrowings bore interest at fixed rates. This means, if the interest rate increases, the company would generate substantially higher interest income without incurring a much higher interest expense, which would result in higher net investment income.
The market is expecting four rate hikes from the U.S. Federal Reserve in 2018. TCP Capital's management has estimated that, if the benchmark interest rate goes up by 100 basis points, the company would earn an additional $18.3 million in annual net investment income, or an extra $0.31 of net investment income per share. For a company determined to return cash to investors, such a boost to the bottom line would likely translate to higher dividends.
As it stands, TCPC stock's 10% dividend yield could be an opportunity.