TC Pipelines, LP: Earn an 8.1% Yield from This Cash Cow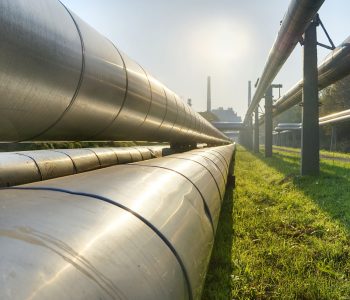 This "Cash Cow" Yields 8.1%
Today post highlights my favorite place to find safe, oversized yields: "cash cows."
Cash cows constitute mature operations that earn regular profits. Because they have limited growth potential, owners can milk these businesses for ongoing dividends.
Case in point, TC Pipelines, LP (NYSE:TCP). The partnership owns over 6,300 miles of pipelines shipping some-9.4 billion cubic feet of natural gas each day. And with a dividend yield topping 8.1%, income hunters should give this firm a second look.
Why? Well, the story is pretty easy to wrap your head around, first off. TC Pipelines earns a small fee on each cubic foot of gas that flows through its network. While energy prices can swing wildly from year to year, the actual volume of gas shipped stays relatively consistent.
Future growth will be so-so at best. TC Pipelines' assets connect consumers to some of the largest natural gas basins on the continent. But while these regions have enough reserves to last decades, low energy prices limit production growth.
As a result, management is content to sit on existing operations. They don't spend to much money on new pipelines, processing plants, or storage facilities. Instead, they return most of the business's cash flow to investors.
For unitholders, this has created quite the income stream. Since 1999, TC Pipleines has grown its payout at a 4.2% annual clip. Even through the financial crisis, executives managed to bump the distribution for unitholders.
Those small, steady increases can really add up over time. Today, the partnership pays out a quarterly distribution of $1.00 per unit. That comes out to an annual yield of 8.1%.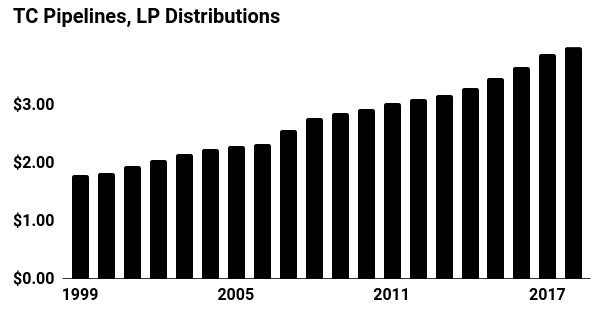 Source: "Investor Center," TC Pipelines, LP, last accessed March 6, 2018.

TC Pipelines cranks out one of the highest yields you can find today. Investors also look down on the business because future earnings growth won't knock anyone's socks off.
Then again, no one owning a name that pays out eight percent deserves to collect much dividend growth. With a cash cow business like TC, you're getting a big upfront yield and not much else. But with a yield this high, unitholders that wait around reinvesting their distributions will likely crushed the broader market over time.
It's a wonderful thing to watch.