TC PipeLines L.P.: This "Cash Cow" Yields 7.1%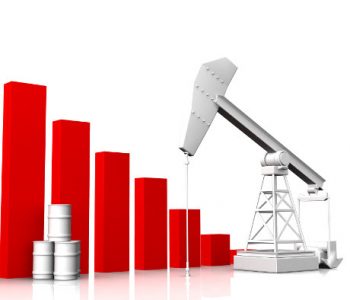 iStock.com/medvedik
This Oil Stock Gushes Income
Today's post highlights one cash cow business gushing income… TC Pipelines L.P. (NYSE:TCP).
Some readers may have heard my concept of "cash cows" before. Because they have few options to reinvest their profits, owners can milk these businesses for on-going income. Some of these stocks payout yields as high as 10%, 12%, and even 15%.
TC Pipelines represents a classic example. The partnership owns a network of natural gas pipelines, which throw off a lot of extra cash flow. And with a distribution yield topping seven percent, income hunters should give this business a second look.
The payout looks rock solid, first off.
TC collects a fee on every cubic foot of natural gas that flows through its network. So while energy prices can swing wildly, the actual volume of gas stays rather consistent from year to year.
Also Read:
Pipeline Stock List: Collect Reliable Dividends from These Pipeline Stocks
The industry also enjoys large barriers to entry, mainly due to regulatory restrictions and the high cost of construction. Other forms of transportation can't compete with pipelines and their low-cost advantage. This allows owners to earn outsized profits for decades, without fear of rivals eating into their margins.
TC's cash flows just cover the distribution. The company, though, operates an annuity-like business with little debt and ample access to liquidity. I'd prefer a bit more wiggle room, but the predictable nature of these assets reduces those worries.
Moreover, this distribution will likely keep growing.
Pipeline volumes increase over time. And given the lack of alternative transit options for drillers, TC should be able to raise prices at or above the rate of inflation.
Given the partnership's trackrecord, I have little doubt these profits will get passed onto owners. Since 1999, management has raised the distribution at a four percent annual clip. That growth should continue into the foreseeable future at more or less the same rate.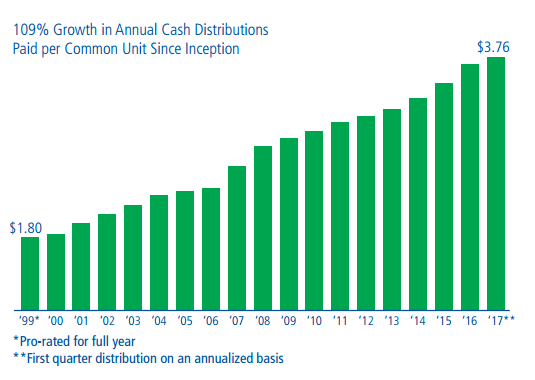 Source: TC Pipelines Investor Relations
That should result in respectable returns for owners.
At today's prices, TC Pipelines yields 7.1%. Add our growth forecast of four percent per year, and units should provide a low double-digit total return.
That might not knock the socks of tech investors. But then again, no one buying a stock yielding seven percent should expect much earnings growth. With a cash cow business like TC Pipelines, you get a big upfront payout and not much else.
But with a yield so high, owners patiently reinvesting their dividends will beat the pants off the market as the years tick by. It's a wonderful thing.