Target Corporation: Up 54% Already, More Profits to Come?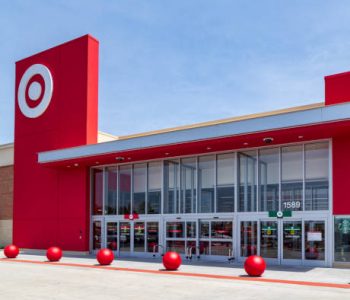 iStock.com/gsheldon
TGT Stock Deserves Income Investors' Attention
I have been pounding the table on Target Corporation (NYSE:TGT) stock for quite some time. For example, in June 2017 I wrote: "It may take a while for the company to execute its turnaround plan but, at the current valuation and dividend yield, TGT stock could be an opportunity."
In that piece, I explained why the beaten-down Target Corporation stock represented an opportunity for dividend investors.
I hope you followed my advice. Since that article was published, the stock price has surged more than 54%.
Taking a bullish stance on Target stock last summer wasn't really a hard call. The company was out of favor at that time because investors were worried about the so-called "retail apocalypse."
The concern was valid. As the e-commerce industry took main stage, more and more consumers got used to shopping online. And that has caused sales to slow down at many brick-and-mortar retailers. Department store operators, including Target, have announced quite a few store closures.
At the time I wrote the article last summer, the oversold Target Corporation stock had a price-to-earnings (P/E) ratio that was substantially lower than the industry average. Moreover, the company was still churning out a decent profit.
Of course, if you only focus on value, you will make a return when other market participants also realize that the stock was previously undervalued.
But in the case of Target, I wasn't really concerned about the time that it would take for the market to finally see its value. The reason was simple: Target provides a surefire return to investors through its regular dividend policy.
Target Corporation Stock Chart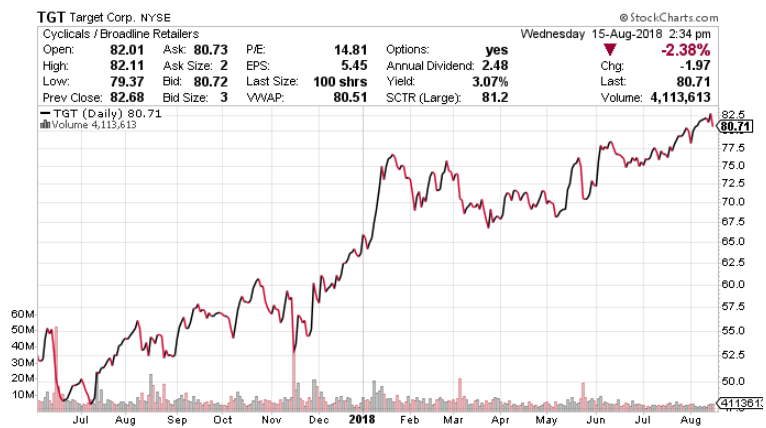 Chart courtesy of StockCharts.com
Target Pays Generous Dividends
Target stock was badly hit a few years ago, but its dividends have only been going up.
In fact, the company has raised its dividend payout every year for the past 46 years. Looking even further back, you'll see that Target has been paying uninterrupted quarterly dividends since its stock went public in October 1967. (Source: "Dividend & Stock Split History," Target Corporation, last accessed August 15, 2018.)
The latest dividend hike came in June 2018, when Target's board of directors declared a quarterly cash dividend of $0.64 per share. That was a 3.2% increase from TGT stock's previous payout. With this dividend hike, the company is on track to make 2018 its 47th consecutive year of annual dividend increases.
Trading at $80.71 apiece, the stock has an annual dividend yield of around 3.1%.
And if you are wondering whether a brick-and-mortar retailer can afford to raise its dividend in this day and age, don't worry. Despite its dividend hikes, the company wasn't really paying out all that much.
In Target's fiscal-year 2017, which ended on February 3, 2018, the company earned an adjusted net income of $4.71 per share. Given its total dividends of $2.46 per share declared for the year, Target had a payout ratio of just 52.2%. (Source: "Target Reports Fourth Quarter and Full-Year 2017 Earnings," Target Corporation, March 6, 2018.)
Furthermore, the company has been making a turnaround. Despite headwinds facing the retail industry, Target generated same store sales growth of 1.3% in its fiscal 2017. In the first quarter of its fiscal 2018, same store sales improved another three percent year-over-year. (Source: "Target Reports First Quarter 2018 Earnings and Affirms Full-Year Guidance," Target Corporation, May 23, 2018.)
More Upside for TGT Stock?
Note that Target is about to report earnings again. This time, Wall Street expects the company to continue its turnaround story.
On average, analysts expect the department store operator to generate almost $17.3 billion of sales in the second quarter of its fiscal-year 2018, which would mark a 5.2% increase year-over-year. (Source: "Target Corporation (TGT)," Yahoo! Finance, last accessed August 15, 2018.)
At the bottom line, Wall Street expects Target to report adjusted earnings of $1.40 per share for the July quarter, which would be a 13.8% improvement from the $1.23 per share earned in the year-ago period.
While Target stock had an impressive rally over the past year, the company didn't always meet Wall Street's expectations. In the last 12 months, Target beat analysts' earnings per share estimates in two of the four quarters.
Stats on Target Corporation Stock
| | |
| --- | --- |
| Earnings Per Share Estimate | $1.40 |
| Change From Year-Ago Earnings Per Share | 13.8% |
| Revenue Estimate | $17.3 Billion |
| Change From Year-Ago Revenue | 5.2% |
| Earnings Beaten in Past Four Quarters | Two Times |
(Source: Ibid.)
Target Corporation is scheduled to report earnings on August 22 before market open.
If the company manages to beat Wall Street's expectations, it would give market participants a reason to let TGT stock continue its upward trend. Meanwhile, with a turnaround business and a conservative payout ratio, the company is well positioned to return more cash to investors through dividends.