Tanger Factory Outlet Centers Inc: Why This 5.1% Dividend Yield Is Better Than You Think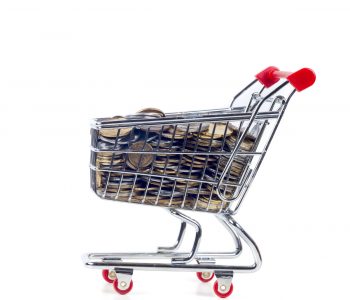 iStock.com/vtmila
Today's article highlights one of my favorite places to find high dividend yield stocks: the 52-week lows list.
Why? Well, for the very same reason that many shoppers head straight to the discount rack at any department store: to find bargains. As the great billionaire investor Warren Buffett once wrote, "Whether socks or stocks, I like buying quality merchandise when it is marked down." And in the investment world, high-quality stocks trading near their 52-week lows are my favorite type of merchandise.
Now, notice I said that I like stocks trading near their 52-week lows, and not necessarily right at their 52-week lows. Why? Well, this is just a quick and easy way for me to weed out stocks that might not be turning around anytime soon–or as investors like to call them, the dreaded "falling knives."
By looking for dividend plays that are bouncing a bit off their 52-week lows, I can better hone in on a turnaround stock that is no longer getting worse. Going back to the knife analogy, I want a quality stock that has already hit the ground, is wiggling a little bit, and that I can pick up safely without getting cut.
Well today, I'd like to highlight real estate investment trust (REIT) Tanger Factory Outlet Centers Inc (NYSE:SKT) as a high-yield dividend stock that nicely fits that description. Let's take a closer look.
Off on a Tanger
For readers who aren't familiar with Tanger Factory Outlet Centers Inc, it is one of the biggest owners and operators of outlet malls in the U.S. and Canada. Its portfolio currently consists of 43 upscale outlet shopping centers, with one under construction. In other words, Tanger is basically a big landlord with brand-name retail companies as its tenants.
Just how big is it? Well, the company's properties are nicely positioned across 22 states (coast-to-coast) and in Canada, representing about 15-million square feet. This means that Tanger isn't overly exposed to any single region, giving investors some solid geographic diversification.
Furthermore, Tanger Factory Outlet Centers Inc leases more than 3,100 stores to about 500 different retail companies, providing plenty of tenant diversification to boot. In a retail world that is increasingly moving online, this type of diversification is especially critical.
But I get it. Investing in brick-and-mortar shopping malls still makes you nervous. After all, what if Tanger Factory Outlet's tenants go the way of Circuit City, RadioShack, or Blockbuster Video? That would be bad news for investors.
Well worry not, my dividend-seeking friend. While the online threat is real, Tanger Factory Outlet Centers Inc's "bargain outlet" focus shields it pretty well from much of that danger. Moreover, the company has zero department store tenants, which are beleaguered as of late. Instead, Tanger's tenants are largely publicly traded, high-credit-quality, brand-name clothing retailers such as Nike Inc (NYSE:NKE), Coach Inc (NYSE:COH), Ralph Lauren Corp (NYSE:RL), and H & M Hennes & Mauritz AB.
In other words, Tanger's properties are better positioned to succeed in today's retail landscape than your traditional malls.
Tanger Factory Outlet Centers Inc's Improvements
But how have Tanger's financials actually held up amid the digital threat?
Well, in the first quarter of 2017, net income clocked in at $22.0 million. That was down from $26.9 million in the year-ago period. Furthermore, the company's occupancy rate slipped to 96.2% from 96.6% in the prior year. So to be sure, Tanger definitely continues to feel some of the pressure coming from online rivals.
But there are also positive signs. For example, the company's average base rental rates jumped 8.4% on 206 renewed leases. Additionally, Tanger Factory Outlet Centers Inc's same-center net operating income (NOI) inched up one percent. While that isn't breakneck growth by any means, it represents the 54th consecutive quarter in which Tanger's same center NOI has increased. So, Tanger is certainly holding its own.
"We are pleased with these achievements notwithstanding the challenging environment for retailers," said President and CEO Steven Tanger. (Source: "Tanger Reports First Quarter 2017 Results," Tanger Factory Outlet Centers Inc, May 1, 2017.)
Also Read:
10 Best Real Estate Stocks to Own in 2017
REIT ETF List: Earn Regular Income From These Real Estate ETFs
Cash Flows Still King
But while an increase in rental rates and same center NOI is nice, the real sign of Tanger Factory Outlet Centers Inc's health is its cash flow. After all, a company uses its free cash flow, not operating income, to take shareholder-friendly actions. These includes things such as reinvesting in the business, repurchasing shares, and most importantly for income investors, paying healthy dividends.
Happily, Tanger Factory Outlet Centers Inc's cash flow remains robust. In Q1, for example, funds from operations (FFO), the primary cash flow metric with REITs, increased 5.5% to $57.7 million. And on the basis of that strong FFO, management raised its quarterly dividend by 5.4% on an annualized basis to $1.37 per share.
That represents the 24th consecutive year of increased dividends, putting Tanger in rare company among dividend payers. And given the company's sound competitive and financial position, I don't expect that streak to end anytime soon.
"Given solid retailer demand for outlet space and our fortress balance sheet, Tanger Factory Outlet Centers Inc is positioned to weather current headwinds and store closings in the retail environment, as we have successfully in similar parts of the cycle for the past 36 years," Tanger said. (Source: Ibid.)
High Dividend Yield at a Low Price
That brings us back to Tanger Factory Outlet Centers Inc's stock price, which has underperformed by a very wide margin over the past year:

Naturally, Wall Street continues to worry about the growing threat of online retail. But as I touched on earlier, Tanger's financials show that those concerns are largely overblown. In fact, Tanger Factory Outlet stock's recent rally suggests that investors are finally starting to agree with me.
The greater news, of course, is that SKT stock remains cheap.
In fact, Tanger still boasts a dividend yield of 5.1%. That is well above the S&P 500 average yield of 2.1%, as well as its own five-year average of about three percent.
The Bottom Line on Tanger Factory Outlet Centers Inc
And there you have it, my fellow Income Investors: a few reasons why I think Tanger Factory Outlet stock is an attractive high-dividend-yield stock.
As is always the case, this isn't a formal recommendation. Instead, it's a good starting point for you to dig deeper into the company. But with that said, Tanger Factory Outlet Centers Inc is certainly worth your time.