This Overlooked Company Offers a Safe and Growing Yield of 6.5%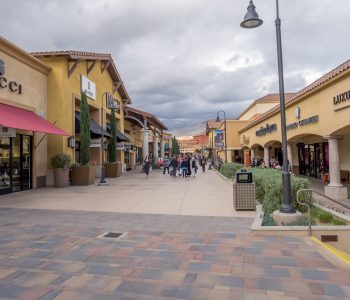 iStock.com/jewhyte
Tanger Factory Outlet Stock a Top Dividend Stock to Consider
When the average S&P 500 company pays less than two percent, a 6.5%-yielding stock certainly deserves income investors' attention.
I'm talking about Tanger Factory Outlet Centers Inc (NYSE:SKT), a real estate investment trust (REIT) headquartered in Greensboro, North Carolina.
As the name suggests, the company is in the outlet center business. Its portfolio currently consists of 44 upscale outlet shopping centers in 22 U.S. states and in Canada. These properties total approximately 15.3 million square feet and attract over 189 million shoppers annually. (Source: "Management Presentation," Tanger Factory Outlet Centers Inc, last accessed February 28, 2019.)
Tanger Factory Outlet Centers has been in business for decades, but in recent years, its shares have often been ignored by stock market investors. That's because, with the rise of e-commerce, the retail industry has experienced a serious downturn. If you've been following the industry, you'd have noticed the high number of store closures in the news and the term "retail apocalypse" used in headlines.
The thing is, though, the situation at Tanger might not be as bad as people might think.
You see, by focusing on outlet centers, this REIT provides a platform that connects bargain-seeking consumers with brand-name products.
Tanger's properties are leased to 3,100 stores operated by over 530 brand-name companies, such as Nike Inc (NYSE:NKE), Under Armour Inc (NYSE:UAA), PVH Corp (NYSE:PVH) (which owns brands like "Tommy Hilfiger" and "Calvin Klein"), and VF Corp (NYSE:VFC) (which owns "Vans," "Timberland," and "North Face," among others).
And here's an interesting fact: at year-end 2018, Tanger Factory Outlet Centers Inc's portfolio had an occupancy rate of 96.8%. Moreover, the company's occupancy has remained at or above 95% for over a quarter of a century.
The blunt reality is that, while the retail industry has taken a serious hit from the booming e-commerce business, people who want to buy brand-name products at cheaper prices are still going to factory outlet centers.
Tanger Factory Outlet Centers Is a High-Yield Opportunity
Now, because of the perceived exposure to retail headwinds, Tanger Factory Outlet stock hasn't been a hot commodity. And since the stock didn't shoot through the roof like many other solid dividend-payers in recent years, the company still offers a very attractive payout at its current price.
Trading at $21.82 apiece, SKT stock has an annual dividend yield of 6.5%.
And that yield isn't the only reason I'm digging this real estate stock.
You see, while being a landlord—which is what Tanger Factory Outlet essentially does—isn't really known as a growth business, the company has managed to deliver a consistently increasing stream of dividends to investors.
Consider this: in 2013, Tanger declared and paid total dividends of $0.89 per share. In 2018, the amount had grown to $1.40 per share, translating to a total increase of 57.3%.(Source: "Dividend History," Tanger Factory Outlet Centers Inc, last accessed February 28, 2019.)
And if you look further back, you'll see that, since Tanger's initial public offering in 1993, the company has increased its dividend every single year.
Good Value for Money
Usually when a company achieves a track record as solid as this, its stock would be highly sought after. But as I said earlier, because of concerns surrounding the retail industry, shares of this outlet center-focused REIT hasn't gotten much investor attention lately.
One consequence of lackluster share price performance is that the stock looks attractive from a valuation perspective.
In particular, Tanger Factory Outlet Centers has a price-to-funds-from-operations (price-to-FFO) ratio of 8.8 times, which is substantially lower than its peer group's average price-to-FFO ratio of 13.5 times. (Source: "Peer Analysis," Tanger Factory Outlet Centers Inc, last accessed February 28, 2019.)
Of course, in this day and age, a cheap stock with a high dividend yield could mean that the payout is not safe. However, if you take a look at Tanger Factory Outlet's financials, you'd see that its dividend is actually safer than most other retail real estate stocks.
Is the Dividend Safe?
According to its latest earnings report, Tanger generated adjusted FFO of $243.3 million, or $2.48 per share, in full-year 2018. Given that the company's dividends totaled $1.39 for the year, it had an FFO payout ratio of almost 56.2%. (Source: "Tanger Reports Fourth Quarter and Year End Results," Tanger Factory Outlet Centers Inc, February 13, 2019.)
To put this in perspective, Tanger's peer group had an average FFO payout ratio of 74.4% and a median FFO payout ratio of 71.1%.
By having a conservative payout ratio, Tanger Factory Outlet Centers has built a wide margin of safety in its dividend policy. This also implies that, if management wants to raise the dividend, such a low payout ratio would give them plenty of room to do so.
Indeed, the company plans to continue its excellent track record. Earlier this year, Tanger's board of directors announced a 1.4% increase to its quarterly dividend rate to almost $0.36 per share.
And according to Tanger's Executive Vice President and Chief Financial Officer Jim Williams, the company is expected to generate $100.0 million in free cash in 2019, even after paying the increased dividends. (Source: "Tanger Factory Outlet Centers Inc. (SKT) CEO Steven Tanger on Q4 2018 Results – Earnings Call Transcript," Seeking Alpha, February 15, 2019.)
The Bottom Line on SKT Stock
As of this writing, Tanger Factory Outlet Centers Inc is the only REIT that focuses exclusively on the outlet sector. The company offers a generous yield and has no problem supporting its increasing payouts. For investors who want to collect oversized dividends that are actually safe, Tanger Factory Outlet stock deserves a serious look.