T. Rowe Price Group Inc Shocks Wall Street Skeptics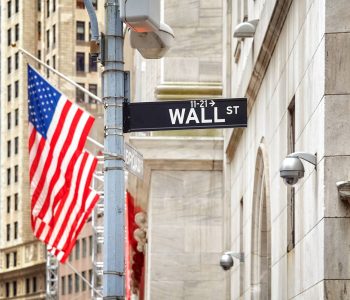 T. Rowe Price Group Inc Delivers Pay Raise to Shareholders
Investors have soured on T. Rowe Price Group Inc (NASDAQ:TROW) in recent years. But now Wall Street is giving that a rethink.
Since the start of February 2019, shares of this mutual fund company have posted a total gain, including dividends, of 47% (as of this writing). That return has beaten the pants off of the broader S&P 500, which has risen only 22% during the same period.
Management seems bullish, too. In January, they declared a quarterly dividend of $0.90 per share. That represents an 18.4% increase over the previous payout and raises the forward yield to 2.8%. (Source: "T. Rowe Price Group Declares Quarterly Dividend, Announces Its 2020 Investor Day," T. Rowe Price Group Inc, February 12, 2020.)
Yet shares of this Dividend Aristocrat could have more room to run.
Admittedly, the mutual fund business is no longer the cash cow it once was. Customers continue to shift their investment dollars away from high-fee asset managers to cheaper alternatives like index funds and exchange-traded funds (ETFs). This problem became worse after the Barack Obama administration passed fiduciary rules that encouraged advisors to steer clients toward low-fee investments.
T. Rowe Price, however, seems to have held up better than its peers. The company has always kept particularly "sticky" customers, given that almost two-thirds of its assets under management sit in retirement-based accounts.  (Source: "T. Rowe Price Is Best Positioned of Its Peers," Morningstar, Inc., December 12, 2018.)
The paperwork involved in moving these investments makes it difficult to transfer into cheaper index funds. And by exploiting the firm's strong brand name and track record, executives have continued to attract new investor capital.
These advantages became apparent in the company's fourth-quarter filing.
At the end of 2019, T. Rowe Price Group reported that total assets under management jumped 25.4% to $1.2 trillion. Net client inflows topped $13.2 billion. Organic assets under management, which strip out fluctuations in stock and bond prices, increased by 1.4%. (Source: "T. Rowe Price Group Reports Fourth Quarter and Full Year 2019 Results," T. Rowe Price Group Inc, January 29, 2020.)
In other words, the company stands as one of the few active asset managers to actually grow its business in recent years.
New legislation could grow the business further. In December 2019, President Donald Trump signed into law the Setting Every Community Up for Retirement Enhancement Act of 2019 (SECURE Act), which will expand access to 401(k) plans for small employers. (Source: "What the SECURE Act means for everyone," MultiBriefs, February 18, 2020.)
This should lead to more accounts and more assets under management for T. Rowe Price, given that the company has such a strong presence in the retirement planning business.
Furthermore, fresh product launches should pad the bottom line. Last year, the U.S. Securities and Exchange Commission granted approval for a new line of "semi-transparent" ETFs. The novel structure will allow T. Rowe Price to attract customers who are interested in both the return potential of an actively managed portfolio and the liquidity of a publicly listed fund. (Source: "Semi-Transparent ETFs Could Revolutionize Active Management," ETF Trends, January 24, 2020.)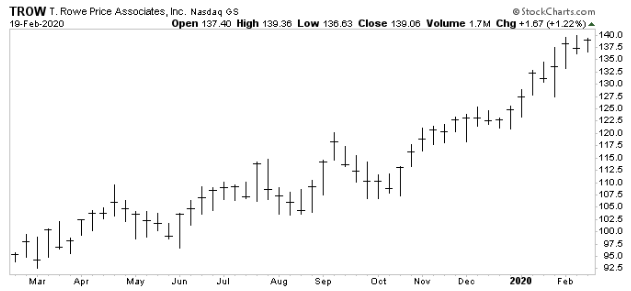 Chart courtesy of StockCharts.com
Of course, there are no sure things in business. But T. Rowe Price Group Inc's management would not have announced such a generous dividend hike if they didn't have a good outlook on the future.
This suggests that TROW stock could have more room to run.