Sunoco Stock: Bullish 7.6%-Yielder Up 25% Year-Over-Year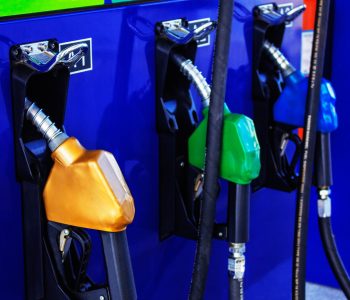 Why SUN Stock's Forecast Is Sunny
If part of investing is taking advantage of industry tailwinds, Sunoco LP (NYSE:SUN) should definitely be on your radar. One of the biggest independent fuel distributors in the U.S., the company reports terrific financial results, has raised its full-year guidance, and has been increasing its inflation-crushing dividends.
Moreover, the outlook for Sunoco units is solid.
Oil prices remain robust, with demand from China expected to increase. The oil market has been enjoying a sustained rally, with oil prices briefly breaching $80.00 per barrel for the first time in two months. The upward move has come on the heels of rising demand and production cuts finally causing the global oil supply to tighten. The big question is whether the oil price rally will continue.
And thanks to the rise of crude oil prices, gasoline and diesel prices have also been on the rise. Following months of declines, the national average gas price in the U.S. inched up to $3.565 per gallon (from $3.543 a week before). Diesel now averages $3.842 per gallon (up from $3.837 a week earlier).
On top of that, because of strong U.S. economic data, U.S. Treasury Secretary Janet Yellen said she doesn't expect the long-promised recession to materialize. Even the Wall Street analysts who are predicting a recession believe it will be mild and short.
About Sunoco LP
Sunoco distributes approximately 8 billion gallons of fuel to about 10,000 convenience stores, independent dealers, commercial customers, distributors, and company-operated sites in more than 40 U.S. states and territories. (Source: "Investor Presentation: May 2023," Sunoco LP, last accessed July 18, 2023.)
The company's logistics arm includes 42 refined product terminals with about 20 million barrels of total storage capacity. It also owns 950 gas stations that generate stable and ratable lease income.
In addition to its "Sunoco" gas stations, the partnership's portfolio is anchored by several well-known brands, including "Chevron," "Exxon," "Mobil," "Shell," and "Texaco."
Sunoco LP's general partner is owned by Energy Transfer LP (NYSE:ET).
The highly fragmented fuel distribution industry provides Sunoco with a reliable supply of new opportunities. The partnership has acquired many companies over the years, including American Midstream, Emerge Energy Services, NuStar Energy LP, Sandford Oil, and Superior Plus Energy Services.
In May, Sunoco LP completed a $110.0-million acquisition of 16 refined product terminals from Zenith Energy Ltd. Sunoco expects this acquisition to be accretive to its unitholders in the first year of ownership.
Management Increased 2023 Guidance
For the first quarter ended March 31, Sunoco reported revenues of $5.3 billion, down slightly from $5.4 billion in the same period last year. Its net income was $141.0 million, or $1.41 per share, compared to $216.0 million, or $2.32 per share, in the first quarter of 2022. (Source: "Sunoco LP Announces First Quarter 2023 Financial and Operating Results," Sunoco LP, May 2, 2023.)
The partnership's adjusted earnings before interest, taxes, depreciation, and amortization (EBITDA) were $221.0 million, up by 15.7% from $191.0 million in the first quarter of 2022. Sunoco LP's distributable cash flow (DCF), as adjusted, was $160.0 million in the first quarter of 2023, up by 12.6% from $142.0 million in the first quarter of 2022.
During the first quarter of 2023, the partnership sold 1.9 billion gallons of fuel, up by approximately nine percent from the first quarter of 2022. The fuel margin for all gallons sold was $0.129 per gallon for the quarter, compared to $0.124 per gallon in the same period a year ago.
As a result of its acquisition of terminals from Zenith Energy, Sunoco LP revised its 2023 guidance as follows:
Adjusted EBITDA of $865.0–$915.0 million, up from a previous forecast of $850.0–$900.0 million
Operating expenses of $540.0–$550.0 million, up from a previous forecast of $525.0–$535.0 million
Maintenance capital of about $65.0 million, up from a previous forecast of about $60.0 million
Growth capital of at least $150.0 million
Fuel volume/margin of about 7.8 billion gallons
(Source: "Investor Presentation: May 2023," Sunoco LP, op. cit.)
Sunoco Stock's Dividend Hiked to $0.842
Thanks to its reliable gross profits, Sunoco has been able to maintain a stable and secure distribution level. In fact, the partnership hasn't missed a dividend or reduced its payout since its inception in 2012, including during the 2020 COVID-19 pandemic. (Source: "Distribution History," Sunoco LP, last accessed July 18, 2023.)
In its early days, Sunoco had a history of raising its quarterly distributions regularly. In fact, it did so almost every quarter from 2013 to August 2016. The company has only raised it once since then.
In April of this year, the company's board declared a dividend of $0.842 per unit, for a current yield of 7.6%. This represents a two-percent increase over the $0.8255 that SUN stock paid out in the fourth quarter of 2022.
Price of SUN Units Up 25.2% Year-Over-Year
Sunoco LP's dividend isn't the only thing that's been growing. The price of Sunoco units has also been on the rise, up by seven percent year-to-date and 25.2% year-over-year (as of this writing).
Despite the big gains, which have put SUN units near record levels, the outlook for this stock remains bright.
Wall Street analysts expect Sunoco stock to hit fresh highs over the coming months. Of the analysts providing a 12-month unit-price target for Sunoco LP, their median estimate is $50.50 and their high estimate is $53.00. This points to potential gains of approximately 13% to 19%.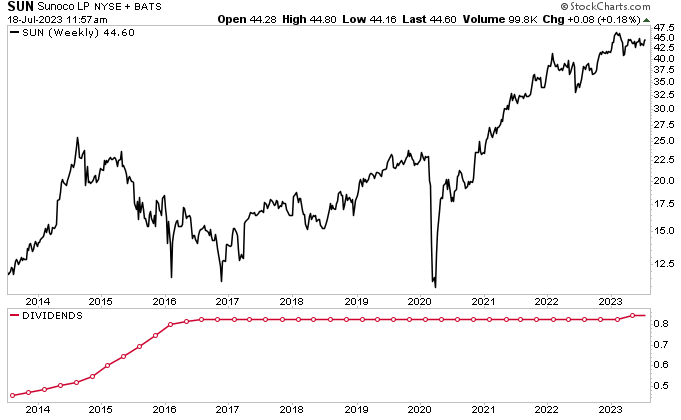 Chart courtesy of StockCharts.com
The Lowdown on Sunoco LP
Sunoco is a fuel distribution giant with a massive, growing business footprint across the U.S.
The partnership has a history of gross profit optimization that limits downside during challenging markets and captures upside during supportive markets. This includes long-term take-or-pay supply agreements with 7-Eleven. Moreover, fuel is largely a non-discretionary expense, which provides Sunoco LP with stable gross profits.
The company also has a successful track record of accretive growth from capital deployment.
Together, this helps Sunoco pay sustainable, high-yield dividends and helps juice the price of SUN stock. Since the company's initial public offering (IPO), Sunoco units have provided returns of 371%.