Sunoco LP: Milk This "Cash Cow" for a 12% Yield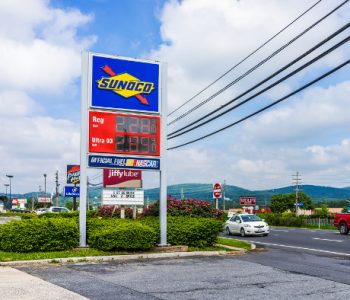 iStock.com/krblokhin
This "Cash Cow" Yields 10.8%
It's tough to earn a decent income nowadays.
Interest rates sit at rock bottom levels. Most of the "safe" investments out there yield next to nothing.
Dividend stocks represent a good alternative. Unfortunately, most companies reinvest their profits back in operations. That might be a smart strategy for the long term, but it's hard on shareholders that need income today.
But you still have one niche of dividend stocks paying out safe, double-digit yields: "cash cows." In business lingo, cash cows amount to mature operations. Because these firms have limited growth prospects, owners can "milk "(hence the name) these businesses for ongoing income.
Case in point today: Sunoco LP (NYSE:SUN). No, the partnership doesn't get much airtime on television. But for investors looking to lock in a safe income stream, it's one name to investigate further. Here's why.
To begin with, Sunoco runs a pretty boring business.
Management has carved out a little niche in the gasoline distribution industry. The partnership operates across the country, delivering fuel to nearly 8,000 stations.
To be clear, it doesn't do any refining or processing itself. Instead, the partnership earns a fee on every gallon of gasoline shipped from refineries to customers. As a result, it has little exposure to commodity prices and generates bond-like profits.
And while this business costs a lot of money upfront, ongoing costs come in at only a fraction of sales. Because gasoline represents a mature industry, management doesn't make a lot of investments in new factories, plants, or equipment. Executives, therefore, simply milk operations for steady cash and pay out the profits to unitholders.
For investors, this has created quite the income stream.
Units pay out a quarterly distribution of $0.82 each right now, which comes out to an annual yield of about 12%. That payout looks reasonably safe, given the partnership's coverage ratio (cash flows divided by dividends paid) stands at 1.15.
In other words, you get a big upfront yield and not much else. Investors need to come to terms with the fact that they won't get much in the way of dividend growth going forward. But with a yield this high, investors that sit around reinvesting their payments will likely beat the pants off the market as the years go by.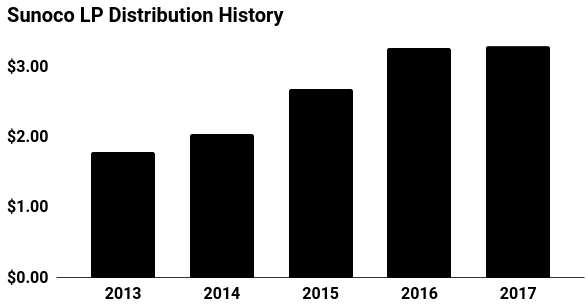 (Source: "Sunoco LP (SUN)," Yahoo! Finance, last accessed April 23, 2018.)

The big risk here? Debt.
Sunoco LP has a heavy debt load, following a number of acquisitions in recent years. If anything goes wrong, the company could find itself in a financial bind.
That said, management has taken steps today address the problem. Last year, Sunoco inked a deal to sell the vast majority of its retail fuel locations for $3.3 billion. Executives have opted to use the cash infusion to pay off debt, putting the partnership on a much sounder footing.
Plain. Predictable. Profitable. Convenience stores buy gasoline and unitholders get a 12% yield. No, it's not the sexiest business around. But for those of us looking for income, "cash cows" like Sunoco LP pay out some of the best yields around.