Sunoco LP: Is This 12% Yield Real?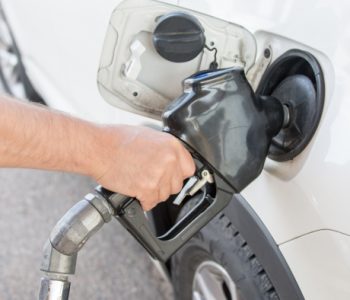 iStock.com/Benjamin44
Can You Trust This Payout?
A 12% yield feels like Bigfoot riding a unicorn on the believability index.
High payouts look tempting. Typically, though, big dividends get cut sooner or later.
But once in a while, you come across a high payout that looks reasonably safe. Sure, these companies usually come with a few blemishes. Any investor who manages to scoop up one of these rare high yielders, however, can earn serious portfolio income.
Case in point: wholesale gasoline distributor Sunoco LP (NYSE:SUN). Over the past few years, the partnership's rapid expansion left the business mired in debt. But over the past few years, management has quietly engineered an impressive turnaround. And with a yield of almost 12%, investors should take notice.
Sunoco has taken a number of actions to shore up its balance sheet, for starters.
Last year, executives started unloading assets and paying down debt. Their biggest move came in January 2018, when management sold the vast majority of their retail fuel locations in a $3.3-billion deal with 7-Eleven Inc. 
Those efforts have really chipped away at Sunoco's debt load. The partnership's outstanding liabilities have dropped from $6.2 billion last year to $3.9 billion today. That will save investors millions of dollars in interest payments each year.
The deal leaves a more predictable business, too. Retail sales can swing wildly from year to year. During a recession, by and large, people tend to spend less on overpriced snacks and sodas.
Combining a big debt load with volatile sales looked like a problem in the making. But by selling off its retail business, Sunoco solved two problems in a single shot.
The partnership remains in the gasoline distribution business, essentially as the supplier for retail gas stations. That arrangement should churn out more predictable income.
These efforts will likely leave the distribution on a more solid foundation. And right now, Sunoco pays out a quarterly distribution of almost $0.83 per unit. That adds up to an annual yield of around 11.6%.
In previous years, those payments far exceeded the cash flow generated by the business. Over the past 12 months, by comparison, Sunoco has cranked out $1.14 of distributable cash flow for every dollar paid in distributions.
As you can see in the chart below, investors have finally started to take notice.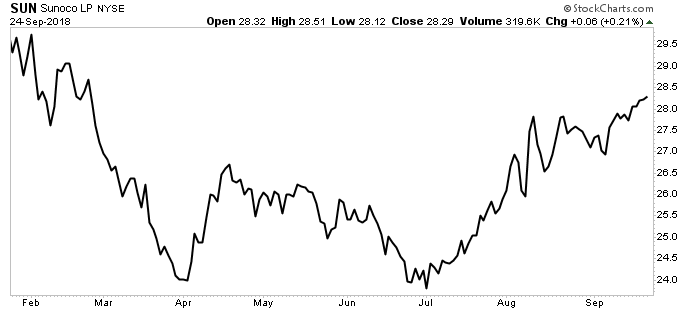 Chart courtesy of StockCharts.com
Of course, Sunoco stock is no slam dunk. After selling off its retail business, the company has a lot less cash flow on hand to pay unitholders. Management will have to thread a needle between distributions, debt payments, and asset sales.
So far it appears to be working. Still, you can't call Sunoco stock's almost-12% yield the safest payout out there. But unlike most distributions in this category, investors can still count on it.
Therefore, I would give this stock a second look.