Sunoco LP: A 10.6% Yield You Can Count On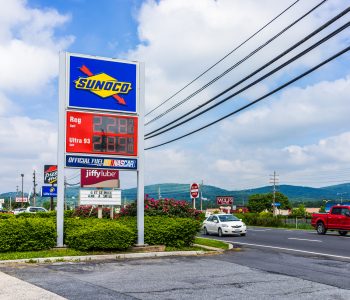 iStock.com/krblokhin
This High-Yield Stock Looks Special
In the world of double-digit-yielding stocks, few look as solid as this one.
I'm talking about Sunoco LP (NYSE:SUN), a master limited partnership (MLP) headquartered in Dallas, Texas.
To consumers, the name Sunoco represents a fuel brand. The brand is well recognized among motorsport enthusiasts as Sunoco is the largest manufacturer and marketer of racing fuels in the world. In particular, Sunoco is the official fuel of NASCAR and INDYCAR, and it distributes gasoline to more than 500 racetracks around the globe.
To income investors, Sunoco stock is one of the most generous dividend payers in today's market. The partnership currently pays quarterly cash distributions of almost $0.83 per unit, which comes out to an annual yield of 10.6%.
Now, we know that most companies don't yield half that much. And in recent years, the energy industry has been filled with uncertainty, to say the least. This makes income investors wonder whether they can actually count on a double-digit-yielding energy stock.
Well, in the case of Sunoco LP, the answer is a surprising "yes."
Sunoco LP Runs Solid Operations
One of the main reasons why investors tend to have second thoughts about putting their money in energy stocks is the volatility in commodity prices. For instance, as oil prices crashed in the summer of 2014, a lot of energy companies, including some of the biggest names in the business, fell deep into the doldrums.
Moreover, as these business slowed down, quite a few of these companies slashed their dividends.
Not Sunoco LP, though. Despite operating in the energy industry, the partnership did not cut back its distribution. As a matter of fact, since SUN stock's initial public offering in September 2012, management has raised the partnership's quarterly cash distribution more than a dozen times, by a total of 88.7%. (Source: "Quarterly Distributions," Sunoco LP, last accessed June 18, 2019.)
The reason why SUN stock can deliver increasing cash distributions in a volatile commodity price environment lies in the nature of its business. You see, Sunoco LP is not drilling for oil. Instead, the partnership is one of the largest wholesale motor fuel distributors in America.
Right now, Sunoco's fuel distribution network reaches approximately 7,300 third-party dealers, distributors, and commission agents; around 2,700 commercial customers; and 75 company-operated sites. (Source: "Investor Presentation," Sunoco LP, last accessed June 18, 2019.)
The neat thing about being a motor fuel distributor is that, unlike volatile oil prices, the margins on wholesale motor fuel tend to remain strong and stable throughout the commodity cycle. Adding in the fact that the demand for gasoline and diesel remains robust in America, Sunoco LP is well positioned to generate a steady stream of cash flow. (Source: Ibid.)
Also, Sunoco LP has been capitalizing on more than just the "Sunoco" fuel brand. As a matter of fact, the partnership distributes more than 10 fuel brands, including well-known names such as "Shell," "Exxon," "Phillips 66," and "Chevron."
Just take a look at the financials and you'll see why this motor fuel distributor is special.
Last year, the partnership generated $455.0 million in distributable cash flow, resulting in a distribution coverage ratio of 1.32 times. In the world of double-digit yielders, it's not every day that you find a company that can earn 32% more cash than what's needed to cover its payout. (Source: "Sunoco LP Announces Fourth Quarter and Full Year Financial and Operating Results," Sunoco LP, February 20, 2019.)
For the first quarter of 2019, Sunoco LP generated $99.0 million in distributable cash flow while paying total cash distributions of $86.0 million. That translated to a distribution coverage ratio of 1.15 times. So again, the partnership covered its payout with ease. (Source: "Sunoco LP Announces First Quarter Financial and Operating Results," Sunoco LP, May 8, 2019.)
According to its latest investor presentation, management plans to maintain the partnership's current quarterly cash distribution rate while targeting a distribution coverage ratio of 1.2 times. If things go as planned, Sunoco LP stock investors will have little to worry about when it comes to distribution safety.
And while Sunoco already benefits from a relatively stable business model, it seeks to further expand its operations through strategic acquisitions.
For instance, the partnership announced earlier this year that it had acquired the wholesale fuel distribution business from Schmitt Sales, Inc. The acquired businesses are capable of distributing around 180 million gallons of fuel annually. Notably, the deal is expected to be accretive to Sunoco LP's distributable cash flow within the first year of closing. (Source: "Sunoco LP Announces Fuel Distribution Acquisitions and Strategic Divestiture of its Ethanol Facility," Sunoco LP, January 18, 2019.)
The Bottom Line on Sunoco LP
At the end of the day, you can find companies with even higher payouts than Sunoco LP. But among stocks that yield north of 10%, very few can offer a dividend policy that's as safe as that of SUN stock.