SunCoke Energy Stock: High-Yielder Hikes Quarterly Payout 25%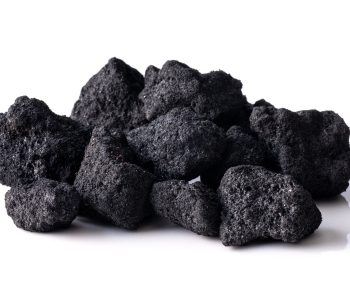 Undervalued SXC Stock Has High Potential
With investing, it's a good idea to strike while the iron is hot. And right now, the coal industry and SunCoke Energy Inc (NYSE:SXC) are both hot.
Neither of them was hot a few years ago. In 2020, coal was selling at $50.00 per ton. By September 2022, its price had soared to more than $430.00 per ton. Today, the price of coal has settled at about $150.00 per ton.
Meanwhile, the price of SunCoke Energy stock has been trending steadily higher since bottoming in early 2020. And thanks to record-high global consumption of—and high demand for—coking coal, the outlook for SXC stock is excellent.
Why? Coking coal, also called metallurgical coal, is a key component in the blast-furnace production of primary steel, which is crucial for infrastructure and the energy transition. This makes it one of the most widely used and in-demand building materials.
As its name suggests, coking coal is converted into coke, the key source of carbon that's essential for converting iron ore into steel. It takes a lot of coking coal—roughly 770 kilograms (almost 1,700 pounds)—to make one ton of steel.
As the global economy continues to recover from the COVID-19 pandemic, the demand for steel has surged. Global steel output is expected to increase by 22% from 1.8 billion tonnes in 2022 to 2.2 billion tonnes in 2050. The demand for coking coal is expected to rise at an even brisker pace. (Source: "Surging Global Steel Demand Puts Focus on Met Coal," Financial Review, June 22, 2023.)
About SunCoke Energy Inc
SunCoke Energy is an independent producer of coke with operations in the U.S. and Brazil. It U.S. facilities are in Illinois, Indiana, Ohio, and Virginia. The company operates through three segments: Domestic Coke, Brazil Coke, and Logistics. (Source: "SunCoke Energy, Inc. Reports Record Second Quarter 2023 Results," SunCoke Energy Inc, August 1, 2023.)
SunCoke Energy has 5.9 million tons of annual cokemaking capacity, and it has a pretty big North American business footprint. Its 4.2 million tons of U.S. capacity represents about 25% of the U.S. and Canadian market. (Source: "About Us," SunCoke Energy Inc, last accessed August 21, 2023.)
The company's innovative heat-recovery cokemaking technology captures excess heat for steam or electrical power generation.
While the coal industry can be unpredictable, SunCoke Energy Inc's long-term take-or-pay contracts specify that it receives a fixed fee per ton of coke produced. The contracts also contain provisions for pass-through of coal costs, operating costs, and transportation costs. This insulates the company from commodity price volatility.
Through its Logistics segment, SunCoke Energy's domestic and export terminals serve coal producers and end users in the steel, coke, and power industries.
SunCoke Energy Inc's domestic terminals serve key U.S. ports in the Gulf Coast, East Coast, and Great Lakes. They have a collective capacity to mix and transload more than 25 million tons annually.
Its export terminal, the Convent Marine Terminal, is one of the largest such terminals on the U.S. Gulf Coast and the only one on the lower Mississippi with direct rail access. Convent Marine Terminal has an annual capacity of 15 million tons.
Record Second-Quarter Results
In early August, SunCoke Energy Inc announced record financial results for the second quarter ended June 30. Its total revenues increased in the quarter by 32.5% year-over-year to $534.4 million. Its net income went up by 2.5% year-over-year to $20.4 million, or $0.24 per share. (Source: Ibid.)
The company's adjusted earnings before interest, taxes, depreciation, and amortization (EBITDA) grew in the second quarter by 2.7% year-over-year to $74.0 million.
Commenting on the results, Katherine Gates, SunCoke Energy Inc's president, said, "We are pleased with the continued strong performance across our operating segments, which drove our record second quarter financial results." (Source: Ibid.)
She continued, "Our domestic coke plants ran at full capacity and delivered excellent results for the quarter. Our logistics segment experienced lower volumes during the quarter due to weaker market conditions."
Because of the company's terrific performance in the first half of the year and volatile commodity market conditions, Gates expects SunCoke Energy to report full-year consolidated adjusted EBITDA at the high end of its guidance range of $250.0 to $265.0 million. The company projects that its full-year operating cash flow will be between $200.0 and $215.0 million.
SunCoke Energy Stock's Quarterly Dividend Jumps 25%
On the heels of record second-quarter financial results, SunCoke Energy Inc's board approved a 25% increase in its quarterly dividend from $0.08 to $0.10 per share, for a yield of 4.4%.
With a payout ratio of just 30.2%, SXC stock's dividend is more than safe. It's well below the 90% threshold I can stomach.
This gives management more than enough financial wiggle room to not just continue paying SunCoke Energy stock's dividends if the market unexpectedly turns, but also raise its dividends if the demand for coke remains robust.
The company can afford to increase its dividends, and it has a history of doing so. Since the start of 2022, SunCoke Energy has raised its quarterly dividend twice: first from $0.06 to $0.08, and then to the current $0.10.
SXC Stock Has 21.5% Upside
Growing, high-yield dividends are great; they're even better when they're attached to a market-thumping share price. As of this writing, SunCoke Energy stock is up by:
10% over the last month
22% over the last three months
8.5% year-to-date
35% year-over-year
Big moves, and even bigger moves are expected for shares of SunCoke Energy Inc.
For the next 12 months, conservative Wall Street analysts have provided a median target for this dividend stock of $11.00 per share, which points to gains of 21.5%.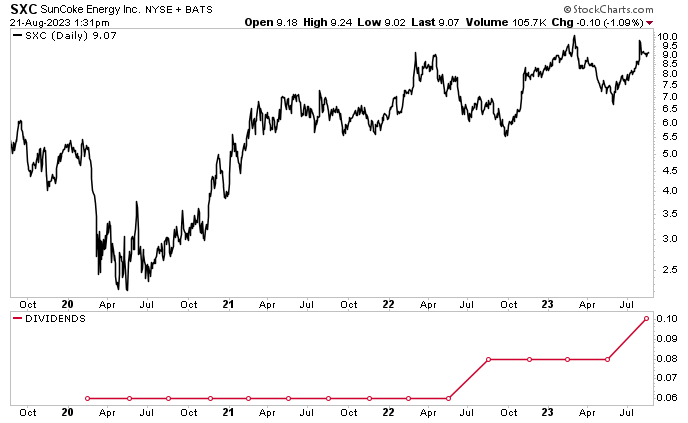 Chart courtesy of StockCharts.com
The Lowdown on SunCoke Energy Inc
SunCoke Energy Inc is an outstanding energy company that operates in an industry with tremendous long-term tailwinds. Thanks to the surging global demand for steel, the spotlight is back on coking coal, and SunCoke Energy has been reaping the benefits.
The company reported record second-quarter results and expects its full-year results to be at the high end of its consolidated adjusted EBITDA range. On top of that, SunCoke Energy's board recently approved a 25% increase in its quarterly dividend.
Finally, SXC stock has been on a tear in terms of share price, up by 35% year-over-year. Despite that big move, SunCoke Energy still has about 21% upside potential.