SUN Stock: Earn a Safe, High Dividend Yield of 10.4%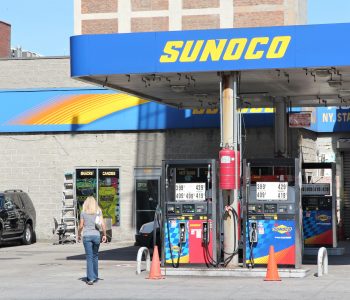 iStock.com/tupungato
Why Income Investors Should Consider This High Yield Stock
In most cases, a stock offering a high dividend yield will have some drawbacks. The reason is that, if the company is solid and pays a high dividend, investors will rush toward the stock, bidding up its price and lowering its yield.
So, if a stock's yield stays at double-digit levels, it could reflect some investor concerns. The most common type of concern is about the company's dividend safety.
And that's why Sunoco LP (NYSE:SUN) stock is a special one. The company offers a high dividend yield of 10.4%, but its payout is more than solid.
Sunoco is a master limited partnership (MLP) headquartered in Dallas, Texas. It distributes motor fuel to about 6,800 convenience stores, independent dealers, commercial customers, and distributors. The partnership also has its own retail operations with approximately 1,340 convenience stores and fuel sites.
It's quite obvious why Sunoco deserves income investors' attention. The partnership pays quarterly distributions of $0.8255 per unit. At the current price, that translates to an annual yield of 10.4%.
Of course, as I mentioned earlier, high yield stocks can draw some concerns about their dividend safety. Fortunately, Sunoco has been an exception. The chart below shows the partnership's distribution history since its initial public offering (IPO) in 2012.
Sunoco LP Distribution History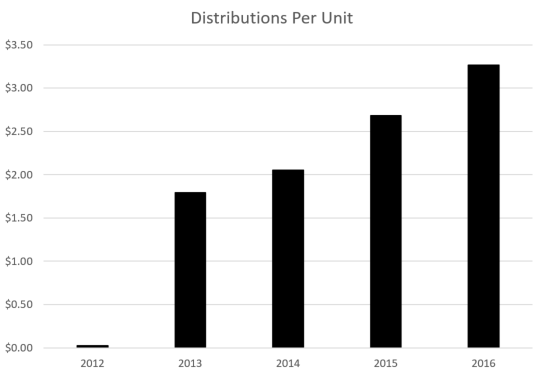 (Source: "Quarterly Distributions," Sunoco LP, last accessed September 13, 2017.)
When Sunoco first went public, it had a quarterly distribution rate of $0.4375 per unit. Today, the amount has grown to $0.8255 per unit. That's an 89% increase in less than five years.
And if you are wondering whether the dividend hikes were too aggressive for this high-yield stock, a look at the partnership's financials should be reassuring.
Sunoco reported earnings last month. In the second quarter of 2017, the partnership generated $220.0 million in adjusted earnings before interest, taxes, depreciation and amortization (EBITDA), a huge increase from the $164.0 million earned in the year-ago period. Distributable cash flow (DCF) also grew substantially, from $92.0 million a year ago to $158.0 million. (Source: "Sunoco LP Announces Second Quarter Financial and Operating Results," August 8, 2017.)
Note that in the second quarter, Sunoco's distributable cash flow provided a 1.53-times coverage of its quarterly distribution. While some high-yield MLPs are struggling to cover their dividends, Sunoco's 1.53-times distribution coverage ratio leaves a sizable margin of safety.
The reason why Sunoco can offer a level of dividend safety lies in its powerful brand name and large distribution platform. SUN stock might be a new name for investors, having only completed its IPO in 2012, but the Sunoco fuel brand has been around for 125 years. It is also the largest manufacturer of racing fuels in the world, and it provides the official fuel for NASCAR. (Source: "Investor Presentation," Sunoco LP, last accessed September 13, 2017.)
Thanks to a distribution network made up of thousands of fuel sites, dealers, distributors, and commercial customers, Sunoco is able to turn its iconic brand name into a cash cow business. Last year, the partnership sold 2.5 billion gallons of fuel in its retail segment and distributed 5.3 billion gallons of wholesale fuel.
With a recurring business and solid distribution coverage, Sunoco LP is a high yield stock that's actually worth considering in today's market.
Also Read:
MLP Stock List: Earn Reliable Income from These Energy Partnerships
Pipeline Stocks: High-Dividend Stocks Yielding 9.8%