Summit Midstream Partners LP: This 10.2% Dividend Yield Is No Joke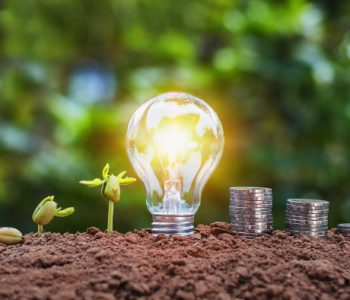 iStock.com/lovelyday12
If You Want to Earn a Double-Digit Yield, Read This
Today's chart highlights one of the highest-yielding stocks in the current market, Summit Midstream Partners LP (NYSE:SMLP).
Headquartered in The Woodlands, Texas, Summit Midstream Partners is a master limited partnership (MLP) that owns, operates, and develops midstream energy infrastructure assets.
Now, you are probably thinking that since commodity prices plunged big time over the last four years, this could just be another one of those troubled energy stocks. And at first glance, that seemed to be the case. Despite the recent recovery in oil and gas prices, the unit price of Summit Midstream Partners LP are still down more than 50% since the summer of 2014.
However, if you take a closer look, you'd see that the situation at this midstream MLP may not be as bad as its stock price seems to suggest.
You see, even though Summit operates in the energy sector, it does not have any exploration or production business. Instead, the partnership provides natural gas, crude oil, and produced water gathering services to energy companies in five unconventional resource basins: Utica Shale, Williston Basin, Piceance/DJ Basins, Barnett Shale, and Marcellus Shale. (Source: "About Summit Midstream," Summit Midstream Partners LP, last accessed February 1, 2018.)
Also Read:
MLP Stock List: Earn Reliable Income from These Energy Partnerships
The neat thing is that in all its areas of operation, Summit provides its service through long-term, fee-based agreements. As a matter of fact, approximately 98% of the partnership's gross margin in the third quarter of 2017 was fee-based. (Source: "Bank of America Merrill Lynch 2017 Leveraged Finance Conference," Summit Midstream Partners LP, last accessed February 1, 2018.)
By earning a stable fee-based revenue stream, the partnership is able to survive the massive commodity price downturn.
Just take a look at the chart below and you'll see what I mean:
Adjusted EBITDA – 2013 to 2017E (in Millions)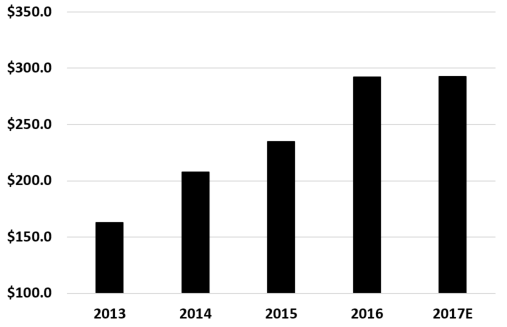 Source: Ibid.
In 2013, Summit generated $163.0 million in adjusted earnings before interest, tax, depreciation and amortization (EBITDA). Since then, the number had grown every year to $292.0 million in 2016. While the partnership is yet to report full-year results for 2017, management expects Summit to deliver $292.5 million in adjusted EBITDA for the year.
With a growing business, Summit was able to dish out increasing dividends. Since SMLP stock's initial public offering in September 2012, the partnership has raised its quarterly cash distribution rate from $0.410 per unit to $0.575 per unit. That translates to a total increase of 40.2%, which is particularly impressive when you take into account the fact that many energy companies were cutting their payout during this period.
Trading at $22.60 per unit, SMLP stock offers an annual yield of 10.2%.
And if you are wondering whether those dividend hikes were too aggressive in today's commodity cycle, a look at the partnership's financials should be reassuring. In the third quarter of 2017, Summit generated $52.9 million in distributable cash flow while declaring $45.0 million in total distributions. That translates to a distribution coverage ratio of 1.17 times. (Source: "Summit Midstream Partners, LP Reports Third Quarter 2017 Financial Results," Summit Midstream Partners LP, November 2, 2017.)
In the first nine months of 2017, the partnership had a distribution coverage ratio of 1.16 times, which also left a margin of safety.
Bottom line: the energy sector may still face uncertainty going forward, but with fee-based operations, a growing business, and well-covered distributions, SMLP stock is a high-yield opportunity that income investors should not ignore.