Suburban Propane Partners LP Hikes Distribution; Share Price Heating Up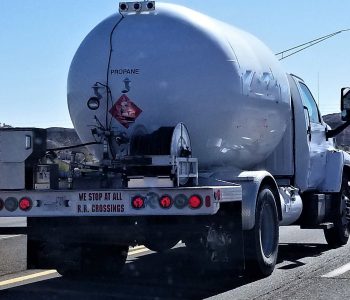 Suburban Propane Partners Hikes High-Yield Dividend
It's still summer, so most people aren't thinking about heating their homes. But eventually, the sweltering heat will give way to cooler autumn weather and a winter that meteorologists are saying is going to be exceptionally cold in certain parts of North America.
Unfortunately, it's going to cost more to stay warm this winter, as the price of propane, natural gas, kerosene, and other home heating fuels return to or even surpass pre-COVID-19 levels.
On the plus side, higher propane prices are good for Suburban Propane Partners LP (NYSE:SPH) and its shareholders.
Suburban Propane is a master limited partnership (MLP) that does pretty much what its name suggests (and more). The Whippany, NJ-based company serves the energy needs of approximately 1.0 million residential, commercial, industrial, and agricultural customers in 700 communities across 43 states.
In addition to providing propane, the MLP markets and distributes kerosene, diesel fuel, and gasoline to residences and commercial customers throughout the Northeast. It also sells water treatment equipment.
Through Agway Energy Services, Suburban Propane Partners LP provides natural gas and electricity supply and energy-related services to customers in New York, Pennsylvania, and Maryland.
As you can see in the following chart, Suburban Propane stock took a hit during the early days of the coronavirus pandemic, tumbling by approximately 50%.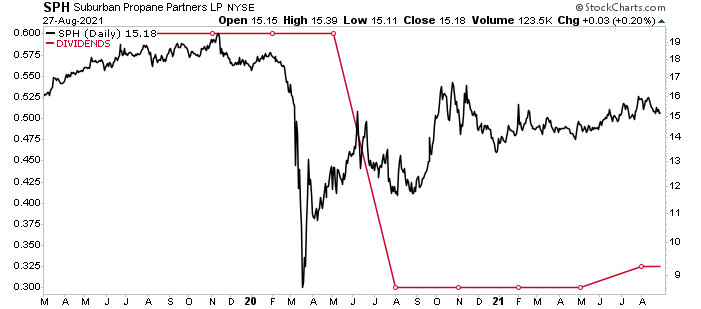 Chart courtesy of StockCharts.com
In an effort to preserve capital amid shifting customer demand and economic uncertainty, the company's board of supervisors took a proactive step and temporarily reduced its distribution payout from $0.60 per unit to $0.30. (Source: "Suburban Propane Partners, L.P. Declares Quarterly Distribution of $0.30 per Common Unit," Suburban Propane Partners LP, July 23, 2020.)
Admittedly, no investor likes to see their payout get slashed in half, but the decision provided the company with approximately $75.0 million of annual incremental cash flow. Suburban Propane used that capital to reduce its debt, strengthen its balance sheet, and enhance its financial flexibility to support strategic growth initiatives.
Michael A. Stivala, president and CEO, noted at the time, "Conservative balance sheet management has always been a core philosophy of ours, one that has served us well in managing through challenging environments." (Source: Ibid.)
He added, "Having the financial strength, flexibility and access to adequate capital to execute our growth plans are all key to our long-term success."
That prudent move has begun to pay off. SPH stock has been rising, and the company recently resumed hiking its dividend, which shows that management is confident in both the company's financial health and long-term outlook.
Solid Q3 Results
Suburban Propane announced that, in the third quarter of fiscal 2021 (ended June 26), consistent with the seasonality of its business, it had a net loss of $26.0 million, or $0.41 per unit. That's versus a net loss of $15.6 million, or $0.25 per unit, in the same prior-year period. (Source: "Suburban Propane Partners, L.P. Announces Third Quarter Results," Suburban Propane Partners LP, August 5, 2021.)
The company's third-quarter revenue increased by 15% year-over-year to $238.0 million.
Its adjusted earnings before interest, taxes, depreciation, and amortization (EBITDA) for the third quarter of fiscal 2021 came in at $23.3 million, compared to $32.2 million in the prior-year third quarter.
The average posted propane prices in the third quarter of fiscal 2021 were 111.5% higher than in the third quarter of fiscal 2020. During the 2021 third quarter, Suburban Propane Partners LP sold 76.7 million gallons of retail propane, a 1.7% increase over the same period of the previous year.
The company attributes the growth to an increase in commercial and industrial demand resulting from the easing of COVID-related business restrictions and an improving economy. This more than offset normalizing residential demand in the counter-seasonal quarter.
Commenting on the results, Stivala said, "We are pleased to report another solid quarter of sales volumes and earnings, as the mix of volume between residential and non-residential customer demand continued to normalize toward pre-pandemic levels." (Source: Ibid.)
Stivala noted that Suburban Propane Partners LP's gross margins and adjusted EBITDA in the third quarter of 2020 benefitted from unusually high demand as a result of stay-at-home measures. And yet, despite higher demand in the year-ago quarter, the total volume sold in the third quarter of this year was up by two percent year-over-year and four percent compared to the third quarter of fiscal 2019.
Stivala added, "In addition to our continued strong operating performance, we used excess cash flows to reduce total debt by approximately $30 million during the quarter, which brings our year-to-date debt reduction to $68 million, and we opportunistically refinanced $775 million of senior notes — extending maturities and lowering our interest requirements." (Source: Ibid.)
Suburban Propane Stock's Distribution Rises by 8.3%
Investors must have known that Suburban Propane was going to report solid third-quarter results because just a couple weeks before, the company announced that its board of supervisors increased Suburban Propane stock's quarterly distribution by 8.3% from $0.30 to $0.325 per unit. (Source: "Suburban Propane Partners, L.P. Declares Increase in Annualized Distribution Rate to $1.30 per Common Unit," Suburban Propane Partners LP, July 22, 2021.)
That works out to an annual dividend of $1.30 per unit and an annual yield of 8.6%. The payout ratio is just 77.9%, which shows that the payout is safe.
The solid financial results and the distribution hike have been helping fuel SPH stock's price higher. Suburban Propane stock has rallied by 112% since bottoming in March 2020. It's also up by 30% year-over-year and 8.5% year-to-date.
There's certainly room for growth, though. SPH stock needs to climb by roughly 28% to get to its pre-COVID-19 level. 
The Lowdown on Suburban Propane Partners L.P.
Suburban Propane stock is a great energy stock that took a hit during the COVID-19 pandemic but weathered the storm and came out on the other side stronger than before.
Suburban Propane Partners LP has expanded its market share, strengthened its balance sheet, paid off debt, invested in the build-out of a renewable energy platform, and raised its quarterly high-yield distribution.