The Stock Market's Secret Source of High Yields
iStock.com/Nuthawut Somsuk
This Stock Market Investment Now Pays Up to 15%
You have to dig deeper to earn decent stock market income nowadays. Thanks to the Federal Reserve, retirees have a tough time finding yield.
But due to a glitch in the way the media companies report financial information, one little-known group of stocks still offers safe, large payouts. You won't, however, often find their yields published on investment web sites like MarketWatch or Yahoo! Finance.
I call this niche the stock market's "secret" source of high yields. If you know where to look, you can often uncover payouts ranging from five percent to as high as 10%.
Case in point: specialty insurer RLI Corp. (NYSE:RLI). Over the past few decades, this little-followed Illinois-based company has quietly crushed the broader stock market. For shareholders, that has meant a growing stream of income.
The reason comes down to RLI's conservative underwriting. The company has underwritten at a profit for 23 straight years. Billionaire investor Warren Buffett calls that "free money," and I tend to agree.
The explanation is simple, though a little counterintuitive. Most insurance companies don't actually make a profit writing insurance. Instead, they earn their income by investing the "float," the premiums that customers pay that insurers hold on to for a while before paying out claims.
RLI Corp., in contrast, consistently makes money from its underwriting business. And that's the big reason it has done so well. For two decades, the company has essentially borrowed money from customers at no cost and used it to build a growing portfolio for investment income. Any profit that management makes from insurance is just the cherry on top.
Such a position means RLI stock has the means to return mountains of cash to investors. Since 1975, management has boosted the regular quarterly distribution every single year. At $0.22 per share, the payout boasts a modest yield of 1.9%.
That might not get some yield hogs out of bed. But in addition to quarterly dividends, RLI stock supplements its payout to shareholders through annual special distributions.
Popular financial sites like Yahoo, however, usually don't reflect these payments in their yield calculations because they're considered non-recurring.
But since 2011, RLI has mailed out supplemental payments to shareholders each year. In the past few years, the board has approved special dividends of $1.50 in 2013, $3.00 in 2014, $2.00 in 2015, $2.00 in 2016, and $1.75 in 2017.
Recently, RLI executives announced another special dividend of $2.00 per share for 2018. That's like receiving five quarters of ordinary dividends in one shot.
And once you include this payment in your yield calculation, your forward yield on RLI stock jumps to nearly five percent, meaning outstanding returns for shareholders.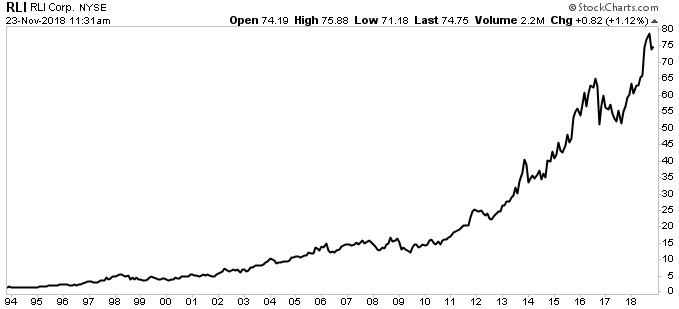 Chart courtesy of StockCharts.com
The Bottom Line on RLI Stock
RLI Corp. isn't the only secret high payout out there. I've covered dozens of such names in my paid advisory, Passive Monthly Income.
If you know where to look, you can often lock in much higher yields than what you see posted on most financial web sites.
It pays to do a little extra digging.